The Spirit to "Brave the Shave" Today, Tomorrow — and Next Year
Article & photos by Marci Narum
They did it. No one doubted they would, but two fearless 4th grade friends from Rita Murphy elementary school braved the shave Saturday at the Missouri Valley YMCA in Bismarck, North Dakota.
It takes a certain spirit to voluntarily go bald, but it seems the bubbly, lively spirits of Kylah Anderson and Amelia Knudson have spread. Supporters, family, and friends from school cheered on Kylah and Amelia along with their teachers from their school and even Kylah's neighbor, Shelly Ryberg.
"I decided that if these little girls can do it, I can do it!" Shelly says.
One more little girl joined them, too. Jocelyn Aldrich had been "82 percent sure" she was going to have her head shaved when we shared the story about Kylah and Amelia earlier this week. Today, Jocelyn was all in. 100 percent. She smiled the whole time.
"Kylah talked me into it. So, I decided to do it," Jocelyn says.
BISMARCK'S BIGGEST BRAVE THE SHAVE
The 12th annual fundraiser was the biggest ever, according to Taner Ohlsen, whose son is a cancer survivor.
"This is the biggest Brave the Shave we've had. More than 300 people are having their heads shaved today," he told the crowd. "So far today we have raised $282,000."
Brave the Shave is a non-profit organization that supports families whose children are fighting cancer. Kylah and Amelia decided a year ago that they want to have their heads shaved at Brave the Shave. Their team, the Rita Murphy Bald Dogs, raised more than $5,000 placing them seventh out of 40 teams. Kylah and Amelia donated their long locks for cancer patients who need wigs.
"You have such beautiful long hair and you're going to donate it? Tanner asked Kylah as she waited for the hairstylist to brush and braid her long red mane. Later, Taner shared, "It's amazing that even young boys fighting cancer will ask for a wig, so donating your hair is really, really helpful."
COMMUNITY
The event drew a huge crowd and evoked a range of emotions. Families of children fighting cancer and whose children died from cancer were invited to the stage. The audience showered them with love through applause. Siblings of children battling cancer gathered on the stage for their moment in the spotlight as the 2019 Champion Coaches — "the best supporters to their brothers and sisters." When the children who are currently fighting cancer walked onto the stage, people in the crowd cheered even louder and longer, and some wiped away tears.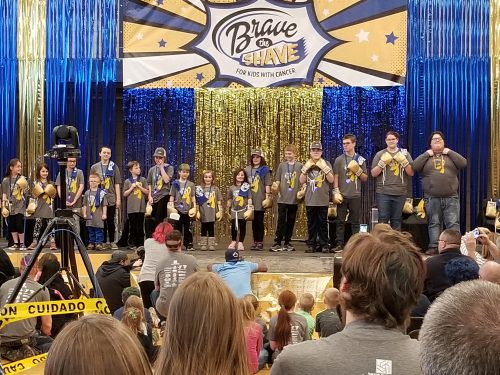 Joe McDonough, founder of the Andrew McDonough B+ (be positive) Foundation attended the event.
"The support from this community is so wonderful, he says. "I wish I could duplicate what you do here and take it to other parts of the country. I'm really inspired by what you're doing."
Amelia, Kylah, and Jocelyn felt good about their decision. They were in good company — many children braved the shave, some saying they were "doing it for Hunter" or another friend or family member.
BALD & GOING BACK TO SCHOOL
Monday will be a new experience for Kylah, Amelia, and Jocelyn when they go back to school. The girls say they might get teased, especially by some boys, but they say they can handle it. Tanner told the audience that sometimes kids who participate in Brave the Shave do get picked on and teased.
"These kids have a lot of courage; it can be really hard to get up here and do this. We need to remind other kids there is a reason they decided to have their heads shaved at Brave the Shave. It's an important cause."
If Kylah, Amelia, and Jocelyn encounter any hecklers, they might want to take a cue from the middle school student in Bismarck who participated in a Brave the Shave event this week. Students teased the girl so relentlessly that her mother had to pick her up from school early one day. Her daughter's day had turned painful after she had done something so positive. Later the 8th grader told her mom, "I hope when I do this next year, the kids will be nicer."
That's the spirit.