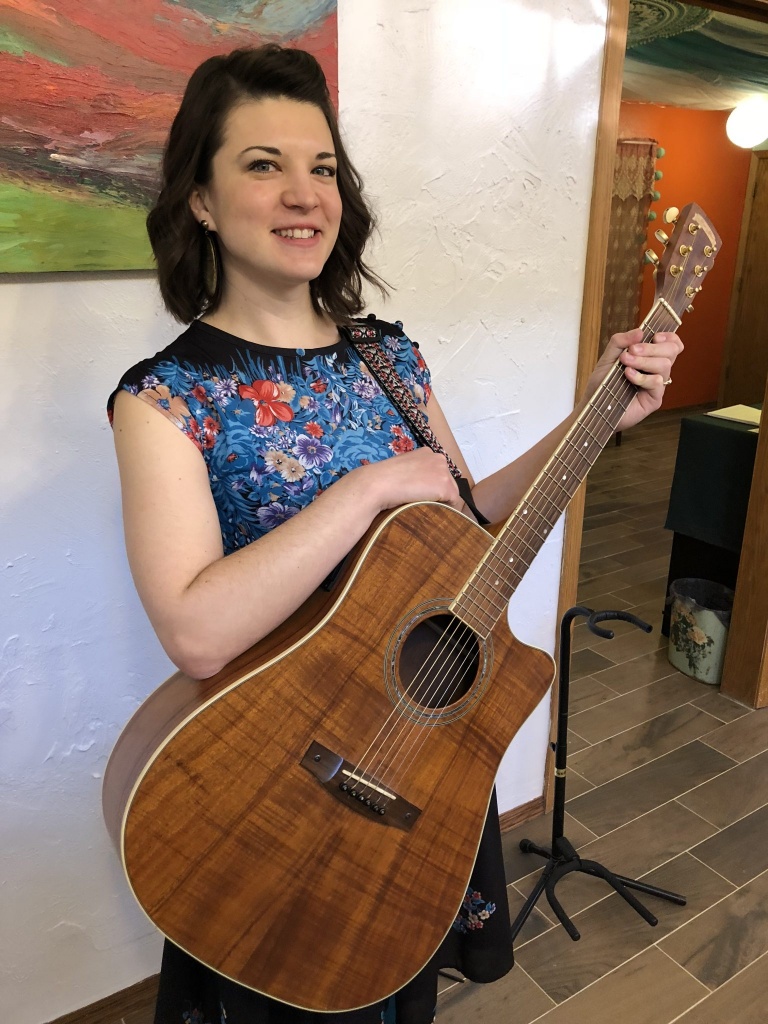 Article and Photos by Michelle Farnsworth
Where to start? Shall I tell you about Andrea Ficek Falcon's musical talents? Perhaps her new business, Blue Sky Bismarck?
Let's take it back to the beginning: Andrea Ficek Falcon started her musical journey playing piano at age seven, followed by the trumpet at age 10.
"I wanted to play drums, but my parents wouldn't go for it," says Andrea." I remember as a young girl feeling as a trailblazer in the fifth and sixth grades."
I asked her if she feels like a trailblazer now.
"I try to be," she says with a smile and a chuckle.
Andrea continued her trailblazing with her trumpet playing at Bismarck High School, graduating in 2002. But here's where the music maverick starts to really take on momentum. As she pursued her degree in music education at a few institutions of higher education, Andrea discovered that her early years of piano lessons and learning vicariously through her older sister gave her the ability to explore different instruments.
Marimba. No, not a dance style, the marimba is a percussion instrument consisting of a set of wooden bars struck with mallets to produce musical tones. Yep. She played this instrument, too. Most people haven't heard of it, but again Andrea pursued music her own way.
So how many different instruments has this musical wonder conquered? Well, according to this somewhat shy and unassuming talent, "anything you would play in a band." (This is the part where I admit I was last chair flute in the Century High School Patriot Band. Andrea just grins.)
Here's a list of some of the instruments Andrea can play:
Piano

Trumpet
Flute
Bass
Marimba
Guitar
Ukulele
Accordion
And how about the accordion? Not your typical instrument. Growing up Andrea had a great uncle who encouraged her to play.
"I thought no way, how dorky. But then I grew up and wised up," laughs Andrea.
A friend happened upon an old Tiger accordion at a thrift store for only $40, and the rest is history. The "Green Tiger," lovingly referred to as such because of  its patchy, painted exterior is just another member of Andrea's jungle of instruments.
Throughout Andrea's college years and beyond, she has played with several groups and bands. Her strong, sweet, and hypnotic folksy voice lends itself to all of her instruments. Once you hear and see her perform, you're left feeling good and happy; wishing for more of her music to wash over you.
Andrea is currently the music leader for the Bismarck-Mandan Unitarian Universalist Congregation, and also gives guitar and piano lessons. And if that wasn't enough to occupy her days and nights, this newlywed—married June 2017 to musician Nolyn Falcon—has opened an art studio with partner Molly McLain. Blue Sky Bismarck is an art studio, classroom, and gallery in downtown Bismarck.
"Though Blue Sky Bismarck may have more of a visual art focus, it is my hope that it becomes a hub for artists," Andrea wrote in a recent Facebook post.
When I asked Andrea  if there was anything else she wishes to conquer, her answer is the epitome of what's trending: "Everything."  
[supsystic-gallery id=94]
---
Blue Sky Bismarck is located at 311 East Thayer, #117 in the basement of the former Bismarck Triune Building. 
---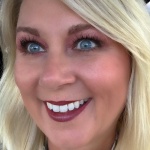 Michelle Farnsworth is a local writer and owner of her own Younique Makeup and Skincare business. Two humans, one fur baby, and her husband, Richard, occupy her free time.