by Amber (Schatz) Danks | Photography: Photos by Jacy
Some people say the hardest part of working out is getting to the gym. Well, when it comes to FunFit LLC in Mandan, owner Miranda Klatt wants to make it harder for you to leave than to arrive.
"I worked out at the parks a lot with my kids, and the best workouts I got were at parks. And I'm like, 'There should be a playground for adults, like that's what we need.' A place where we can come and have fun working out. Utilize monkey bars and climbing walls and balls and whatever we can use and dance and whatever, so FunFit was born!"
After years working as a personal trainer going to people's homes or renting out spaces, she decided to open her own space in Mandan.
FunFit had its grand opening in June 2018.
"It's like a family, a family that plays together."
There are no machines.
"It's a concept people have to get comfortable with. A lot of people walk in and say, 'There's not a treadmill in here?' Nope! But we do have an awesome sled. I tell them push the sled back and forth two times and tell me if you still need a treadmill."
Instead of traditional equipment, you are challenged to think outside the box in group fitness classes and boot camps. Like playing drums during Drum Cardio. Or using your toddler as a kettlebell during Mom 'n Tot class.
"We play tic-tac-toe relay, we have a cone game where one side flips them up, one side flips them down. And they actually get points, so when they play the game they get points and then they get money back onto their account also, once they get 10 points; that's a dollar. That idea came from the arcade, when you play games, get tickets, and then get a prize. That's kind of what I wanted. Adults should get prizes too!"
Another thing Miranda says her gym offers, is all types of people. Although most of her clientele is moms, she wants people to know that everyone is welcome, and they keep it real.
"We have stretch marks, we have kids, the people that have lost the most weight, still don't have a six-pack, some have extra skin, stretch marks, wrinkles. We're not perfect bodies here and that's okay."
The single mom of three boys—ages 18 months, eight, and 14 years old—has a lot on her plate, but wants her boys to realize something from her journey.
"You can always accomplish greatness, and your past doesn't define you. And that it takes hard work. It doesn't just get handed to you."
The business owner, personal trainer, and fitness instructor says she is also the cleaning lady and receptionist working all hours of the day to grow her business.
"It's worth it to me every time I feel like I've helped somebody."
She's hoping to inspire even more people through her new Sweat and Support classes.
"I feel after a workout there's a place of both vulnerability and empowerment at the same time. Which is a feeling I don't think you get very often."
The goal of Sweat and Support classes is to work out and hear from a speaker afterward that may help others. Miranda was the first speaker. She shared her story of surviving domestic abuse.
"We've all been through something. Either a financial difficulty, or a relationship that sucked, or some sort of abuse, or death in the family. Those are huge things people struggle with, so whether you're in it, you're coming out of it, you can help somebody."
The Sweat and Support classes are free for anyone going through struggles, although you are encouraged to leave a donation or donate items to a mercy box.
She says this is one example of how FunFit focuses on whole wellness, meaning mind, body, soul, and of course, fun.
For more information, check out FunFit LLC on Facebook or see funfitllc.com.
Click here to see more by Photos by Jacy.
---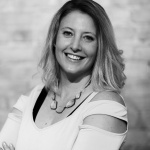 Amber (Schatz) Danks spent nearly 12 years as a news reporter, producer, and anchor. She is currently tackling her toughest and most rewarding assignment yet: being a stay-at-home mom to her baby girl.