by Kylie Blanchard   |   Photography: Photos by Jacy
Since 2005, The Banquet, a community event based in Bismarck, has served warm meals, fellowship, and hope with the mission to provide a place where all are welcome.
"The Banquet serves the hungry, homeless, physically challenged, hurting and broken, low income seniors, and single parents, as well as those who are just lonely," says Karla Eisenbeisz, Banquet director.
Modeled after a community meal program in Sioux Falls, South Dakota, The Banquet was brought to Bismarck by Trinity Lutheran Church Pastor Steve Sathre and founding director Tudy Fennern. It began in July 2005, serving 107 guests with the help of 30 volunteers. Since that time, with the continued help of many volunteers, The Banquet has grown to serving approximately 1,000 meals per week.  
MORE THAN A MEAL
The Banquet is served each Tuesday and Thursday from 5:30 p.m. to 7 p.m. and Saturday from 11:30 a.m. to 12:30 p.m. in the Fellowship Hall at Trinity Lutheran Church. While hosted at Trinity Lutheran Church, The Banquet is a non-denominational, separate entity. A new addition to The Banquet schedule also began in September with a meal served on Sundays from noon to 1 p.m. at The Salvation Army.
The Tuesday, Saturday, and Sunday meals are served cafeteria style with the help of 10 volunteers, and the Thursday meal is served restaurant style with the help of 30 volunteers. Offering more than a meal to those in attendance, The Banquet also provides additional food from the Great Plains Food Bank, as well as "to go" meals; health screenings, such as blood pressure screenings; and live music on Thursdays.
"No food is ever wasted," notes Karla. "All the extra food goes to Pam's House at the Abused Adult Resource Center."  
A more recent offering of The Banquet is the addition of non-denominational prayer teams present at the meals.
"We want to bring hope back to these people," says Jim Barnhardt, Banquet board chairman. "I was once told by a local CEO, 'we are all just inches away from being homeless,' and at The Banquet, we hope to help supplement people in that position."  
VALUABLE VOLUNTEERS   
"The Banquet will always have a need for sponsors and volunteers," says Jim. "Our model is to sell sponsorships to businesses, civic groups, churches, or individuals to sponsor a meal. The organization provides volunteers that serve the meal, and it's a great team building experience."
Along with volunteers from sponsoring organizations, Karla notes she has a group of long-time volunteers she calls the "blue shirts," who are present weekly to set up, cook, and serve. Karla also has an "Angel List" of volunteers she can call to fill in if  The Banquet is shorthanded.
"The Banquet is operated on almost 100 percent volunteer efforts," says Jim, noting the oldest volunteers are 93 and 92 years old, and volunteers have been as young as seven, with parental supervision.  
The Banquet is currently in need of sponsors and volunteers for its new Sunday meal.
"Whether it's a business, hospital, civic group, or even just an individual, anyone can sponsor The Banquet," Jim says. "We are also taking donations for walk-in refrigerator equipment to have more longer-term food storage as well as being able to provide more food through our local food program."  
Karla says getting the word out about The Banquet and its needs and finding additional sponsors remains an important component of her role as director.
"There are still so many people in the community that don't know about The Banquet. I think there are a lot of people here that would step up and sponsor if they knew about it."
"Karla deserves a lot of credit for the success of The Banquet," says Jim. "She is really the face of the event and is always out promoting it and talking about it."     
Karla says The Banquet provides a great team building experience for sponsoring organizations and volunteers.
"Nobody walks away having a bad experience. Volunteers walk away feeling really good about themselves and are thankful for the experience."  
THE FUTURE
The Banquet board of directors recently completed a strategic plan, which focuses on beginning a capital campaign in January 2020 to raise funds to purchase a free-standing facility to serve a meal seven days a week.
"The vision is for a seven day a week meal, so we can bring people in and give them that sense of community. A sense of hope," says Jim.
With a larger building, Karla notes, other agencies can also be brought in from across the community.
"This is a long-time community event, and it is growing, just like our city is growing," she says. "No one is turned away. We don't ask questions. All we do is give smiles and hugs and feed them a nice, warm meal."   
Click here for more information on The Banquet. And to see more photos of The Banquet by Photos by Jacy, click here. 
---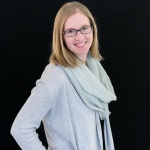 Kylie Blanchard is a local writer and editor and busy mom of three. She enjoys a bit of down time with a good book.