By Marci Narum
Photography: Photos by Jacy
While recently touring the KXMB-TV station in Bismarck where I worked from October 2003 through January 2014, I saw my former workplace transformed. The studio is state-of-the-art. The spaces that once occupied the newsroom, sales department, and master control were not only remodeled, they were shuffled around to new areas of the building, and in the case of the newsroom-turned-master control suite, unrecognizable. I looked at it with pure astonishment.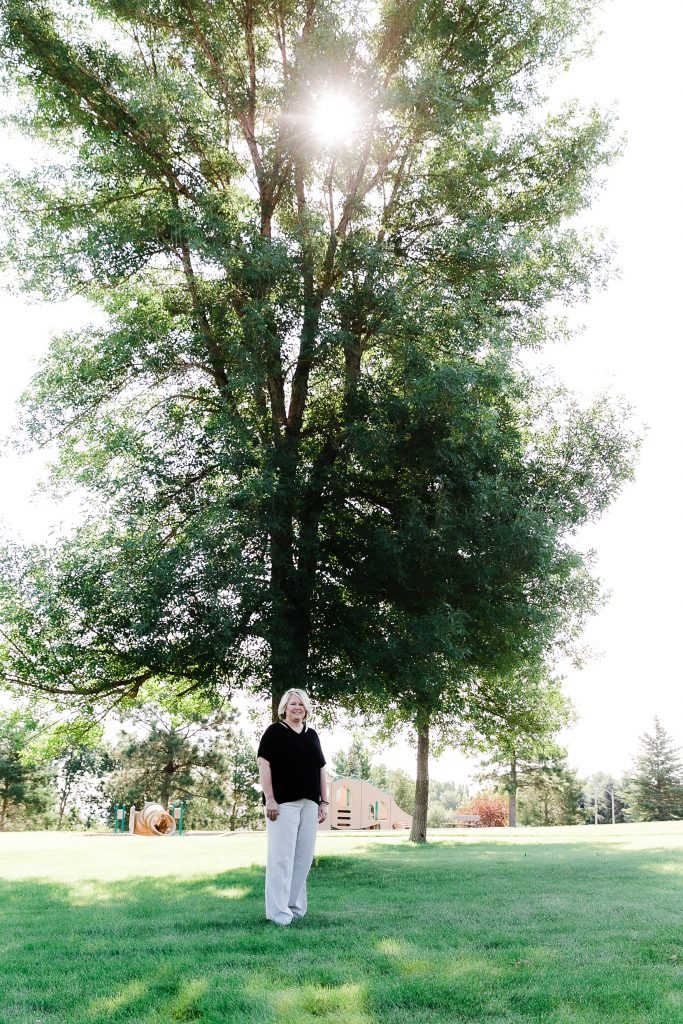 And, I smiled; especially when my tour guide showed me the new conference room. I took it all in. The walls displayed evidence of leadership that was intentionally developing its people and building a healthy workplace culture — notes from a brainstorming session and motivational reminders that encourage creativity and team building. 
Tough times don't last. Tough teams do.
I smiled again because I knew the person giving the tour that day would be too humble to admit she had a hand in this noticeable change.
COMMUNITY-MINDED
Tammy Blumhagen is my former colleague and the general manager. She gave me the tour on the day I visited. I know Tammy to be a leader who refuses to be complacent. Even before becoming the GM in October 2018, Tammy began making changes that included input from her team.
"We've done things like start a company newsletter that goes out every month," Tammy says. "We have a monthly team meeting and that keeps the management team and the rest of the staff all on the same page, and it seems like there are fewer surprises and probably a little more input from everybody, which then leads to creativity as well."
Tammy and her team developed a mission statement that includes "Put North Dakota First," a tagline that viewers will recognize. "Work Hard, Take Initiative, Innovative, Community Minded, and Celebrate Our Heroes" completes the mission statement. 
Under Tammy's leadership, KX introduced the Community Initiative Program this year, which helped put a new roof on the home of a North Dakota military veteran and raised money for Service Dogs for America in Jud, North Dakota. 
"The community is everything to us and we want to be able to give back and help out, so this was our way of saying these are the things we're going to get behind this year and we're going to help them get the word out. They're doing great things in the community and we want to let people know about it," Tammy says. 
BUSINESS SAVVY
Tammy's style of leadership comes from years of experience in the television industry, especially her experience as the owner of her own business. Her career began in advertising sales in 1998. She worked for Forum Communications at the ABC-TV station in Bismarck. Two years later, she got a job at KXMB where she became the local sales manager. Then, Tammy's entrepreneurial spirit was awakened, and she started her own marketing business. 
"I learned a little on the business side and got a total respect for what it is to have your own business, the ups and downs," Tammy shares. "But, I missed what I was doing. I missed the TV business; I had it in my blood, I think."
She took her hard-won wisdom as a business owner, returned to KXMB and worked her way up from sales rep to local sales manager, corporate director, director of sales, and then general manager, a position she's held for nearly a year.
Experience and wisdom aside, Tammy will be the first to say that she has room for growth. She is passionate about possibilities and open to change.
"I always want to grow, learn something new. I think when you stop learning that's when you die. For me to be complacent is boring and that's one thing about the industry that's so exciting, it's never the same."
FULFILLMENT
Tammy told me her job encompasses everything from budgets and trimming the bushes to community events and influencing KX employees. 
"It's helping people through a hard day, it's helping people find their strengths in what they do and helping them grow (those strengths). It's a little mix of everything." 
When Tammy showed me the studio, we stood under the lights for a few minutes, and I marveled at what I saw. And, I noticed a smile on Tammy's face. She says she's proud of it, but the sparkle and pizzazz of a new studio doesn't give her a sense of fulfillment as a leader.
"I'm proud of the work our team does … to see the development of our team. Not just the news team, it's sales, production, engineering, everybody has grown and learned to do new things and are really at the top of their game. That's exciting to me. That's what makes me the proudest." 
That makes me smile again.