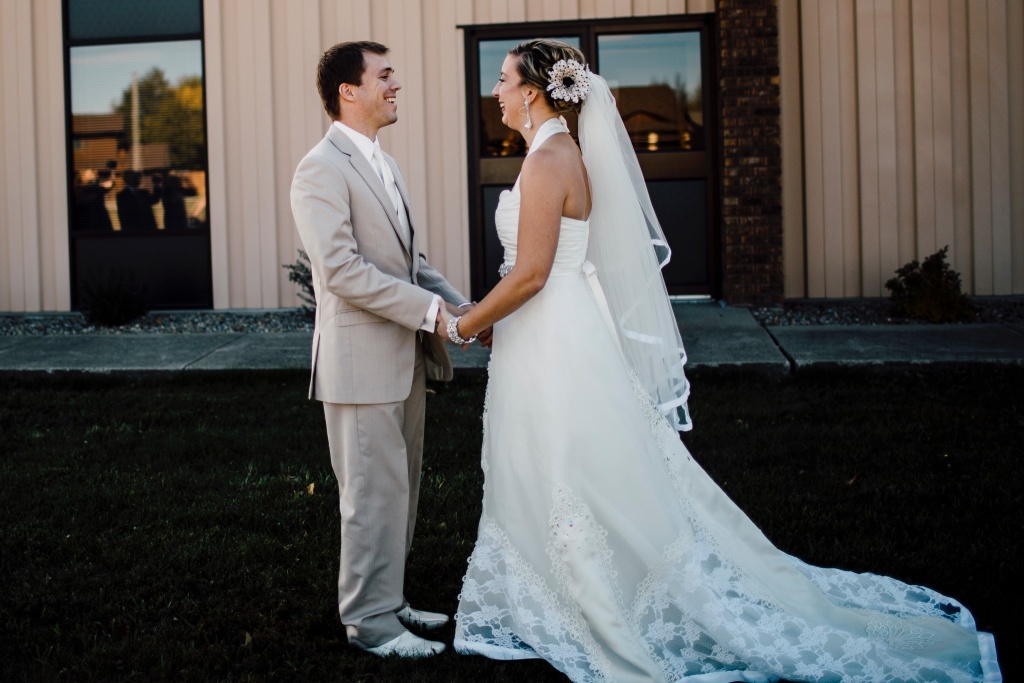 By Marci Narum | Photography: Glasser Images
Every woman has a reason for choosing the perfect gown for her wedding day. Hannah Cahoon's reason was her mother, Judy Sagaser.
"My mom died in February 2009 after a short battle with stomach cancer," Hannah says. "I'm the youngest of five. Everyone else is married and has kids. It was always in the back of my mind what would I do for the wedding without Mom."
Hannah got engaged to her fiance Dan in January 2016 and started her search for the perfect wedding dress. It's traditionally something a mother looks forward to doing with her daughter, but Hannah still had some help from a big sister.
"When we started looking for dresses, my oldest sister, Heather, suggested to somehow incorporate Mom's dress."
Hannah's mother had sewn her own wedding dress with her grandmother, Marlys Muilenburg, in 1971.
"Mom was always a really crafty person. She made clothes for all of my siblings and me, especially when we were younger. She got into quilting. She had projects going on all the time."
This project was going to be extra special. Hannah and her sisters met with Kari Wagner and Diana Greff, owners of Brides on a Dime in Bismarck.
"If the mom, a sister, or aunt is there when the bride comes in, we ask if there is anything special they are going to give the bride so they can have a piece of them going down the aisle," Diana explains. "We wanted Hannah to feel like her mom was there."
"They found us a couple of dresses but we weren't sure how to incorporate my mom's dress," Hannah says. "They found this gorgeous, really simple, basic, two-piece dress that turned out would be perfect to put an overlay of my mom's dress on it.
"They brought in a seamstress, Katy Beler, who worked her magic and did a phenomenal job. We ended up using almost all of my mom's dress in various parts. We added a halter strap that was a little belt thing from her dress. We added some satin panels, and Katy stitched together all the lace she could use all the way around the base of the skirt. A basic gorgeous dress ended up being a really cool lace and satin taffeta skirt for the gown."
Hannah says when her father walked her down the aisle on her wedding day, October 22, 2016, her mother was there too, and part of the memory of her entire wedding day.
"It was like being wrapped up in my mom even though she wasn't there physically with us."
"When you're talking about a wedding it's not just about the bride," says Kari. "It's about becoming a family, and remembering those who have passed away. It's part of your history and who you are."
"I can't even really put a price on what it means to say, 'I wore my mom's wedding dress on my wedding day and I was also able to add my own personal flare to it,'" says Hannah. "That's one of the best parts of it, just feeling like Mom was hugging me throughout the day and being able to have that memory."   
[supsystic-gallery id=40]