Article and Photos by David Borlaug
Sitting with visitors in a downtown café over lunch, Lemmon, South Dakota sculptor John Lopez reflects on time. The time spent growing up with rural values instilled in him. The time since returning home 10 years ago and how quickly he has become an internationally-recognized artist. The time he has left to continue his creativity, especially pieces that endure through time.
Making use of what would appear to be metal junk to most, John has created a collection of sculptures including full-size bison, longhorn steers, horses, people, and yes, how about a cowboy riding a walleye? You'll find them all ensconced in interesting places, from the Dakotas to Texas and soon in Europe.
Diners at Bismarck's McKenzie River Pizza, Grill & Pub are familiar with his dramatic standing grizzly bear at the restaurant's front entrance. In the next few months, another of his popular bison will make its way to the French countryside in an American Old West-themed park. And he will personally deliver a large scale-replica of the Academy Awards' "Oscar," to be included in a tribute to Grace Kelly in Monaco. His version of the bear attack on fur trapper Hugh Glass, made famous in the movie "The Revenant," is on display in Lemmon, becoming a popular tourist attraction.
In the back shop of his Kokomo Inn Gallery in downtown Lemmon (open daily in summer months, and just call ahead in the off-season and he will likely meet you there: 605-209-0954), John is currently fashioning clay models for two area college and high school mascots—a wolf and tiger. Each of his pieces, depending upon size and complexity, typically takes up to six months to complete.
Born into a horse-raising family deeply rooted in the hills and grasses of the Grand River, John maintains a humble demeanor that invades his work. As dramatic as his pieces become, they are born of a gentle soul, who is grateful to be back home among his people and the legends that stir in the wind. While he continues the family tradition of breeding exquisite horses on his ranch outside of town, just past the rodeo grounds, his talented hands mold and shape equally beautiful horses in clay and later metal sculptures.
Never satisfied with the body of his impressive work, John is always looking to the next project, including creating a sculpture garden adjacent to his historic gallery building. Hearing of another park project in North Dakota, his interest immediately set in motion a myriad of ideas.
"I'm grateful that work now seems to come to me, allowing me the freedom  to grow mentally and spiritually with my creativity," he says.
---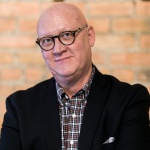 David Borlaug is president of the Lewis & Clark Fort Mandan Foundation and director of The Capital Gallery in downtown Bismarck. After a long career in newspaper and magazine publishing, he has devoted himself to nonprofit work the past 20 years.