Justin Ell: Greatest Fan of the Greatest Show in the West
By Marci Narum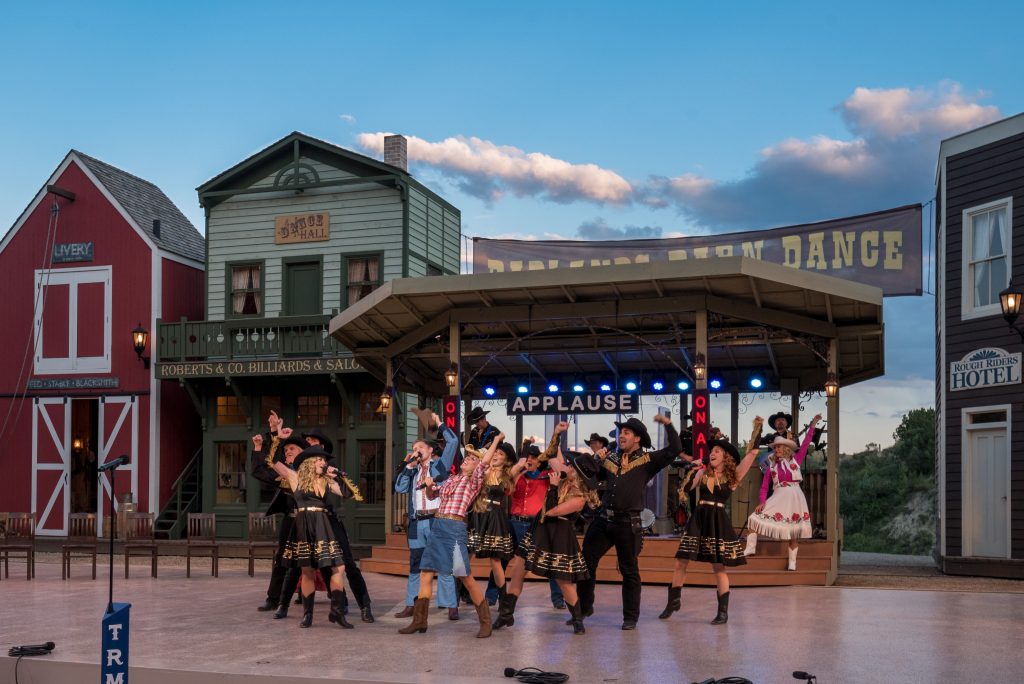 This summer's Medora Musical pays special tribute to Harold Schafer and his wife, Sheila, known as "The First Lady" of Medora. One would assume Sheila Schafer was also the Medora Musical's number one fan. But she might agree—Justin Ell gets that title.
He's been seeing the show since he was six years old, when his family would make it part of a summer camping trip to Medora. But when Justin was old enough to drive, he started seeing the musical more frequently.
"It was two, three, four times. Now it's at least 30 times I'll see it," Justin says. "I go almost every weekend. If I have a bad day at work, then I'll go down during the week. Get off work and head out there."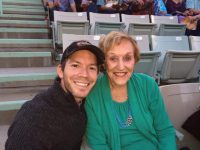 Now 32, Justin says Medora holds a special place in his heart for the serenity he finds there.
"I feel at peace. When you go to Medora, you just leave all your troubles behind and forget about everything and relax, have fun."
But there is a much more significant reason Justin is such a dedicated fan of the musical, and has spent countless hours and dollars driving from Bismarck and back to see the show.
"I've always wanted to be a Burning Hills Singer. I love doing theater; the acting and being able to do that every night would be a dream come true. I love the country music and the atmosphere out there."
Justin has not given up on that dream. He continues to audition and is optimistic that he can be part of the show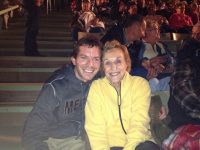 someday. In the meantime, he is a walking, talking billboard for the Medora Musical. Literally. If there were any doubt about his devotion to the musical, check out his ink.
"I always wanted a Medora tattoo. I like the old Medora logo, and it's on my leg where everybody can see it. It was a little painful, but it was well worth it. I got it last summer; it's my tribute to the 50th anniversary of the Medora Musical."
Justin also bears a tattoo on his right arm of the chorus to "Come Home to North Dakota," his all-time favorite song. And if you happen to ride with Justin in his car, there is only one choice of music. The Medora Musical CD—year 'round.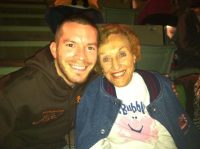 The Greatest Show in the West just keeps getting better for Justin Ell. He has already seen the 2016 Medora Musical nearly ten times, and he says it's the best one ever. But it is also bitter
sweet. The tribute to Harold and his friend, "Mrs. Schafer" (as he will only refer to her), brings tears to his eyes every time he sees it. Justin says their connection and friendship was because of the Medora Musical.
"I'd be in my regular seat, and she'd be sitting up in her seat. She would stand and wave and yell my name before a performance. At intermission we would sit and talk about past Medora Musicals."
Sheila knew what a devoted fan Justin is.
"In 2014 I got a letter in the mail. I opened it, and there was $100 bill and a note that read,
'To use on a 2014 season pass to the musical.'
"It was signed, 'Your friend.' I knew it was her. I thanked her, but she just smiled and said, 'Thank you.' She didn't think it was a big deal."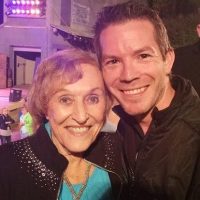 It was a big deal to Justin. He still has the letter. He also has a treasured collection of photos of himself and Mrs. Schafer. They had one taken together at every musical, and Justin says they are memories he wouldn't trade for anything.
He would be happy to keep the title of Medora Musial's biggest fan, though. And he thinks Sheila would be okay with it.
"She would tell her friends how many times I had seen the show. She was so happy about it. Hearing it from Mrs. Schafer—that's all that really mattered."