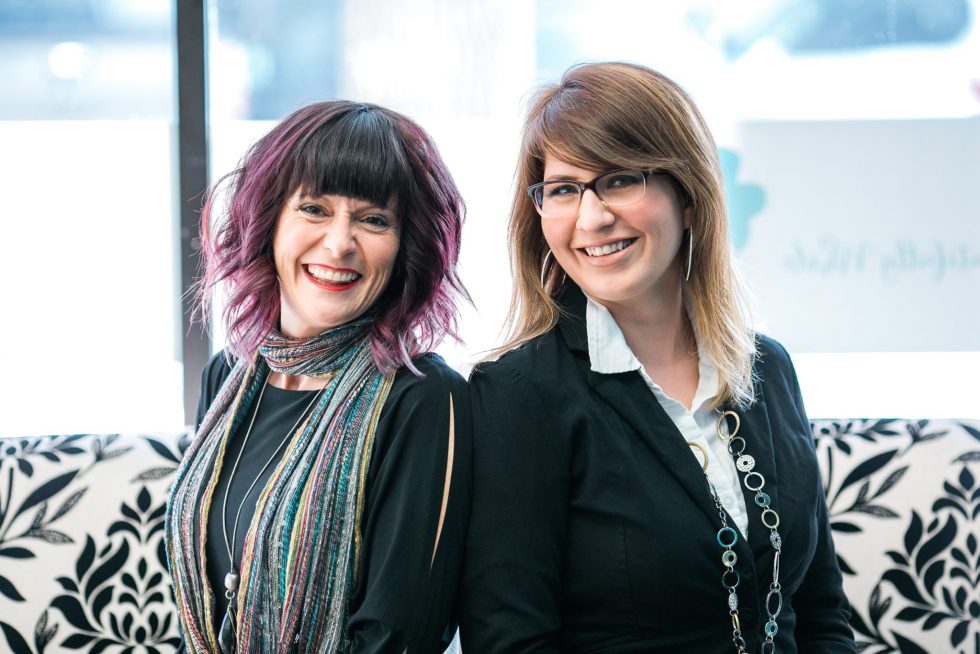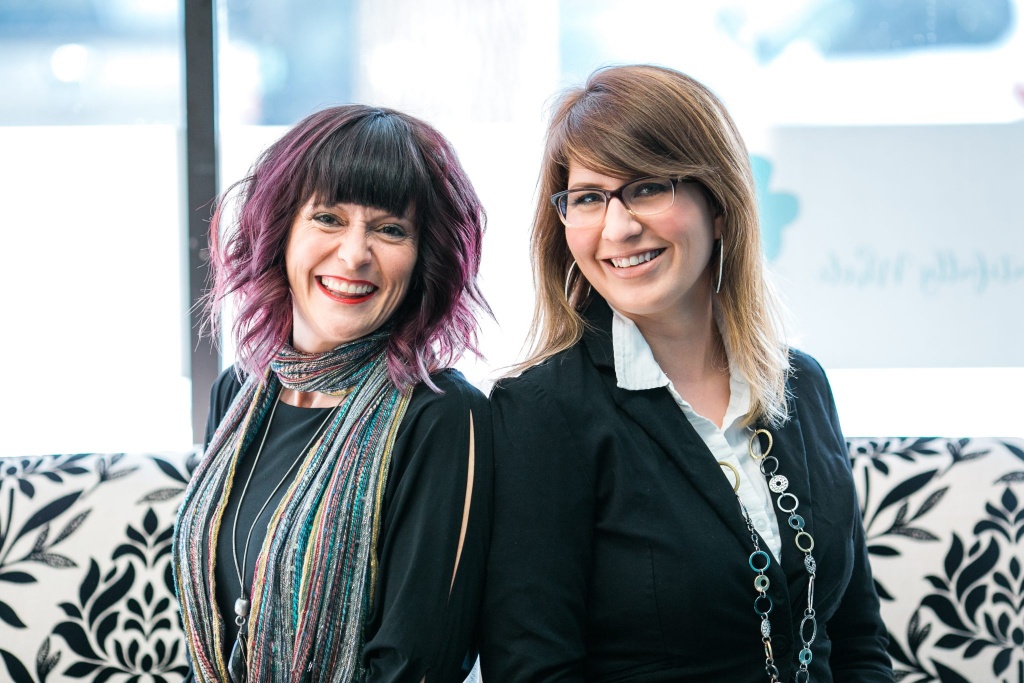 by Jody Kerzman  | Photography: Photos by Jacy
The offices at Big Blue Couch® Coaching in downtown Bismarck, North Dakota are buzzing with activity. There are podcasts to record, Facebook live videos to do, and online orders to fill. To say that this business thrives because of technology would be an understatement.
"I don't think we'd exist if technology wasn't a thing," says Mandy B. Anderson, about the business she and best friend Raychel Chumley founded together in 2014.
"We didn't have a well thought out business plan when we started. We literally jumped in with a bottle of wine and an ounce of courage," Mandy smiles.
Their original idea was to combine their two separate life coaching businesses and manage Big Blue Couch Coaching together.
"We realized we are stronger together than we are apart," says Raychel.
"We originally thought Big Blue Couch was a ministry, but we soon realized it was actually a business. Being a business has allowed us to get into schools and businesses. We've been able to reach women in all walks of life and faith," adds Mandy.
REACHING WOMEN
They reach those women in many ways—through in-person events, coaching sessions, and online. As technology changes, so does their business.
"When we first started Big Blue Couch four years ago, there were not a lot of options for technology," says Raychel. "Facebook live didn't exist in 2014. So we recorded our videos, uploaded them to Vimeo, sent them to a private site, then put a link in a members only area on our website, and then we created a Facebook group to try and create a community. It was a lot of steps!
"Facebook live really opened up a whole new world for us to use technology without spending money we didn't have. Facebook live is free so we embraced it and figured out how to use that tool with our groups we already had. It was amazing technology for us, and it was so new at the time that nobody else was really doing it. We had to do a lot of trial and error, but it definitely changed our business format of how we reached people."
Now, the girls on the Big Blue Couch reach people around the world. They have clients from around North Dakota, as well as from far away places such as California, Georgia, New York, and Pennsylvania. Their social media pages and online bookstore reach people worldwide.
"We did a Black Friday sale last Thanksgiving and we shipped products to Hawaii and New Zealand during the same week. We literally had products flying over two oceans," says Mandy with a smile.
Those products are unique to Big Blue Couch. Mandy and Raychel write all the material they use.
"We always wanted to be writers!" says Mandy.
"Our clients needed materials, and I remember not being able to find the right books to help them. We realized that was because we hadn't written those books yet," says Raychel. "Our clients needed materials immediately, and going through a publisher takes years. So we decided to self-publish. It was a way to use technology to keep up with demand."
BUILDING COMMUNITY
Technology has allowed them to reach women who before wouldn't have had access to programs like theirs. They find women from rural areas are searching for a community like what they find at the Big Blue Couch.
"Sometimes it's not necessarily what we're teaching material-wise, but we help them find that sense of community they've been searching for," says Raychel. "It's hard to have a problem in a small town because everyone knows your business. Our online groups have become a safe place for women who don't have anyone else. I don't think we saw that as part of it when we started."
They explain the secret to reaching those women and to building that sense of community lies in the use of the one-to-many model. It allows them to share one message with a group of people instead of just one client at a time.
"The one-to-many model really isn't taught in traditional coaching and counseling. The focus is on the one-to-one model, but that leads to a lot of burn out and discouragement a lot quicker. You feel like you're not making the impact you want to. When you start adding technology you can reach 10 people in an hour instead of one. That's something we tell beginning coaches too. You absolutely have to do one-on-one right away, but think of technology and what you can do from the beginning to start building that one-to-many."
"We've done group programs from the get-go," adds Mandy.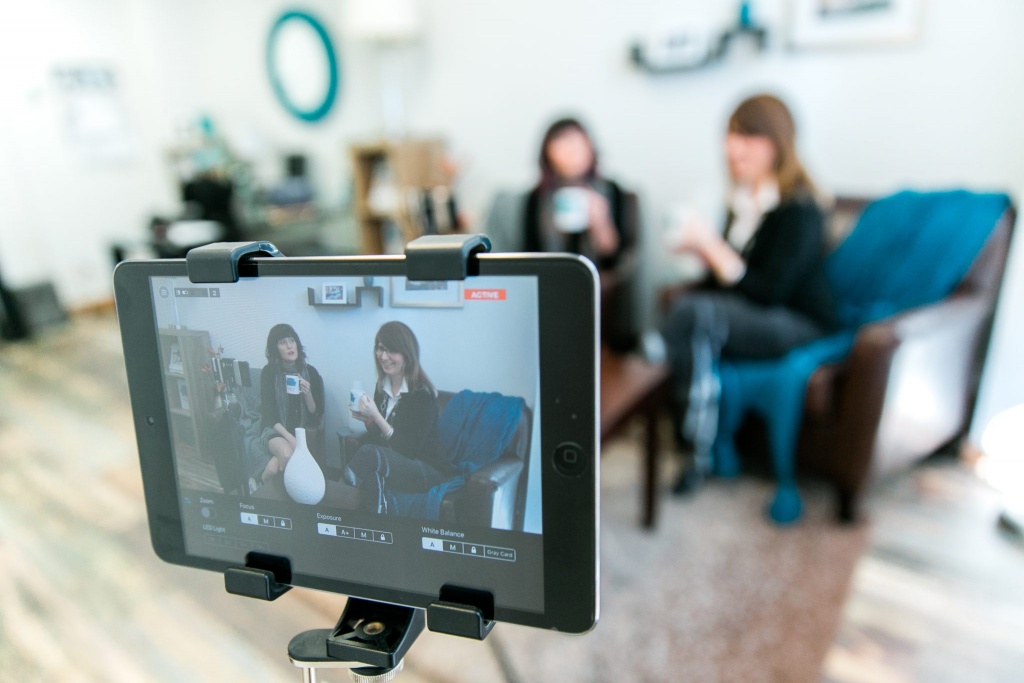 NOBODY'S PERFECT
Mandy and Raychel are happy to share their secrets with other business women. In fact, they offer a 30-day online bootcamp for business women called Virtually Savvy. In Virtually Savvy, Mandy and Raychel provide hands-on training and encouragement. The whole program is done online; there are no in-person sessions.
"We only let 10 women in, and every day we give them a challenge; we ask them to post a video to the group page. We critique and coach them so they get better each time," explains Mandy.
"Really what we see is women getting more comfortable with their videos and their confidence growing in all parts of their lives."  
"Teaching that confidence and teaching women to be authentic and to be okay with who they are is huge," Raychel adds.
Mandy and Raychel radiate confidence in their videos; they say the secret is throwing perfectionism out the window. They admit they don't own any fancy camera equipment—all their videos are recorded on iPhones and iPads. They strive to be real. It's not uncommon to catch them doing a Facebook live in pajamas and no makeup.
"If we're teaching confidence, then we need to be able to go on camera not looking like we just walked out of a magazine," says Raychel.
"And sometimes, our ideas just don't work," adds Mandy. "We're not afraid to make mistakes and then quickly delete them!"
"You have to be okay with failing if you're going to try new things. We've gotten really good at failure," Raychel says.
"But we've succeeded because we've learned from those failures," Mandy explains.
"And we've learned what not to do, which sometimes when it comes to a business, learning what doesn't work is just as valuable as learning what does work," says Raychel.
FOREVER FRIENDS
What does work is Mandy and Raychel working together. It's a dream that has been decades in the making. It all started at Crystal Springs Bible camp in 1994.
"It was the summer before sixth grade," recalls Raychel.
"We became friends when we were put in the same cabin. We didn't know each other before that. There were two other girls in our cabin, and they became our good friends too," Mandy remembers. "We called ourselves the 'Forever Friends' and sang together at camp. In my brain, we were going to grow up to be very famous singers together."
"That wasn't my dream," laughs Raychel, shaking her head.
The "Forever Friends" would spend one glorious week together at Bible camp every year and then go their separate ways. They worked hard to stay in touch year-round.
"My mom recently found three shoeboxes of my old letters and photos, some from camp friends like Raychel, others from old boyfriends," says Mandy. "The best love story I found in the boxes is the story of my friendship with Raychel. One of us was always going through something. We were coaching each other through life before we even knew what coaching was. We've been Big Blue Couching it since our camp days!"
In 1994 there were no podcasts, Facebook lives, or Facetime sessions to help the friends stay in touch. They relied on handwritten letters and cassette tapes.
"We really loved writing 'roundabout' letters to each other," recalls Mandy. "A roundabout letter is a letter that one person starts, then sends to the next person who adds a paragraph or two before sending it onto the next person. The letters go around the group, much like our text messages do today. And every year at the end of camp we would record our voices on a cassette tape so we could hear each other's voices all year long. We refused to let each other go through life without each other.
"Those cassettes were like the precursor to today's podcasts. I'm sad that the tapes don't work anymore; some eroded and just don't work, and some got recorded over by Britney Spears songs," Mandy says, giving Raychel a dirty look like only a best friend can.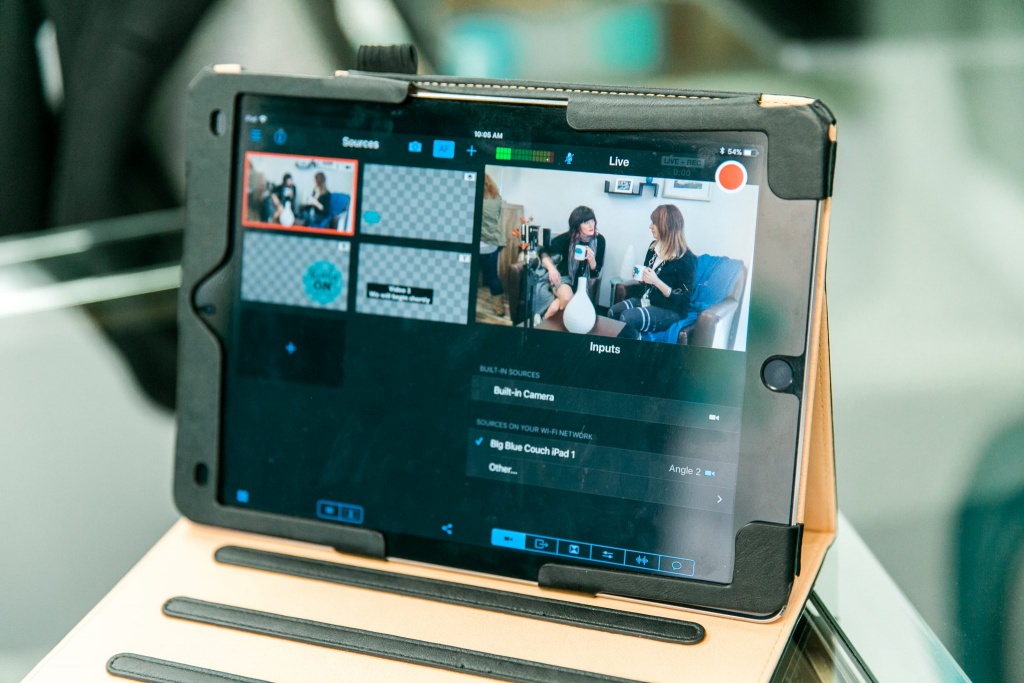 TECHNICALLY A DREAM
The chemistry between these long-time best friends is infectious. They finish each other's sentences, laugh at inside jokes, and share the same excitement when asked about Big Blue Couch Coaching.
"While Raychel didn't share my dream of becoming famous singers, she did share the dream of doing something together someday. As we all grew up and got married, we drifted apart. But Raychel and I stayed close, even though we lived on different sides of the state."
Now they admit this is their dream, the one they first started planning in that cabin more than 20 years ago. They know embracing technology, and changing with it, has helped them make that dream a reality.
"We've never been afraid to use technology," says Raychel.
Not even when the newest technology was a cassette tape recorder, a microphone, and a blank tape.   
Click here to see more photos of the girls on the Big Blue Couch by Photos by Jacy.