A note from the publisher, Marci Narum

The inspiration for this new magazine came from the young lady featured on the cover. It actually goes back to January of this year when I became the sole owner of Inspired Woman and began mapping my vision for the future of the magazine. I had considered publishing Inspired Woman bi-monthly and introducing a second magazine for the alternating months. In April, while visiting with my friend Nicole, I shared this idea. She said her daughter has wondered why there isn't a magazine that kids can write for. I looked at her and said, "I love that idea."
So, here we are. I reached out to high school newspaper advisors, teachers, and college professors to invite their students to submit essays or other content. The response from them was overwhelmingly positive and encouraging. As the stories have come together, there is a common theme: Resilience. Everyone says kids are resilient, but to learn what some of our teens and young adults experience and how they cope is truly heartwarming and inspiring.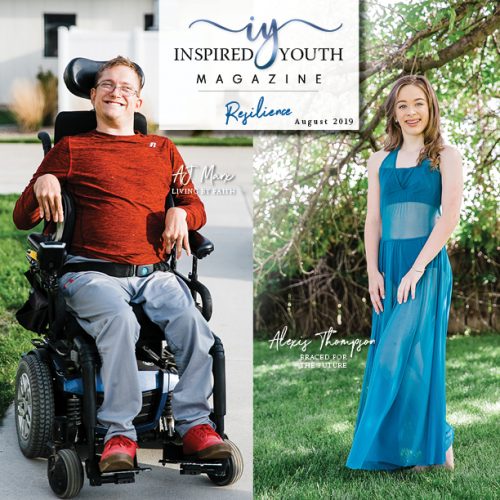 We have two cover stories for you in this debut issue — Alexis Thompson and AJ Marx. They've had very different journeys in life but both are examples of hope, determination, perseverance, and strength.
The remainder of the content was submitted by student writers in middle school, high school, and college, and you will notice the common thread of resilience is woven throughout many of the pieces.
We are also gearing up for "Ready & Resilient," the Second Annual Inspired Woman Retreat. Tickets are now available and I'm excited to begin sharing more details with you in the next couple of months!