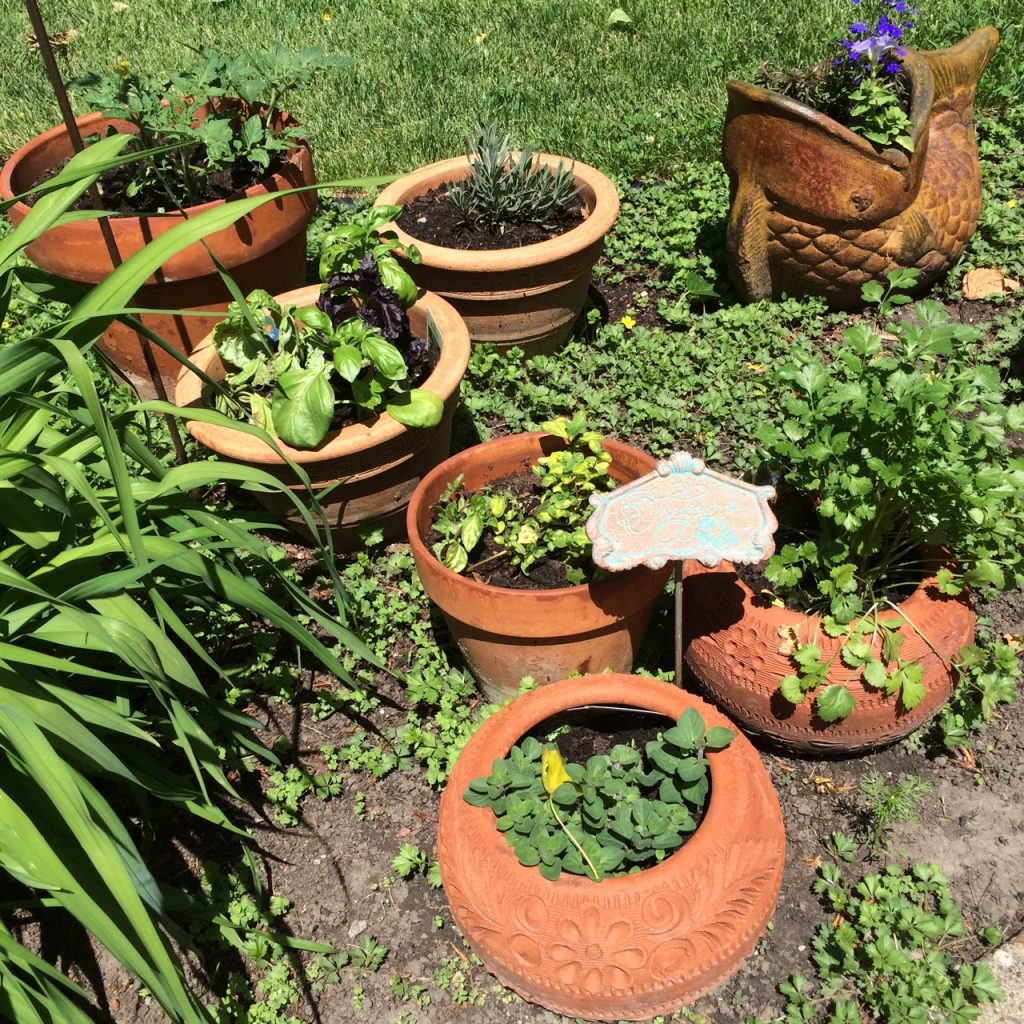 By Pam Vukelic
As I write this, the herbs in my garden are flourishing! The basil thrives in the heat, the chives have already bloomed, and the dill has not yet gone to seed. The time I spend weeding and preening amongst the herbs is rewarded with the glorious scents of mint, lavender, and rosemary. A few pots with herbs just outside the back door make it easy to enhance my cooking with delightful flavors. A garnish for a serving dish is at my fingertips.
Herbs are a truly delightful addition to any garden for a variety of reasons. Many make attractive borders, particularly those that grow in clumps. Some are animal repellants. Butterflies are drawn to a few. The variety in leaf shape and color creates eye appeal. The blooms, particularly of chives and dill, provide outstanding color.
Chives are ubiquitous in this part of the country. Our winters do not faze these perennials. The delicate lavender blooms are edible. Break the flowers up and put them in your salad or use them to make a flavored oil or vinegar.
Garlic chives have at leaves instead of the cylindrical ones common chives have. They bloom with a pretty white flower as fall approaches.
I recently picked up a third type, curly chives, at a neighborhood plant sale. They, too, have at leaves but their growth pattern is a swirl. The flower that emerges in the late summer is pink. I look forward to experimenting with these and was happy with the find.
Both garlic chives and curly chives have a stronger onion flavor than common chives. They are best added at the end of a cooking process. Chopped chives atop a bowl of soup, baked potato, or deviled egg are always a welcome addi- tion. The mild onion flavor is never over-powering. A recent gift from my daughter was an herb shear which consists of five pairs of blades. These shears allow me to snip herbs, such as chives, very quickly and evenly. Although this tool is probably the proverbial one-trick-pony, it is one that I use frequently.
One of my favorite soup recipes features fern leaf dill. This soup, adapted from an Epicurious recipe, serves as a great starter course for a meal. It can be served hot in the winter and cold in the summer. Pureeing the soup with an immersion blender gives it a creamy consistency and helps to create a delicate green color. Save a few fine sprigs of dill for garnish and add a swirl of cream to each bowl as you serve it. But, go easy on this so that the richness of the cream does not over power the soup.
Cream of Celery with Dill Soup
1 bunch celery, chopped (discard leaves)
1 large potato, peeled and cubed
salt and white pepper to taste
3 cups low sodium chicken broth
1/4 cup fresh dill, coarsely chopped (reserve some for garnish)
1/2 cup heavy cream (plus more for garnish)
flaky sea salt (such as Maldon's)
Place celery, potato, leek, and butter in a medium saucepan over medium heat; season with salt and white pepper as desired. Cook, stirring, until onion is tender. Add chicken broth; simmer until potatoes are tender. Add dill and purée with an immersion blender. Stir in cream. Serve soup topped with a tiny sprig of dill, a swirl of cream, and flaky sea salt.
Makes 4 large or 8 small servings
The greenhouses perhaps no longer have herbs available for this year, but check with your friends who might have perennials to share. Definitely consider a back-door herb garden for next year. You'll be happy you did!