By Jody Kerzman
Music brings joy.
It's something four North Dakota women have known since they were very young, and now they're sharing their music with the world, bringing joy to people beyond their small North Dakota hometowns.
We caught up with North Dakota's own Kat Perkins, Gwen Sebastian, and Kendra and Krista Slaubaugh of Tigirlily.
They shared about their careers, their passion for music, and how music brings them joy every day.
Kat Perkins
Kat Perkins is no stranger to writing songs. She's written dozens of songs, and every song has meaning. At the moment, she says the most inspirational song she's written is one called "Joy, Joy, Joy."
"I was inspired to write that song by the kids I see in my classroom visits. They really inspired me to write it and I get a lot of inspiration from kids," explains Kat Perkins. "They don't even know how inspiring they are; their enthusiasm to learn, listen, and to live fearlessly is just awesome."
Kat has lived a pretty fearless life herself. She's been performing since kindergarten.
"I begged to sing in front of people," remembers Kat. "I grew up in small town North Dakota, so my audiences were talent shows, church programs, school, and community programs. It didn't matter. I was hooked."
At age 15, Kat started her own band, made up of her family members. They played every chance they got. Whether it was a street dance, talent show, or community days, you name it, Kat and her band were there. She spent the summer after graduating high school performing in the Medora Musical.
"By the time I was 18, I really felt like I wanted to pursue music as a career," says Kat. "So I moved to the big city of Minneapolis. I auditioned for a lot of musicals and theater productions. I started performing for a living, and felt like I could actually call myself a professional. But I grew up in a family where education was super important so I wanted to make sure I got a degree too."
Kat started taking college courses while still in high school in Scranton, North Dakota. Coming from a long line of teachers, her first instinct was to get a teaching degree.
"I wanted to have that in case performing didn't work out," she explains. "I soon found out that it was realistic to making a living performing."
Kat changed her focus, and got a degree in cosmetology instead.
"Becoming a cosmetologist really helped me become more of a jack-of-all-trades. I still do my own hair and makeup much of the time."  
This is Her Voice
Kat's big break came in 2013, when she was chosen for the blind auditions on the popular television reality show, "The Voice."
"The producers found me on YouTube and asked me to come audition for the show," remembers Kat. "That decision forever changed my life. Putting myself on that national platform where millions of people could hear me sing really took my career to another level and brought more opportunities."
Kat made the top five on "The Voice," and the show kickstarted her career. She released her first single, "Fearless," in August 2014. Today, she is busier than ever. She performs full time; her summers are spent doing outdoor gigs at fairs and festivals across the country. She has performed overseas for the troops and every fall and the spring, she spends her time visiting schools.
"We do lyceums and assemblies for kids," says Kat. "We talk about being fearless and kind, and talk about anti-bullying. We do a mini-concert for the students too," she explains. "I always joke that if I can inspire one kid to try something new, to step outside of their comfort zone, then I've done my job. I love to inspire kids through my music and my story. I want to empower them to make their dreams come true if they work hard and remain fearless. I also stress the importance of being kind. Kindness is so important for success."
Christmas Tour and Family Joy
This time of year, Kat is all about Christmas.
"I love Christmas," says Kat. "I developed our Christmas show last year and had such a blast doing it. I wish I could do Christmas music year round!"
Kat's tour kicked off in Bismarck after Thanksgiving. She'll play 15 dates in 15 different cities, finishing up on December 23. That's her birthday, and she plans to spend it with her family.
"My family is everything to me," says Kat. "Family is what gives me the most joy. My parents retired and moved to the Twin Cities to be closer to my sister, Kelly, and me. And now Kelly has kids, so I have nieces and nephews and they add so much more joy to the family."  
The joy her family brings makes up for the things Kat has had to give up for her career.
"In the beginning the biggest sacrifices were financial; I could never afford to take vacations. Even being with my friends was a sacrifice because my work happens on the weekends, when most people are unwinding and hanging out. That never worked for me," says Kat. "It was hard to make and keep friends. I still don't get to do much of that; I work nights and weekends and I travel all the time.
"This is a very fulfilling career, the fans and the recognition is so fun, but it is not a lucrative career. The paychecks are not consistent like they are if you work a nine to five job. There are some months that I don't get a check. I had to learn quickly how to budget for that."
But she didn't have to learn how to work hard; she learned that as a kid in Scranton, North Dakota.
"The great thing about growing up in a small town is they all had my back when I started this journey. They still do. I can still feel the support, and I know they're cheering me on."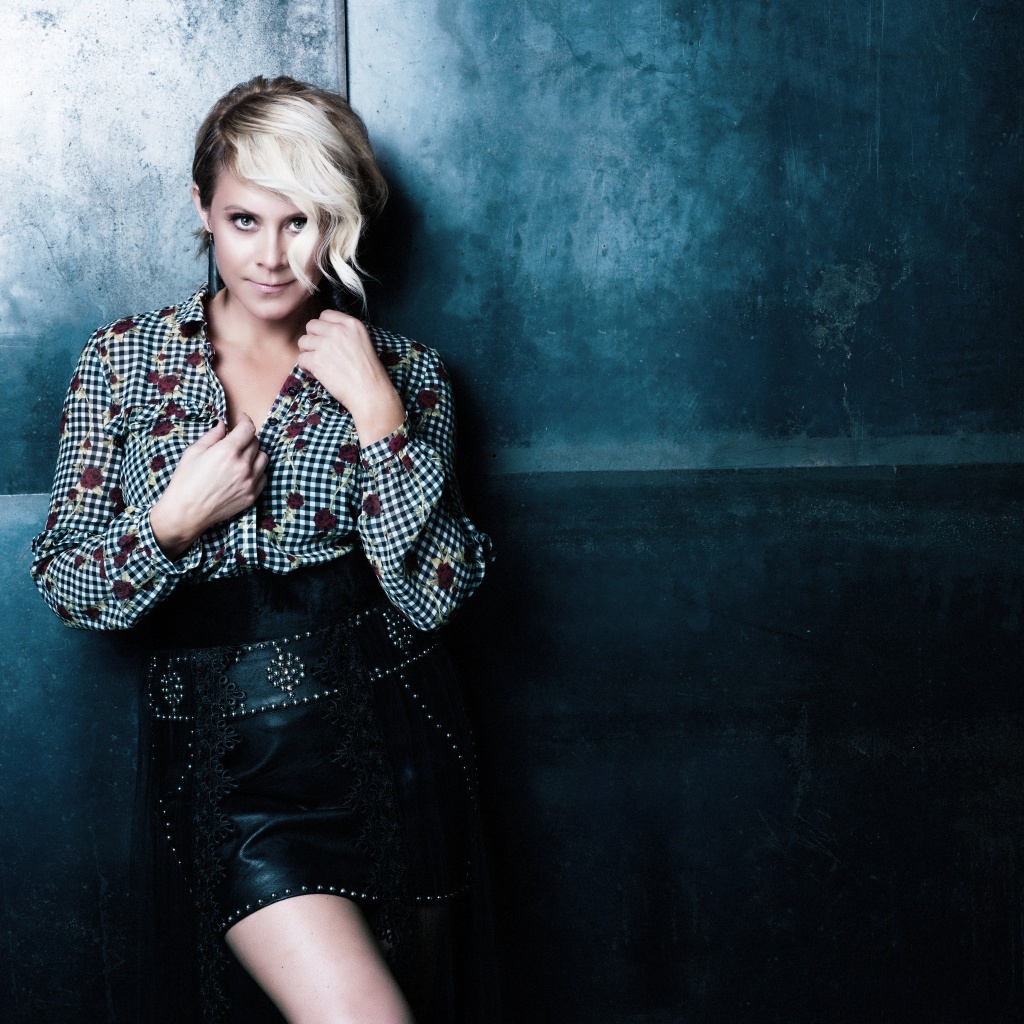 Gwen Sebastian
Ask Gwen Sebastian what brings her joy, and she's quick to answer.
"Music. Being with my family and friends. Being with my husband. And bubble baths," she answers with a laugh.
Aside from the bubble baths, it's a list you'd probably expect from Gwen, who has been singing and performing for as long as she can remember. Gwen grew up on a farm near Hebron, North Dakota. Her parents were not only farmers, but also musicians, a gift they passed along to their daughter.
"I started singing with them when I was pretty little," remembers Gwen. "We played fairs, weddings, even bars when they'd let me in."
After graduating high school, Gwen set off for nursing school. But she never finished. Her heart was already in Nashville.
"I always wanted to move there and to be a part of the songwriting community there. So, about 20 years ago now, I followed my dreams to Nashville. I've been here ever since."
She was not an overnight success. It took six years of being there, working a regular job as a property manager to get into music.
"I was really intimidated by it, even though it was the one thing I wanted most in life."
Fourteen years ago, Gwen went on tour with her band, and she's been touring ever since. The biggest boost to her career came in 2012, when she auditioned for "The Voice."
"I did it because I was ready to take my career to another level," says Gwen. "I was lucky enough to pick from three coaches: CeeLo Green, Adam Levine, and Blake Shelton."
She picked Blake Shelton, a choice that forever changed her career.
"After I was done on 'The Voice,' Blake asked me to go on tour with him, so I did that for quite some time. I had a single with him called 'My Eyes.' He was great and did so much for me," Gwen says. "At the time I was touring with Blake Shelton, he was married to Miranda Lambert so I became friends with her too. For awhile I was singing with Blake, Miranda, and doing my own shows. I was pretty busy! I'm currently singing back-up for Miranda, doing shows with her, as well as my own shows."
Singing and Writing
Gwen is doing more than just performing with Miranda Lambert. She co-wrote three of the songs on Miranda's new album, "The Weight of These Wings," which was released on November 18. Gwen helped write "Runnin' Just in Case," "Dear Old Sun," and "I've Got Wheels."
"I've become a much better writer. Every time I sit down with other writers I become better," says Gwen. "Writing with Miranda, and with other great female writers like Ashley Monroe and Terri Jo Box has been amazing. And it's true, the more you write, the better you get."
Gwen has also been busy writing songs for herself. Her new album is set to be released in early 2017.
"My own music style has evolved since when I first started writing songs. I think all my influences over the years come through in my writing. I am not just a country music artist, especially with my new album. I have been influenced by so many different styles of music, including Queen, Madonna, Bonnie Raitt, and even Dolly Parton.
"I'm also influenced by North Dakota. One song on that album is called 'Oh Cowboy,' which is about my parents, and making a living on a farm, and the hardships that come with that. It's about raising kids and then letting them go," she explains. "Other songs on the album are influenced by other life experiences I've had. I've been through a divorce, and I've seen friends go through it. It's hard. But not all the songs are that deep. There's a part of me that really just likes a good groove in a song that will make them want to get up and dance."
Empowering Women
Gwen knows when it comes to influencing others, she's in a great position to do just that. She considers herself a role model, not just for young girls, but for women of all ages.
"As women, I think we are all examples to each other," explains Gwen. "We can learn a lot from each other. I just want to makes sure women know that they don't have to settle. That was always my motto; if you don't like where you're at, whether it's your relationship or your job, find something that makes you happy. I know we have responsibilities, and I'm not saying women should walk out on their responsibilities, but women need to find the light, find their passion. Because if you're not happy, others around you aren't either.
"I hope young girls find their light and the confidence to be themselves and are not afraid to be different. We live in a world where social media is a part of young girls' lives everyday. There are bullies everywhere, but there are also allies out there. Find a good group of friends that will stand up for you. And then make sure you stand up for others, and for what you believe in too."
For Gwen, doing that has meant making some difficult decisions. She decided years ago to pursue music instead of motherhood, a choice that wasn't easy. But there are little things, and moments that assure her she's on the path she's supposed to be.
"A fan got a tattoo of the lyrics of my song 'Nothing,' and that was one of the most surprising things that has ever happened in my music career.  I was really humbled by that."
And, at the end of the day, Gwen knows there's always a bubble bath waiting for her.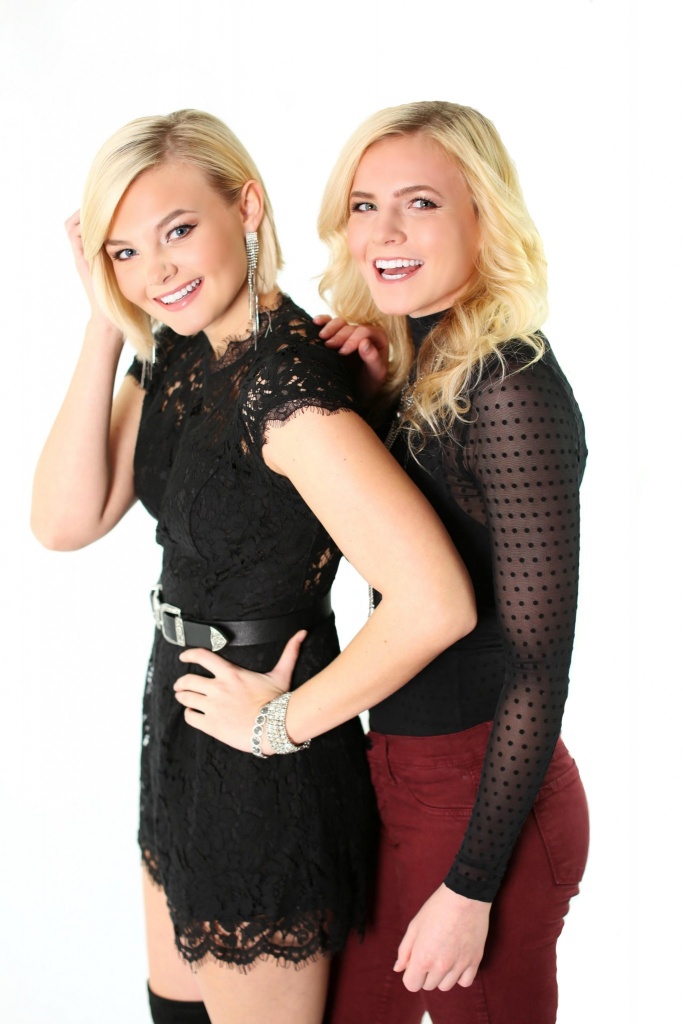 Tigirlily
Kendra and Krista Slaubaugh of Hazen, North Dakota have been making music together for as long as they can remember.
"We've been singing together since we were tiny little tots," says 20-year-old Kendra with a smile. "We started doing YouTube videos and community events and it started getting bigger from there. We started getting calls from out of state to come perform for different events and since then we've recorded music in Nashville."
"In the past year we've performed in New York, Texas, and Nashville and all kinds of places in between," says 18-year-old Krista. "Now we're really branching out more nationally and internationally with our media sites."
It's been a bit of a whirlwind for the sisters. They've performed in front of thousands of fans, opened for acts like Big and Rich, Justin Moore, and Thompson Square. They have been rapidly growing an international fan base via YouTube, where their videos have been viewed more than four million times. Their social media sites show over 145,000 fans. It all started four years ago, when they finally settled on the name Tigirlily.
"We used to go by Kendra and Krista," explains Krista. "But we wanted to find a name that was catchy and that people would remember. We came across tigerlily and fell in love. It's a flower, it's girly, and it's pretty and fun. We thought that described us pretty well. Then we changed the spelling to Tigirlily, so it really has 'girl' in the name and it fits us even better now. I'm more of the tiger, the fierce personality. Kendra is more bubbly, more of the flowery, girly one. The name just has so many different meanings and it fits us perfectly."
Living a Dream
It isn't just the name that fits these sisters perfectly. This career does too.
"People always say find what you love and make a career out of it and that's what we're trying to do," says Krista.
"Today we were just at a meeting and it hit me—we just got to eat and talk for two hours, exchanging ideas and creating art and that's part of our work. Who can say that? I definitely have 'pinch me' moments. We are so lucky we get to do music. It started with us just loving to do music and then actually became a career."
"It has always been a goal for us from day one we want to make music our career," says Krista. "Even though we're young we're going to go for it."
Their dreams and hard work are paying off. After spending two years writing new music, they were finally able to record that music in Nashville at the end of August. Their new album is set to be released after the new year. It will be their fourth album, but this one, they say, is different.
"It is definitely very different from what we've done before, but it's different in a good way," explains Kendra. "We're growing. We're going a different direction in our lives than we were when we first started Tigirlily, and we want our music to move in that direction too."
A quick scroll through their YouTube channel shows the growth and the change they've gone through. The girls giggle as they think about those early videos, but they say they don't regret posting them.
"I don't regret it because it's what helped us get to where we are today," says Kendra. "It's just growing pains along with way and that's part of it. Any artist looks at their first music and goes, 'look where I am now.' We've learned so much along the way and gained so much knowledge."
"You can really see the evolution of me on YouTube," laughs Krista. "We started posting videos when I was in sixth grade. It is hilarious to look at those videos."
In fact, the sisters say those old videos and those very public growing pains have helped them be positive role models for young girls.
"I can show myself in those awkward junior high ages and show girls it's okay. You're going to be okay," says Krista.
"We always are thinking about that because growing up we had role models. If we can be role models to other young girls and anyone in general we're doing something right," says Kendra. "We take that seriously because we know how important that is and how limited good role models are today."
Tough Choices
Their rise to stardom hasn't come without sacrifices. Instead of going off to college like their friends, the sisters stayed home in Hazen. They're balancing their musical career with online college classes, all while watching their friends have the traditional college experiences.
"We stay in touch with our friends through social media and texting," says Kendra. "There are times I wish I could be with them, but I have to stay home and create a video or learn a new song instead because that is my job."
"I was really considering playing college volleyball. I toured a couple schools, but I ultimately had to decide music is where I want to be in 10 years," says Krista. "I probably never would become a professional volleyball player. I love volleyball, but music is going to be my career for hopefully the rest of my life."
Music is what brings these sisters joy. Singing it, playing it, performing it, sharing it with others.
"It's crazy to see how music can touch people," says Kendra. "Music is such a universal language and touches people all over the world. That makes it all worth it. If our music can help one person get through a bad day or make them happier on a good day, that brings us joy."