Article and Photos by Deb Seminary
It could be one of the most important rooms in a home, and you may not even have one. Yet.
The gift closet.
Whatever stage of life you are in, you can benefit from a gift closet. Single? Think about gifts you may need for co-workers, friends, hostesses, family, and more.
Have kids? Fill a shelf with age-appropriate birthday gifts for that last minute 'Oh-mom-I-forgot-to-tell-you-about' party. Add a few gifts for the teachers in your child's life, and you are set.
Heading out the door for your office Christmas party and remember you were supposed to bring a white elephant gift to exchange? On your way to the neighbor's annual barbecue and forgot to pick up a bottle of wine?
Gift closet to the rescue!
But what should your gift closet contain?
Candles and wine are safe choices, as is a six-pack of craft beers or growler from a local brewer. If you know the person well, it's a nice touch to personalize your selection, but any of the following would be a welcome gift:
Tea towels

Note cards

Flowering plant or potted herbs

Diffusers

Cookbook or the latest best seller

Specialty coffees and teas

Flavored balsamic vinegars and olive oil

Photo frame

Paper goods﹘party napkins or plates

Seasonal serving platter

Chocolate
A themed basket needs a little more thought but also shows that you put a bit more time into it. Try grouping your gifts together so you can pull this off:
Movie Night: popcorn, bags, candy, a couple DVDs, or a list of Netflix suggestions
Spa Package: scented lotions and soaps, masks, slippers, candles, essential oils
Game Night: cards, cribbage board or other board games, snacks
Fitness: water bottle, hand weights, TheraBands, energy bars
Set aside a couple hours to shop specifically for your gift closet. Grab a friend and have fun.
How about making a few gifts? Open up Pinterest, type in 'hostess gifts,' and watch the results roll in.
Or, develop a signature gift. Maybe you're the one that always brings the killer banana bread, granola, brownies, pesto, apple jelly, or homemade limoncello.  
Don't forget to keep gift bags, baskets, tissue paper, ribbon, and cards on hand, as well.
If you don't have a gift closet in your home, hopefully this has given you inspiration to stock a couple shelves for the next time you need a last-minute gift.   
---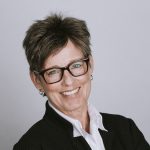 Deb Seminary is a Senior Account Executive at Odney and the executive director of DisruptWell Summit. She enjoys meeting challenges head-on, learning new things, and a good IPA.