By Tracie Bettenhausen
Submitted photos
When Julie Jeske was a girl, her mother, Shirley, had a thing with photos.
"When I was little, my mom would always say, 'We need to take a picture, and I need to be in it,'" Julie says. "And so, every picture I have from when I was little, my mom was in it."
When Julie's family was preparing for her daughter McKenzie's wedding last summer, something pretty big was weighing on her mind;she couldn't imagine wedding photos without her mom.
"To not have her in that day, and not to have her in the wedding photos, would have been so disappointing for us," Julie says. "Because it really would have solidified the fact that we don't have Dad anymore, and we're slowly losing Mom."
Shirley was diagnosed with dementia less than five years ago, and was at St. Vincent's – Prospera in Bismarck, North Dakota. Julie's dad, Jerry, died less than two years ago.
"When my dad was diagnosed with cancer back in 1999, he always said, 'I'm going to dance at McKenzie's wedding. I'm going to live long enough to dance at McKenzie's wedding.' And at that time, McKenzie was five years old," Julie says. "So, here it is, she's 23 and getting married, and Dad wasn't able to be there."
Because Julie visits her mom every day at St. Vincent's, she could see a special bond growing between Shirley and one of her caregivers, Tracee Edick. Julie noticed that her mom would light up any time Tracee walked into the room;  Shirley trusted her.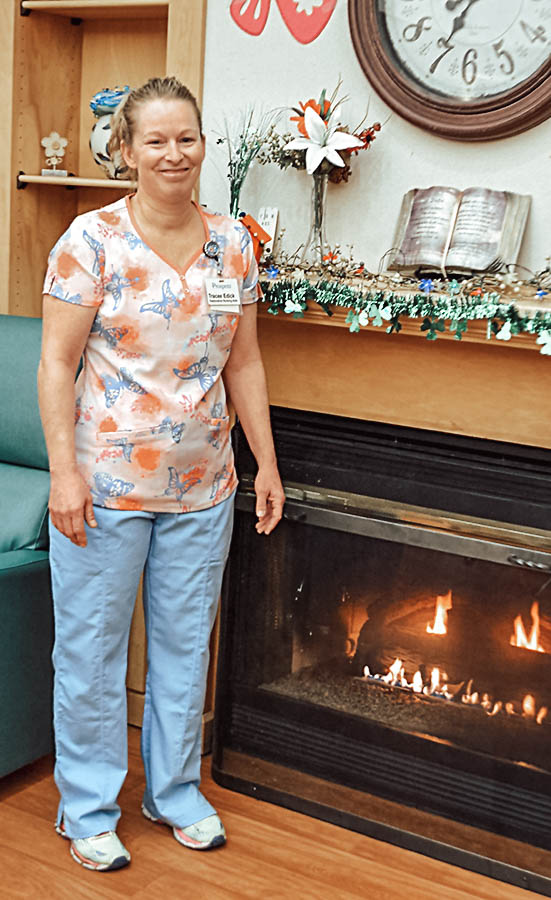 During one visit, Julie was talking about the upcoming wedding with Shirley and Tracee.
"Tracee asked out of the blue, 'Is your mom going to go to the wedding?' And I said, 'Yes, I have arranged with CAT (Capital Area Transit) to pick her up and take her to the rehearsal dinner and back, and same for the wedding and reception, but I just haven't figured who is going to take her,'" Julie says.
The entire process was going to be a bit of an inconvenience. Shirley, who was in a wheelchair, had to be ready a half hour before the bus was going to pick her up — both leaving St. Vincent's, and leaving the rehearsal dinner — and then the same deal on Saturday with the wedding. Also, Julie needed to find a companion to accompany her mom throughout both Friday evening and Saturday, all day.
"Tracee looked at me and said, 'I'd like to do that for you,'" Julie says.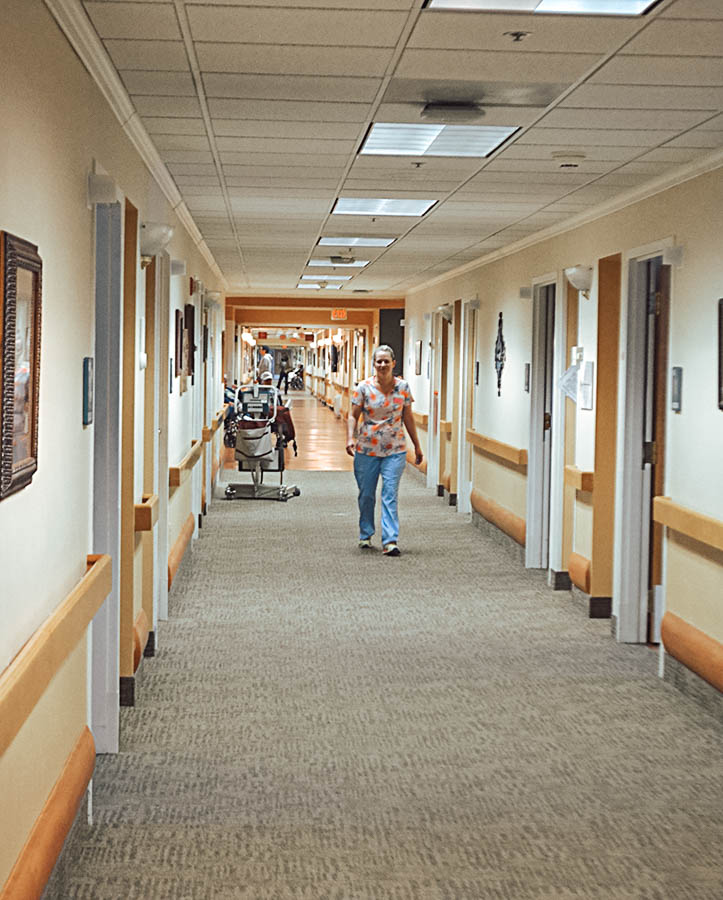 Tracee has worked at St. Vincent's for 26 years, 24 of those years as a restorative aide. She had never volunteered to do something like this for another resident. 
"I put myself in her shoes — and Julie is such a nice person — she sees her mom every day. You won't find another person like her. She's very dedicated to her mom," Tracee says. "I was so glad to be able to do that for her, so she could enjoy her daughter's wedding, and to have her mom there as well. A lot of people wouldn't even worry about that, having their mother there, because it would be too much of a hassle."
Julie worried that doing this was too great a sacrifice for Tracee, but Tracee didn't see it that way. 
"I didn't think it was a big sacrifice. It was just something I did to help her get through her wedding," Tracee says.
Tracee made sure Shirley looked great for the wedding.
"It was almost like prom for my mom," Julie says. "I had two dresses for her to try, and we picked the one that worked best, and Tracee asked if I had a slip, so I went out to get one. Then, she asked about shoes. I was planning to have Mom wear her black ballerina slippers, and Tracee said, 'Oh no.' So I went and picked out a few pairs of shoes and had Tracee choose the best."
Tracee and her co-workers fixed Shirley's hair and makeup. 
"When I saw Mom, I started to tear up, because she looked so pretty," Julie says. "My mom was one of those people who was always dressed to the nines. And her hair always looked really good. When she arrived, I just started crying a little bit."
Tracee says she had a nice time at the wedding, and was treated like family. She can't imagine not volunteering to help. 
"If my daughter was getting married, and I wanted my mom there, I would want help. You want to just concentrate on your daughter and her future husband, and it would be so distracting to worry about whether your mom was getting where she needed to be, was she eating, all that," Tracee says.
Tracee says she has never had a family member deal with dementia herself, though she enjoys working with those patients best. 
"I don't know the families' perspective because I haven't been in that position. I can't imagine how they feel, to have someone they love turn into somebody maybe totally different," Tracee says. "I personally don't know that side of it. So, working there I hope to help to alleviate some of the worries of the family … My goal as a caregiver is to try to be as attentive as possible, to try to give them respect and dignity as best as I can."
At the end of the wedding day, Tracee got Shirley safely back to St. Vincent's. Julie says she can never repay Tracee. In fact, the only other person who would have been qualified to take care of her mom on that day was her daughter, the bride, who works as a certified nursing assistant.
"They say it takes a village," Julie says, "but I think it takes just one really random act of kindness to leave an impact on someone's life … That we could have Mom there with us, given the circumstances of her limitations, was a tremendous gift for us."
Tracie Bettenhausen is a senior staff writer/editor at Basin Electric. She has generously opened her home to two once-foster, now-adopted kitties, Basil and Sweet Pea.