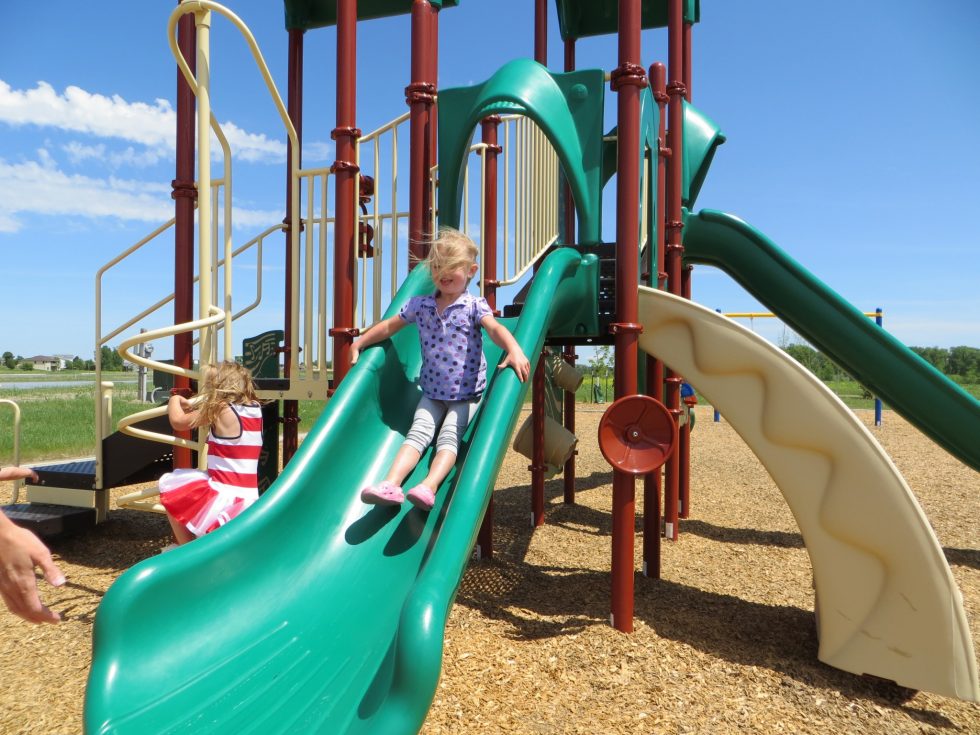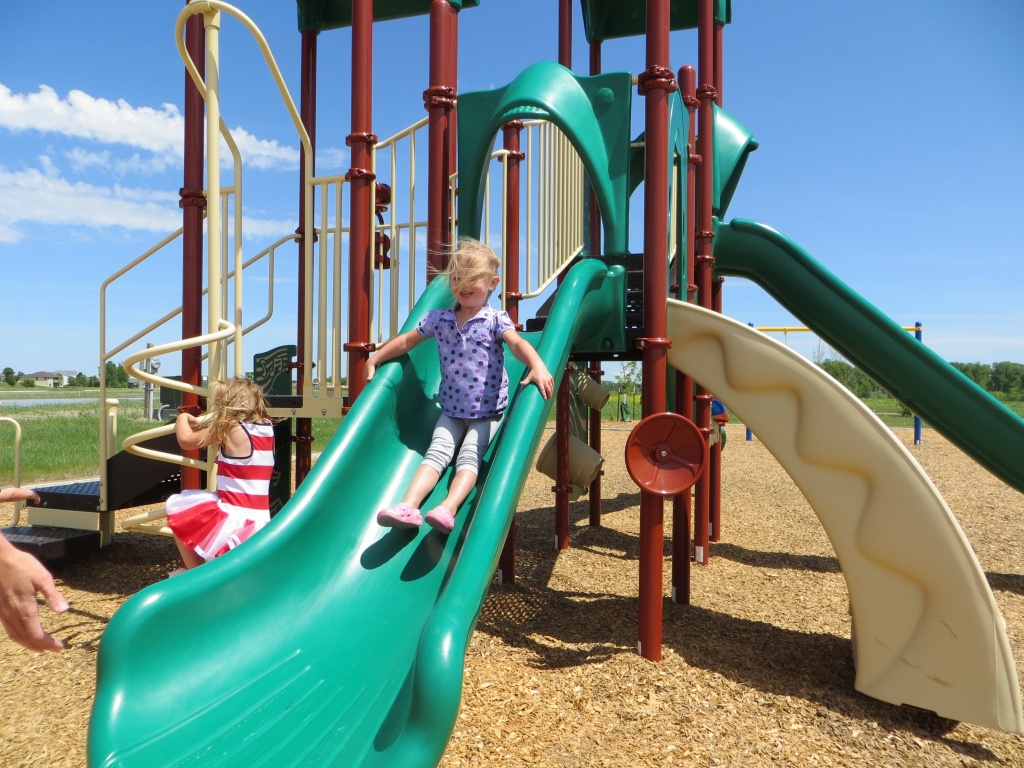 by Paula Redmann
There once was a mom.
This mom had a child with multiple disabilities. She had an idea that all kids, with or without disabilities, should be able to play together on a playground. She brought that idea to parents with similar concerns and to Bismarck Parks and Recreation District (BPRD). A community wide committee was formed, and through hours of meetings, plans, fundraising, bids, more meetings, more fundraising, and finally, the dream was realized. The end result: Magical Moments Playground, the first playground in North Dakota that allowed children of all abilities to play together, side by side. That mom is Colleen Stockert of Bismarck. The year was 2006.
Magical Moments Playground, located in Wachter Park, set the standard for inclusive playgrounds and mirrors BPRD's Core Purpose: to provide affordable, accessible, and sustainable public parks and recreation services.
Newsy update: because of the expansion of Schaumberg Arena in Wachter Park, several play pieces of the Magical Moments Playground are being replaced with new play features. The playground will reopen in late summer.  
Wendy Anderson-Berg BPRD Park Planner says in the past 10 years, BPRD has replaced over a dozen playgrounds and designed and constructed five new playgrounds.
"Many of the new playgrounds have themes, all meet or exceed the most recent Americans with Disabilities Act (ADA) guidelines and all safety standards and guidelines," Wendy says. "Several of the newer playgrounds include musical play panels, elevated sand tables, and sensory input panels for those with sensory, visual, or auditory impairments.  Whenever possible, BPRD strives to include a full ramp system, making sure the ramp system is connected to every part of the structure so everyone can play with everything."
Park design has a huge impact on how users experience the park. Anderson-Berg takes into account the surroundings and the terrain of the park, and that it should be appealing and accessible for users with a variety of interests, ages, backgrounds, and abilities.
"Parks and playgrounds should be welcoming and fun places for kids and adults of all abilities, so we keep that in mind when we start the design," she says. "Good design also incorporates accessible paths to ballfields and sport courts for players and spectators, and accessible picnic tables at shelters."
Making sure people with varying abilities have access to fun doesn't stop with playgrounds. One of BPRD's Recreation Managers, RaNae Jochim, is a Certified Therapeutic Recreation Specialist. That certification means she has the training to make sure that a program or a piece of equipment can be adapted to accommodate the individual.
"Each individual is unique and has different needs. We figure out how to say 'yes' and work closely with that participant to find out what we have to do to make that person successful," RaNae says.  "Kids today are really used to integration and being inclusive, thanks largely to schools. Kids are in the same classroom together, but may learn differently or have an aide. We want to continue that kind of comfort level in all our programs, and communicate with the parent and the child to see how we can make it work."
One of BPRD's programming success stories is that of Triple Star Day Camp, a summer program for kids with varying abilities.
"It's a great recreational and social outlet for those kids and their families," RaNae says. "Plus, we love working with groups like ICan Shine, Dreams in Motion, and Special Olympics. We can provide facilities for their athletes with intellectual disabilities, or mobility or visual challenges, whether it's for bicycling, running, softball, sled hockey, curling, or tennis. Another nice option for people with mobility or health issues is the use of our single rider golf cars at the golf courses. Those cars allow golfers to play right from the ball."
Bismarck's 75-plus miles of recreational trails are designed to be used for all people. ADA factors, such as trail width, passing space, signage, and slopes are all taken into consideration in the design and construction of the trails.
Ryan Geerdes, Facilities Manager at the BSC Aquatic & Wellness Center, says BPRD has agreements with many local agencies for use of the center's pools.
"Clients of Pride, HIT, and the Anne Carlsen Center use the aquatic center for water therapy and recreation," Ryan says. "We have a ramp and a lift chair for anyone to use. "We also have kids with behavioral issues from Dakota Boys and Girls Ranch and Charles Hall Youth Services using our facilities. That's why we're here."   
---
Paula Redmann is the Community Relations Manager for Bismarck Parks and Recreation District. She likes torun, walk, play, sing, putter in her yard, laugh with family and friends, and count her blessings. She married her high school sweetheart, Tom. They have two grown sons, Alex and Max.