By Alice Alech
Note: Not all girls can go out and buy a box of tampons when they have their periods. Days for Girls New Zealand is part of a large global organization making and distributing hygiene products to women in developing nations.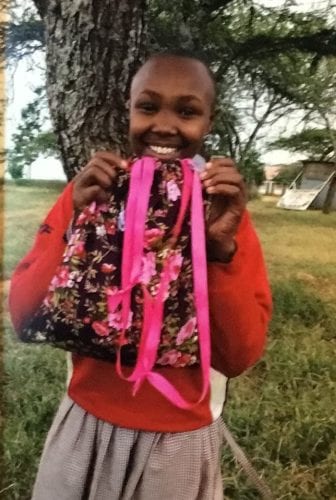 In rural countries such as Kenya, Bangladesh, and Nepal, girls in lower-class communities have no choice but to miss school when they have their periods. Hygiene products are expensive in these countries, but there is also stigma and shame attached to menstruating. These cultural norms prevent young girls from openly talking about their natural cycle, so they have little or no knowledge about their bodies, how it functions, and, more importantly, they have no sanitary supplies during menstruation.
As a result, many girls will eventually drop out of school, a situation which limits a woman's place in society and will jeopardize her future. The menstruation stigma in some countries can cause women to be ashamed and can even be ostracized in some underdeveloped countries. The New York Times reports that in rural West Nepal girls are isolated while menstruating.
In 2008, Celeste Mergens launch The Days for Girls Program (DfG) in the United States, and has been working hard to change this depressing situation by sewing, assembling, and distributing feminine hygiene kits for women in third world countries. The non-profit organization also offers courses teaching women about their bodies and encouraging them to speak openly about menstruation without shame. 
When Helen Griffin from New Zealand first heard of the DfG and the struggles girls have managing their periods, she felt a strong desire to make a positive contribution. Encouraged by her 18-year-old daughter, she set up the Days for Girls New Zealand, a team of women who make feminine hygiene kits for girls and women in third world countries.  That was way back in 2011.
Totally committed, Helen now manages about 20 New Zealand DfG teams of volunteers who have made and sent out over 6,000 hygienic kits for women who have little or no access to sanitary products. In 2018 alone, DfG New Zealand sent out more than 3,200 kits to women and girls in New Zealand and many additional countries, notably, Bangladesh, Cambodia, Kenya, India.
Sustainable Female hygiene 
With care, the quality hygiene kits volunteers make can last for three years, but DfG is also concerned about environmental issues, so it's doing away with plastic bags for transporting. By March 2020, new environmentally-friendly waterproof-lined transport bags will be used.
The New Zealand team relies entirely on volunteers and donations to supply the material they need, preferring pattern as these help to camouflage staining. Fabric saves money over disposables. They are washable and require little water, ideal for women in remote areas where water is scarce. 
Education and Awareness
It's not just about making and handing out these kits, though. What's just as important is to educate adolescent girls about this natural part of their reproductive cycle. Only then, can they have healthy sexual and reproductive systems. 
"Raising awareness and dispelling all the myths associated with having periods is vital," Helen says. "They need to learn about the changes in their bodies with puberty and how babies are created. They need to know the basics of hygiene as well as how to care for their kits.
"It's scary," Helen adds, "in Bougainville, Papua New Guinea in the Pacific, girls just go out into the sea when they have their periods."
Some women already know how their body functions but have no access to disposable products. They, too, are grateful to have DfG kits.
Rachel Haggie is co-leader of the Auckland DfG New Zealand team. She traveled to Northern Sumatra to deliver kits in 2017 and says the recipients were wives of rangers who help patrol the Leuser National Park protecting orangutans, elephants, and tigers as it is their last natural habitat. 
"I felt honored to be part of that shipment of kits in 2017, "Rachel says, "as the rangers receive uniforms and a small payment, but the wives just struggle with finding food and looking after family. Now the Days for Girls kits are becoming talked about and there is always another group looking forward to the next delivery."
The Days for Girls Movement has changed and improved the lives of many young women and girls in vulnerable populations, allowing them to handle their periods with dignity. It allows them to have a healthy sexual and reproductive system.
The kit, (a drawstring bag) holds:
8 absorbent liners which can easily be washed and dried in the sun

2 shields  

1 bar of soap

1 washcloth

2 pairs of panties

2 plastic bags for transporting soiled items
Article and photos submitted by Alice Alech. Alice writes from her home in Provence France. She writes on subjects including health, wine, and olive oil. Alice most enjoys meeting and writing about people who are passionate about what they do. She is coauthor of "The 7 Wonders of Olive Oil," which discusses the health benefits of olive oil. Find her at alicealech.com.
https://www.nytimes.com/2018/01/10/world/asia/nepal-woman-menstruation.html
https://www.daysforgirls.org/new-zealand