By Paula Redmann  |  Submitted Photos
Who knew when Christ (pronounced Krist) Nuss spotted a girl in Bavaria, Germany, oh so long ago, that their spark, their courtship, their marriage and move to America would result in a love that has lasted a lifetime?
First it was young love. Then mature love. Now it's simply a love of pure and endless devotion.
Christ and Bernadette Nuss live at St. Gabriel's Community in Bismarck. Christ, age 91, has a sunny, plant-filled apartment on the assisted living side of the facility. Bernadette, 88, lives in comfort in the long term skilled care section of the same facility. Her bright eyes and shy smile do not show the Alzheimer's disease that invaded her 16 years ago.  
At first, Christ took care of Bernadette in their home in Mandan.
"I wanted to do it, and I was able to do it," says the devoted groom, who cared for his beloved bride for 11 years. "Then the kids said it was enough. They wanted me to get help."  
Enlisting some home support services helped for a while but Bernadette eventually needed full time care. She moved into St. Gabriel's 18 months ago. Christ continued to live in their home, making daily visits to Bernadette. When St. Gabriel's opened an assisted living facility in May 2017, Christ moved in. He's a familiar sight to staff and other residents, with his many walks, every day, to see Bernadette.
"Every day at noon I feed her. I feel good about doing it. I look forward to it," says Christ. And then he turns to Bernadette, "Right, Ma?" And Bernadette smiles. "I call her 'Ma.' I always have."
Just how long is that always part? Christ and Bernadette have surpassed that anticipated and much celebrated milestone of 50 years of marriage. Even 60 years is in the rear view mirror. In May, they will have been married 72 years.
How does a marriage last seven decades?
You might say it's because they married young. That's partially true. Christ says that in Germany, at that time, you had to wait until you were 21 years old to get married, or have permission from your parents if you were younger. Christ had lost his parents, so wait he did. They dated for a year and a half, and then were married. Christ was 21; Bernadette was 18.
Maybe it's because they took the time to get to know each other, waiting for the arrival of Christ's 21st birthday.  
"We had no bikes, and no cars, and so we walked and talked. And we walked some more."  
Oh, to know the content of those conversations.
Or maybe it's simply because they married right.
In 1952, in search of a better way of life, Christ and Bernadette left all they knew, and moved to America. Christ had an aunt in Dickinson. Farm laborers were needed on the vast prairie of western North Dakota, but Christ wanted to be a stone mason. After just two weeks in Dickinson, Christ and Bernadette moved to Mandan, and Christ became a bricklayer. He and Bernadette spoke only German, so they took classes "with other people just like us" at Bismarck High School in the evening.
"We learned English together," says Christ.
Two years later, Christ opened Nuss Masonry.  
He and Bernadette made a life together, 72 years and counting. A life with five children, with a business to run, with friends, with 14 trips to Germany, with the passing of years and the passing of children, the blur of birthdays and babies and holidays, with marriages and memories and the welcoming of grandchildren and great grandchildren, and the arrival of Bernadette's Alzheimer's diagnosis.  
Bernadette knows Christ and recognizes the faces and voices of their children. She likes to look out the window in her room. She likes the chocolate that Christ brings her every day. She saw Christ coming down the hall and said to a staff member, "That's my protector."
"I don't regret one minute. I want to be with her and take care of her until the end," Christ says, "I owe it to her. She earned it. She deserves it."
There once was a young German boy who brought his wife to America, so he could be a mason, a skill in which great strength and stability are required.    
[supsystic-gallery id=95]
---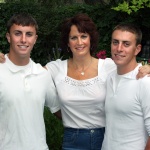 Paula Redmann is the Community Relations Manager for Bismarck Parks and Recreation District. She married her high school sweetheart, Tom. They have two grown sons, Alex and Max.