By Marci Narum
Photos by Jacy
It takes a lot for Alexis Thompson to admit she's having a bad day. The soon-to-be 12-year-old Bismarck girl has been promoting her personal "Choose Happiness" platform since she was 9 years old. "Choose Happiness" is not just a catchy phrase; it's truly Alexis's perspective on life. She has the mindset of a wise, thoughtful, humble adult, and it serves her well.
Alexis competes in dance and pageants, and she loves to perform on stage. She participates in local, state, and national dance competitions, and plays the violin; she is a member of the prestigious "Strolling Strings." The smile on the face of this happy girl could dim the spotlight of any theater — but her smile was the one thing she wasn't completely happy with.
"The top two teeth were bothering me, so I wanted to get them fixed," Alexis says.
Alexis got braces one day before being interviewed live on a local television program, but even then, she didn't complain.
"It's just kind of hard to talk," she says, smiling. "I have to lip-sync the words for my dance — my mouth had to be trained to go over the braces, so it was a bit of a challenge."
Alexis says the braces on her teeth are nothing compared to the other, much-bigger, hard plastic brace she wears around her torso.
"I wear the brace up to 22 hours a day," Alexis explains. "That's the goal. But how realistic can that goal get, though, when you dance? I dance approximately 12 hours or more per week. Other than dance or other physical activity, I try to wear it all the time. It's just part of my everyday routine," she says, tapping the hard brace underneath her clothes.
POISED AND SELF-ASSURED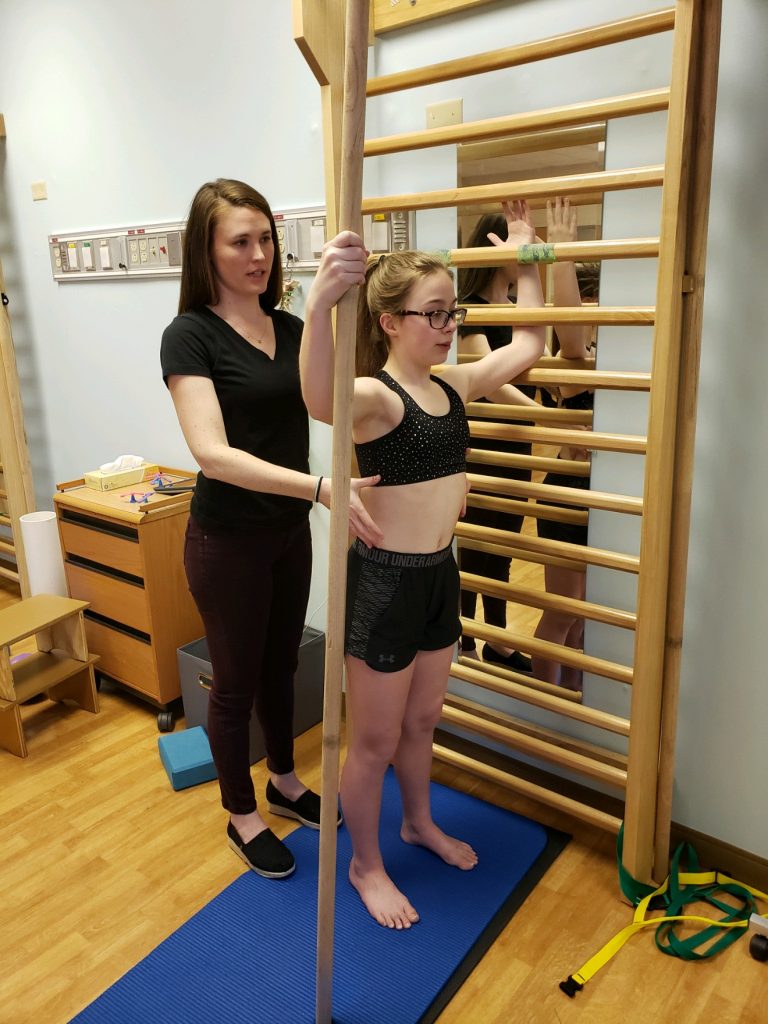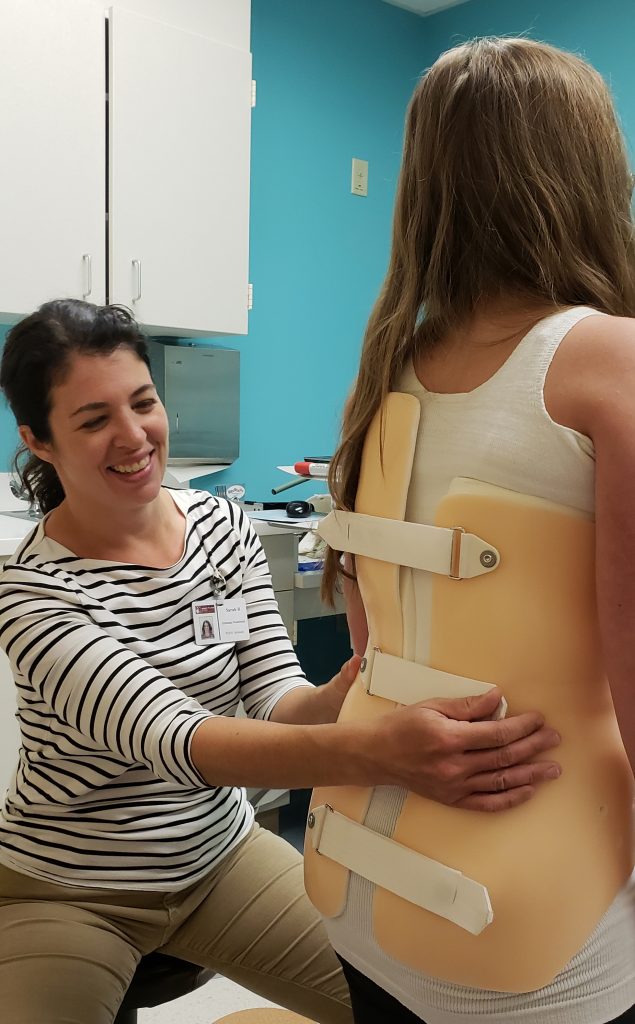 Alexis wears the torso brace hoping it will correct the three curves located in her neck and back. She will wear it until she is done growing. Alexis was diagnosed with Adolescent Idiopathic Scoliosis (AIS) in March 2018, shortly after her mom, Nicole Thompson, took her to a seamstress to have a dress altered. The seamstress noticed that Alexis's shoulders were uneven.
"Many times scoliosis is caught by coaches, gym teachers, and people who are working with kids outside of the daily activities they are involved in. Unfortunately, scoliosis is not screened for in (most) schools," Nicole says.
Shriners Healthcare for Children in Minneapolis, Minnestoa offers an outreach clinic twice a year in Bismarck and happened to be in the city shortly after Alexis had been to the seamstress.
"Almost immediately, I had x-rays done and was diagnosed with scoliosis," Alexis says.
She has been going to Shriners every one to two months since then for doctor appointments, x-rays, and intensive physical therapy treatments to prevent her curves from progressing.
"When I do have my brace on and they do in-brace x-rays it does show that my curve is exponentially smaller than it is when I'm out of my brace. So we know it's doing a good job," Alexis shares.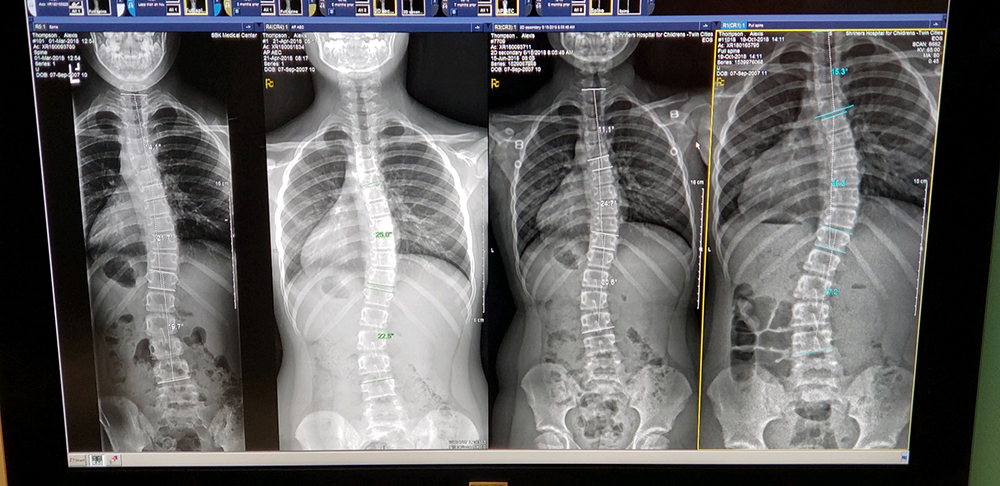 Her physical therapy continues at home six to seven times a week for 30 to 40 minutes each session.
"It's more mentally exhausting than physically exhausting because I'm learning about all the different places my spine has collapsed or is sticking out so I have to consciously always be thinking about making it straight and knowing all the different points of my curve," Alexis says.
"The scoliosis-specific exercises are really tailored to each girl; it's not a one-size-fits-all exercise program," Nicole shares. "The physical therapists will adjust the exercises based on if her curve has changed."
Alexis admits there are moments the brace seems less than helpful.
"It rubs and irritates my skin. My left arm is pushed up a lot, and because of that, my left hand gets tingly. It was bugging me today. Sometimes the brace leaves black and blue spots, but that's OK.
"I have to wear it until my growth plates close, so that could be three, four, five years from now. There are some days I don't want to put it on because it's really hot outside and I just want to go out and run around. The brace doesn't really bother me that much anymore because I'm just used to it. Sometimes it's hard when I don't find clothes that look good over my brace, but other than that, it's fine."
BALANCING BIG EMOTIONS
Not every pre-teen girl can shrug off something that impacts her life so significantly, especially at such a major time in life.
"Anxiety, depression, and confidence issues can come into play because they are going through all these changes at this particular time in life," Nicole says. "Then, to have their body do something that is completely out of their control; there is nothing they can do to stop their spine from curving and that can be physically and mentally challenging for these girls."
Alexis began to wonder about other girls who have scoliosis and learned many of them don't talk about their condition because it causes anxiety or has hurt their confidence. Then she learned about the International Curvy Girls Support Group. Alexis started the first North Dakota chapter of the organization in June.
"We have meetings every month in a home setting so everything is confidential," Alexis says. "We'll talk about different tips and tricks for our braces and things that work, or if they have back surgery, they can talk about that, too. We reassure the girls they are not alone and can get through this."
Since she started the Curvy Girls support group in Bismarck, Alexis has heard from girls, teens, and adults from across the state who have been inspired to open up and talk about their journey with scoliosis, too.
"One girl only spoke publicly one other time," Nicole says. "She really didn't want anyone to know about it. The girl's aunt said it took an 11-year-old girl for her teenage niece to talk about her own scoliosis. You never know who you're affecting — even if it's one person."
BRACED FOR HER FUTURE
She chooses happiness, started a support group, and as a seasoned public speaker, Alexis is now sharing her message with civic organizations and other groups.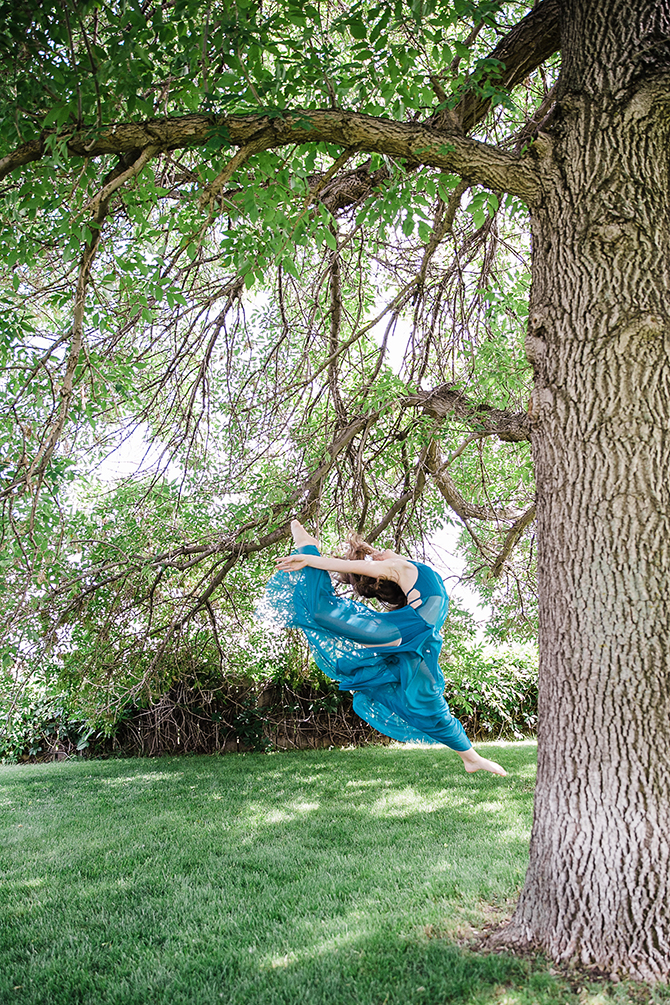 And, she is still dancing.
"I knew what scoliosis was because I had friends who had gone through it, but I didn't know what that would mean for my dancing or if I'd even be able to dance," Alexis recalls. "I knew that those girls were able to dance, but I didn't know what that would mean for me."
"It's kind of a double-edged sword," Nicole says. "From the dance perspective, it puts a lot of pressure on the spine. You're putting your body into movements that aren't normal — stretching backward, twisting and turning and tumbling. So, the impact that's happening on the spine is quite great; however, as Mom, I ask every time she has appointments — I ask the physical therapist, the surgeon, the nurse — 'Should she still be dancing?' and they all say YES because it's keeping her core strong and that is so vitally important, especially in the event she does have to have surgery someday. The healing process will be that much easier and better because she does have such a strong core and body strength.
"We really don't know what's going to happen with her. It's not that this brace is going to fix the problem. That's not a for sure thing. She could go through five years of brace wear and still have to have surgery. Hopefully not. Hopefully the brace along with the therapy this will stop it from progressing."
"I'm taking it step by step for now and wearing my brace and hopefully (surgery) won't even be an option in the future," Alexis says. "But if it is, I'll be OK because I have other friends who've done it too. That's why I think Curvy Girls is so important because if I didn't know those girls, I'd probably be worried about surgery. We are all here to support each other through this journey.
"I think the way this is helping me is that I get to help other people. My goal in Curvy Girls is to make one person feel better about her scoliosis. If I can do that, it will make my whole journey of scoliosis worth it."
And, with a life perspective of "Choose Happiness," that beautiful curve on Alexis's face will continue to shine long after all of her braces are gone.
Shriners Healthcare for Children
Alexis was a featured Shrine kid in videos that played during the Shriners Gala in May and Nicole was featured, too. Alexis sang with the Shriners choir, and was asked to give an impromptu speech to the audience.
"I shared my story and how Shriners helped me," Alexis says. "It was fun to be there and hear how the Shriners has helped other people and to see all the generous donations they were able to collect that night. The Shriners is a really awesome place and seeing all the funds they raised was really cool."
"A young girl was playing the piano on stage that night," Nicole says. "She happened to be seated at our table with us and after she played she came and sat down. We were all commenting on what a lovely job she did. She said, 'Thank you. I've been a Shrine kid since I was born. I had doctors and educators telling me I would never have use of my hands and I would never do anything like play the piano.' She had been through multiple surgeries. She was a beautiful pianist.
"While at Shriners Healthcare, we always see kids without limbs or in wheelchairs, or walking with difficulties. Yes, (Alexis's scoliosis) is not easy to deal with, but how blessed we are that she can still dance and she can still function without severe limitations.
"Until a family needs to utilize their services I don't think people realize what the Shriners do. They do the circus, they raise money to put into the hospital, and that's who helps pay for (Alexis's) care. What a gift these organizations are and the people who serve in them. Without them, families could not get their kids the care they need. I would encourage everyone to support civic organizations any chance they get."
Nicole and her husband, Art, also have a 10-year-old son, Aiden. He is also being treated at Shriners for a condition called Kyphosis (a common spinal disorder).
"Shriners motto is they will help children regardless of a family's ability to pay," Nicole says. "Everything gets submitted to insurance, and insurance pays their part."
More about scoliosis:
Scoliosis is classified as a disease. It cannot be cured.
The cause of most scoliosis is unknown. It can cause breathing difficulties, complications during childbirth, lung and heart damage, back problems, and appearance issues.
Scoliosis progresses 10 times more frequently in girls than boys.
A torso brace is the standard treatment for scoliosis. A brace is expected to last about one year (dependent on the child's growth) and can cost on average $4,000.
Shriners developed the free SpineScreen phone app to help families and healthcare providers identify the signs and diagnose scoliosis, helping catch it early.