By Jamie Christensen
A murder. A flood. A cancer diagnosis. And multiple challenges in between. It could be the scene for a novel or Netflix series. In reality, it is one local woman's true story of focusing on new beginnings.
March 3, 1996, at the age of 16, Lisa (Blowers) Schmidt lost her best friend—her mother Karen Rose Blowers.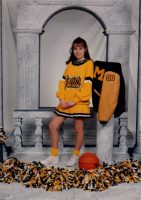 She heard her mother speak her last words in the next room, "No, Greg, no," before her adoptive dad stabbed her mom to death in Mohall, North Dakota.
The eldest of six children, four sisters and one brother, playing the role of "mom" was something she was accustomed to as her parents worked a lot. She said verbal and mental abuse was common for her parents, but up until that day, physical abuse was not.
Her uncle and aunt on her dad's side in Minot took them all in, but Lisa stayed in Mohall to finish out the school year. "Going back to school there was really hard," said Lisa. "Everyone stared and whispered, not knowing what to say. I really bottled everything up."
She is eternally grateful for the love and support her uncle and aunt provided to her and her siblings. She believes it was the best thing that could have happened to them all, given the circumstances, and it was a fresh new beginning.  She finished her last two years of high school in Minot, and worked there for a few years. At age 21, she was battling depression and felt "stuck"—in need of another new beginning—so she move to Fort Collins, CO.
She had a rocky start in the college town, until she met her best friend, Crystal. Lisa credits her friend as a critical new beginning for her, one in which she could face her pain and her past, and work through it.
"New beginnings are what keep me going," Lisa said. "Knowing even when something bad happens, there is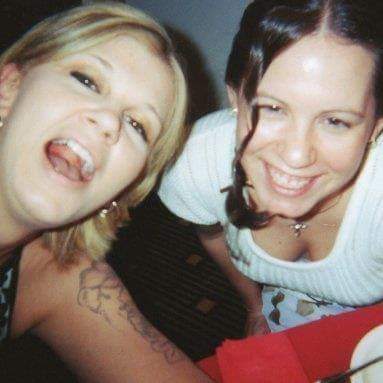 something better that has to be coming."
In 2007 she came home to North Dakota to be a bridesmaid in her cousin's wedding. Little did she know that this would be another new beginning. The groomsman she walked down the isle with that weekend became the love of her life after long-distance dating for a year. In 2008, she moved back to Minot, and in 2010 Chris Schmidt asked her to marry him.
They excitedly planned their wedding for Sept. 2 the following year, so their anniversary would be on her mom's birthday. Everything was booked, the beautiful dress was ready to go, but in the spring of 2011 Minot flooded. Chris' parents, who were supporting the wedding financially, lost their home. And the idea of trying to find places for friends and family to stay in just a few short months was daunting.
"I really wanted to try and have a wedding," said Lisa. "Because every girl wants to have a wedding—the dress and all that stuff. It was just too much with everything else."
So they were married by a justice of the peace, and had a small reception at her aunt and uncle's house, with the plan that they would have a vow renewal ceremony in five years—and she would be able to wear her dress.
But life took another turn for Lisa, as in February 2015 she was diagnosed with Stage 3 breast cancer.
"My left breast was full, it was invading the muscle in my chest wall," Lisa said. "I was in shock. They went from saying maybe I would just need some hormone therapy, to chemo, radiation, double mastectomy—all of it. It was tough on both Chris and me, but really hard for Chris because he was not able to help me."
She started her treatments right away. During the radiation phase she stayed in Bismarck to receive it daily, and would go home to Chris on the weekends. At that point, they chose Bismarck/Mandan as their next new beginning.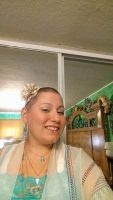 "We were deciding with all of this that I'd be dealing with cancer doctors for the rest of my life, and Chris got a much better job opportunity, so we should move. It was hard to leave family and friends in Minot, but I am loving this new beginning."
Both she and her husband love their new jobs, and they excitedly bought their first house this year. Her cancer is in remission, and she hopes to hear in July that aside from regular check-ins, her cancer journey is complete.
The only glitch? With some cancer-related health problems and medical bills for Lisa at the beginning of the year and the purchase of their new home, they are putting off their planned vow renewal for another year so they can save up the money to have the day they've dreamed of. It's disappointing, but she says with a smile that she is giving herself another year to fit back into the dress that has been hanging in her closet for five years.
It is her daily choice to focus on the positive, but that doesn't mean it's easy. "I still have nightmares about my mom; that my dad is coming for me because I am the spitting image of her."
Her dad is scheduled for release from the state penitentiary in 2021, an uneasy thought for her. And there is always a little "what if" question when it comes to cancer. But it is rare to see Lisa without a smile on her face.
"Never give up hope. You always have the ability to take more than you think you can," Lisa said. "There's always light at the end of the tunnel—as long as you don't give up on yourself."
Lisa, with her determined spirit and gratitude for life, continues to prove that the next new beginning may just be right around the corner.
---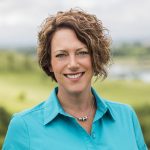 Jamie Christensen is full time licensed real estate agent, a communications and marketing professional, wife to Kai, and mom to Kaitlynn, Grady, and Cooper. She has coffee in her veins which helps her keep up with her work schedule and running the taxi service for her kids.