By Marci Narum
Submitted photos
This is the fourth and final profile in the Women of Impact series.
VICTORIA MORALES, MSgt., United States Air Force, Section Chief, Minot Air Force Base
IMPACT WITH HOSPITALITY, NURTURING, & SERVICE
United States Air Force Master Sgt. Victoria Morales was assigned to the Minot Air Force Base in August 2016. A native of Houston, Texas, she was welcomed by weather that reminded her of home. Victoria laughs, though, when she recalls her first winter in North Dakota.
"At the first sign of snowflakes, I was so scared. We got hit with back-to-back blizzards that year. I went off the road driving to the base and got stuck in the ditch, so I feel like I've been through the worst.
"I've met a lot of people up here from Texas, and we joke, 'This is where they send soldiers to shock us and to make sure we're still serious about joining the military,'" Victoria adds, laughing.
Surviving a North Dakota winter wasn't necessary for Victoria to prove her commitment to the U.S. Air Force. She grew up with admiration for family members who serve in the Marines, and she was set on joining the military, too. Victoria enlisted in the Air Force in 2000, right out of high school.
"A lot of people here (in Houston) go to work for the chemical plants or medical; there's a big hospital in Houston. I wanted to get out and get away for a little bit … I didn't think I would stay for 20 years, but I wanted to do something, and it was an obligation," Victoria shares.
A sense of duty and her gift for hospitality has made Victoria stand out in her military career and in the Minot community, where she has volunteered for various programs and organizations. She was recently honored as a Minot Superhero for her dedication to the country, Minot Air Force Base, her son, and her work empowering other women.
Victoria leads the mission support group, 67 men and women who aren't on the front lines, but take care of those who are. She is the section chief of food operations.
"I run the main dining facility that feeds the base. Annually, 220,000 people come through here. Not just the military, but civilians; their families can come here and eat. 
"We have a flight kitchen, and they're located on the flight line. They provide short order items. The guys that are on the flight line can't really leave, so they can come over and get quick chicken sandwiches," Victoria explains.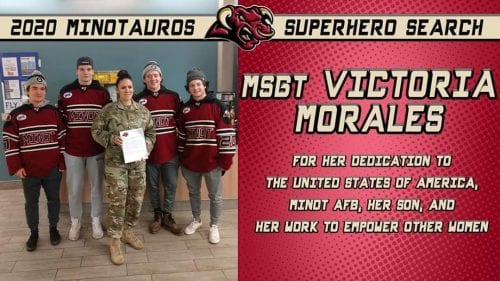 "Then, we set up ops to support the base if they go into an exercise or a real-world operation. We call in extra people and make sure the soldiers get everything they need; food, water, Gatorade." 
Mission support also covers lodging and fitness.
"So we're in charge of all the sports, fitness facilities, events. You see all the other aspects of hospitality management," Victoria says.
Including one more: mortuary service. 
"It's one of the parts of our jobs. I did it for two years. It was one of the most difficult things for me, but it was also an honor. You're helping these families … making sure they get the proper payments, ceremonial requirements, all the paperwork. 
"It's not a happy give-back; I'm not feeding families, or helping with fitness, or providing sports. You're there because something tragic happened," Victoria says. 
Still, Victoria says she loves her job. She loves helping people. Victoria's strength is nurturing other people.
"My mother died from leukemia when I was three. My dad is a registered nurse and works a lot, pulling double shifts. My brother and I were home by ourselves a lot. I've always taken care of my brother. I've always kind of had a mom role even from a young age. I had to grow up fast."
The strong nurturer in Victoria even played a role in her decision to join the military. 
"Military seemed like a very stable, jump-in, have a career, and I can make something within that. I was really drawn to that and being able to provide for my family."
Victoria has a passion for fitness, and by the end of the year, she will have her degree in sports and exercise science. Victoria will retire from the Air Force in June and head back to Texas with her fiance and 13-year-old son. No more North Dakota winters for her. But really, is it ever cold when you love to welcome, feed, and care for people?
Read the previous stories in the Women of Impact series: