By Betsy Debertin
Photos by Janie Hague and Submitted photos from past walks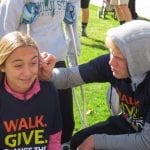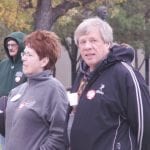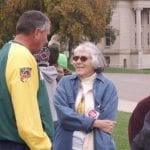 "What's on your plate these days?" It is a question we ask one another. "I have too much on my plate" or "I've got a lot of plates spinning,"  are common responses to describe being overwhelmed by things to do. But, for the most literal of us, these are silly expressions. Plates, after all, are about food. Perhaps, because we have enough food for our plates, we have the luxury of thinking about plates for other purposes.
However, and very literally, not everyone's plate is full. The Bismarck-Mandan CROP Walk seeks to help give everyone a full plate. CROP stands for Communities Responding to Overcome Poverty. The purposes of the CROP Walk are to educate people about hunger, locally and globally and to raise money to help end hunger.
For many years, two women have provided leadership to the planning group for the Bis-Man CROP Walk. Allison Germolus and Mary Sherer have added the CROP Walk to their plates because they are passionate about filling others' plates. Together, they have served more than 45 years.
Allison and Mary are women of deep faith, and that faith has inspired their call to serve.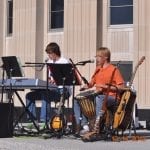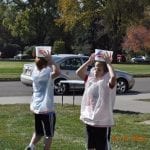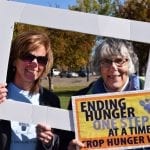 "Jesus tells us to love our neighbors," Allison reflects. "CROP Walk is just one way I can show love and concern.  I love knowing that the people I am helping live here in my neighborhood and in neighborhoods across the country and the world."
Mary's faith helps her to see that everyone is a child of God.  
"'We walk because they walk' is a theme of CROP Walks," Mary shares. "We remember many people who walk daily to seek safe water, food, and shelter. To help end hunger, we walk in solidarity."
This year's CROP Walk has additional meaning as it marks its 50th anniversary, and the very first CROP Walk was in Bismarck. Mary offered insights into that first walk, the walk that began what is now a nation wide movement.  
"In October 1969, a North Dakota Luther League state convention met in Bismarck under the theme, 'People Are Starving and We Say We Care.' One thousand youth and others took a 10-mile hunger walk through the city of Bismarck and raised $25,000," Mary says.
Everyone is invited to be a part of the CROP Walk. You are not required to sign up. You are not required to fundraise. This year's CROP Walk is a great opportunity to come and learn more and be inspired to help end hunger. Allison has seen how the CROP Walk can encourage generosity. 
"At the end of (a children's message), I gave the children lunch bags with a CROP Walk sticker on them and asked the children to save extra change to contribute to the CROP Walk," she says. "I was very touched when a couple of the children didn't just collect extra change, they emptied their piggy banks for CROP Walk!"
All that piggy bank money and any more donations are directed to four local charities that feed hungry people, as well as Church World Service, the organization that distributes money across the nation and across the world. This year's charities are Heaven's Helpers Soup Cafe, Bismarck Emergency Food Pantry, AID Inc., and Abused Adult Resource Center. You are not required to give money in order to walk, but if you would like to donate, you may give a gift the day of the walk or donate online at CROPhungerwalk.org/bismarcknd.
So, no matter how full your plate may be, make time to be a part of the CROP Walk so that everyone's plate may be full.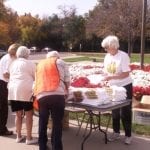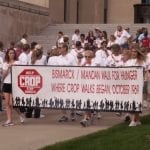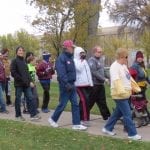 CROP Walk 
Sunday, October 13
Good Shepherd Lutheran Church 
106 Osage Avenue, Bismarck
12:30 p.m.
Educational fair for kids and adults 
Music by the Burning Hills singers  
Photos with Clark the Lark and Merifeather Lewis
1:30 p.m. 
Gather for the walk (or wheel or wagon ride)  
Length of walk is your choice (Full walk takes you around Tom O'Leary Golf Course)
Build-your-own sundaes at Good Shepherd after the walk