by Kathrin Youngberg Submitted Photos
When Joanne Faulhaber began working at the Dickinson Nursing Center (now called St. Benedict's Health Center) in December 1968, she had no idea that decades later, she'd still call the place home.
"December 1 marks the 50th anniversary of the day I started working. I was hired at age 16 as an aide and was one of the first employees when the center moved to the location it's in now," Joanne recalls.  
"There have been a lot of changes over the years. It's hard to believe 50 years have gone by. It's like family here. St. Benedict's has been my home."
Joanne began working with seniors when she was a child.  
"Our mother taught us values. Respect for the elderly was very important. We had many elderly neighbors growing up, and we spent a lot of time helping them clean house, hang the laundry, and do other chores."  
That dedication to caring runs in the family. Nearly 20 of Joanne's relatives have worked at St. Benedict's over the years. This includes Joanne's mother, sisters, husband, five daughters, aunts, cousins, several nieces, and other relatives.   
"The staff makes sure loved ones are taken care of," says Joanne, who received the Team Leader of the Year Award from the National Association of Geriatric Nursing Assistants in 2003. "The residents teach you so much. They deserve care, respect, and compassion. This is their home."
The center's roots trace back to the early days of senior care in Dickinson, when St. Benedict's Home for the Aged opened in 1946.  
"We have a long tradition of caring for our seniors. Many of our employees have been here 15, 20, 30 years or more," explains Jon Frantsvog, who has been the administrator at St. Benedict's for 20 years. "We take great pride in the care we provide. We're grateful for our staff's ongoing commitment to our residents and to quality healthcare in the Dickinson community."
Joanne's niece Amy Harris, who volunteered at St. Benedict's as a girl and later worked as a helper and CNA, is now an RN who helps train staff.  
"It's the growth opportunities that have kept us here, including education, mentoring, and training," Amy states. "My 12-year-old daughter volunteers here now—she's the third generation. Middle school can be an adjustment. She loves it here. She can be herself, and the residents accept her for who she is. She's already making plans to work here someday."   
The family-like environment has stayed the same over the years, says Joanne's sister Sharon Privratsky, who has worked at the center for 44 years.  
"It's a very friendly, welcoming environment with great teamwork. Co-workers are supportive and understanding. Everyone is willing to help out."
Life took an unexpected turn when Joanne's daughter Marcia, who also worked at St. Benedict's, was diagnosed with cancer in September 2017. The family of caregivers now had to care for one of their own.
"Marcia was the rock of our family. She was a very caring, compassionate person. Everybody said her smile was genuine and it was true. She was a good friend and always there to help you out," explains Joanne. "She was a fighter. Even during her struggle, she still had her smile. It's amazing to see how many people's lives she touched."
In May, Marcia passed away at the age of 40. Shortly before, she was recognized for her 25 years of service at St. Benedict's.
"Marcia loved her job. She loved our residents, and the residents loved her. She is greatly missed," Joanne says.
As the holiday season nears, the family has a new appreciation for time and togetherness that others might take for granted.
"Live one day at a time, and try not to look too far ahead. Enjoy today and what it brings. Take time to do things you didn't do before," says Amy.
"Take care of yourself and your family. Life is short. Enjoy every minute," adds Sharon.
Joanne sometimes looks ahead toward retirement but makes sure to enjoy the gift that each day brings.  
"It reminds you that life is unpredictable. You never know what's going to happen. I cherish time more now than before and appreciate every minute," explains Joanne. "Marcia would encourage you to live life to the fullest, and take each day as if it's your last. I hope others do the same."   
---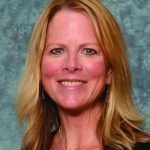 Kathrin Youngberg works for the Benedictine Health System. She dedicates this article to her wonderful father and all families affected by cancer.
Joanne with
her daughter Marcia's photo
(LEFT)
Joanne Faulhaber's mom, Barbara Weiler, celebrates her retirement
(RIGHT)
Joanne Faulhaber and her daughter, Marcia