By Marci Narum
Photography: Photos by Jacy
Note: Inspired Woman hosted Amberley Snyder last weekend (November 23 & 24) as the keynote speaker for the Second Annual Inspired Woman Retreat and first ever Youth & Family Day at TR 4 Heart & Soul, a therapeutic horse riding program southeast of Bismarck. Amberley is a well-known world champion barrel racer also known for her winning attitude. In 2009, a rollover accident left Amberley's legs paralyzed; her doctors told her she would never ride her horse again, but they didn't know the strength inside this girl who had just graduated from high school. Amberley's inspiring story has been seen by millions of people in the 2019 Netflix Original movie "Walk. Ride. Rodeo." Amberley travels the country speaking to audiences of all ages with her powerful messages of resilience, determination, and strength.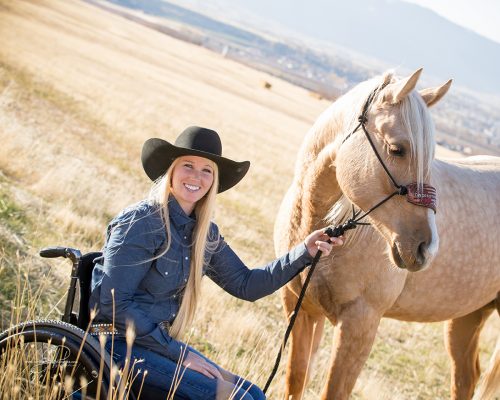 Rodeo is in Amberley Snyder's blood — and so is a deep spirit of competition — but when she was invited to be a surprise guest at the Blue Jean & Black Tie Affair fundraiser Saturday, November 23, no one was expecting that this world champion barrel racer and rodeo star would announce an evening slack competition. It was one that would have many winners, and Amberley knew she was about to walk away losing something she held dear. 
The fundraiser at Black Leg Ranch southeast of Menoken, North Dakota, is an annual event to raise money to support the operating costs, programs, and services of TR 4 Heart & Soul, whose mission is "to improve the quality of life, both physically and emotionally, of adults and children with disabilities, learning, speech, and behavioral challenges through the heart and soul of a horse utilizing therapeutic riding." 
The fundraiser includes dinner, entertainment, speeches from young riders, and silent and live auctions, which is where Amberley did something that would be her first go-round. 
"I had invited Amberley to dinner but she wasn't going to speak," Katie Oakland, founder of TR 4 Heart & Soul, says. "I asked her if it was okay if we introduced her, though, and she said, 'Yes.'" 
As Amberley listened to the young riders and their parents share their stories and experiences of what it's like to live with disabilities, and the life-changing differences they have seen and enjoyed by connecting with horses, her eyes glistened with tears. One of the riders who spoke was Grace Peterson, a 9-year-old girl from Lincoln whose heart is full of love for Amberley. She is Grace's hero; Grace wants to be a barrel racer like Amberley. 
Katie gave Grace the microphone to introduce Amberley.
"Amberley talked for a few minutes about how horses have made a difference in her life," Katie recalls, "and then she slipped off her diamond ring and said, 'I want to donate my ring for the auction tonight.'"
It was a spur-of-the-moment decision, but it was inspired during a moment earlier, while Amberley sat next to Grace during dinner.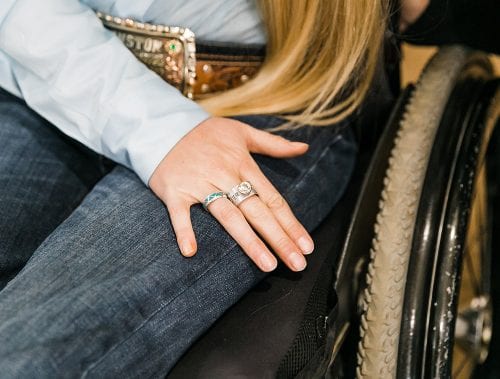 "After visiting with this girl, I wanted to donate something to the cause, but I hadn't brought anything with me. I thought, I could give my hat, but I really love my hat," Amberley says, grinning. "I considered my shirt, but it's a really nice shirt and didn't want to give that up," she says tilting her head and smiling.
Then Amberley says she looked at her hands. Four rings adorned her fingers, one on her left and three on her right. She looked at them, deeply pondering each one. Amberley reasoned that anyone could go out and find three of the rings anywhere and purchase them for themselves, but the fourth ring was basically irreplaceable.
"My younger sister (Autumn) is the only other person who has this same ring. I had it made for her because she was my stunt double in the movie," Amberley says.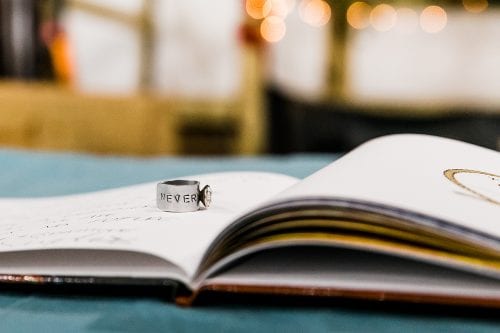 The uniquely-crafted silver ring is engraved with the word "Never" on one side and "Power," the name of her horse, on the other. A swarovski diamond rests in the center.
It brought $6,000 during a live auction. Candace Hasper of Menoken took it home.
"It didn't start off going high, so I started bidding. I was thinking, this is a once in a lifetime opportunity for TR 4 Heart & Soul," Candace says, "and I know how special this moment would be for so many of the riders to see someone in their shoes have a successful life and do something they dreamed they could do. It was a positive thing and I wanted to do something."
Candace is a founding member of the TR 4 Heart & Soul board of directors and continues to volunteer there with her husband and their two daughters Sage, 12 and Shelby, 10. 
"We, for no reason, have a very blessed life," Candace says, her eyes welling up. "We have two very happy, healthy girls, and to be able to help so many kids be part of something like this …" 
Her tears say the rest.
When Amberley returned to her hotel room in Bismarck after the fundraiser that night, she texted her sister Autumn to tell her about the evening.
"She said, 'You gave away your ring?!' "But, once I explained the cause, she understood and said, 'Well that's good. Do you want mine?' That's my little sister. She's so sweet."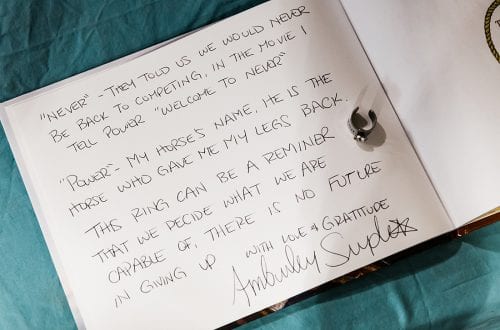 Amberley autographed a book for Candace with a message about the engraved words on the ring. Candace says the ring is locked securely in a safe and she doesn't intend to wear it. 
"I plan on donating it back along with the book in the hopes that it will become a tradition each year to auction it for TR 4 Heart & Soul," she says.
So, while rodeo and a spirit of competition run through Amberley's blood, generosity and compassion do as well. There were no losers in this slack competition. Amberley's gift is a blessing that can come full circle again and again, for years to come.