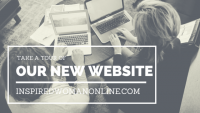 Have you ever had an idea that completely took over your thoughts, consumed your life, and came up in every conversation you have?
Me too.
My life-consuming idea actually has several parts, but this beautiful newly designed website you're visiting is part one.
This website has taken over my brain for the past several months (Kids, I'm sorry about all those times I forget to make supper and that one time I forgot to pick you up… I was building a website!)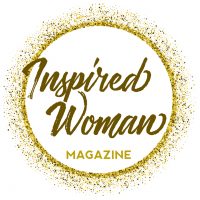 Marci and I wanted this new and improved website to be just perfect before we let anyone else see it. You see, we have a vision of what it is to be an Inspired Woman. It all began with our new logo. We believe our new logo captures how women are strong when connected to each other, but sparkle as individuals. Plus, the new logo makes us happy, and who doesn't
want to be happy?
While I already love this new website, I want to give you a quick tour of the site and point out some great features that I think will make you fall in love too.
Let's start with the HOME page. This is where it all begins! We love the beautiful photos on this page. In fact, it's safe to say, we find them inspiring, just as is the woman who took them. We are so excited to have Jacy Vogelwede on our team. As you can see on the home page, Jacy is a talented photographer, but she's also a really great person. You can't help but smile when Jacy is around. She is bubbly, creative, and so darn funny! We feel blessed to know her and to work with her. Also on the HOME page, you'll find the most recent articles we've posted to the website. Check back often, because they'll be changing frequently. We have so many stories to share! You'll still be able to find those articles, but they will rotate from the HOME page to the ARCHIVES page as we add new content. If you ever want to get back to the HOME page from another page on our site, just click the logo at the top of the screen.
The next stop on our website tour takes us to our ABOUT US page. Here you'll find everything you ever wanted to know about Inspired Woman magazine, including our mission, our philosophy, our objective, and our purpose. We've also included our current favorite quote, which, along with an endless supply of coffee, Diet Coke, and an occasional red beer, has kept us going during this whole makeover process: "She believed she could, so she did." We've also listed our team members on this page and we promise to introduce them to you more in depth very soon. Meantime, just know they are the greatest women on the planet and we are so thankful to have them on our team. Also on our ABOUT US page, you'll see our Facebook and Instagram feeds. Please take a minute to like us on Facebook and follow us on Instagram – we've got lots of fun stuff planned for our social media pages!
Our EVENTS page is exactly that: a page of events. Each week we'll share our top five events for the week. We've linked to several organizations' websites and their lists of upcoming events. We'd love for this page to be your go-to place to find out what's happening in your community. And, part of our great big huge idea includes holding some events of our own. When we get those finalized and planned, you'll find all the information about them on our EVENTS page.
Because we want this website to be more than just articles from our magazine, we added a BLOG page. Check this page everyday – Marci and I have enough blog post ideas to keep this page fresh for many, many years. We really want the blog page to be a place where you can learn more about us as people, get a glimpse into our lives outside of the magazine, and hopefully, bring a smile to your face.
Looking for an article from a past issue of Inspired Woman magazine? You'll find it on our ARCHIVES page. We brought over all the content from our old site to this new one, so if it was on the old site, it's on this one. We have had so much fun looking through the old issues!
Not sure where to pick up a print copy of Inspired Woman? The first print issue will be out July 1, but now is a great time to figure out where the most convenient place to find your copy will be. We've listed our distribution points on this page, and we are constantly adding new businesses to the list. If you'd rather subscribe and have each month's copy mailed to you, we can do that too! Subscription information can be found on the FIND YOUR COPY page as well as on the ABOUT US, BLOG, and CONTACT US pages.
Finally, use the CONTACT US page to contact us! We love hearing from our readers. Send us your ideas, reactions to stories, even your own stories. We want to hear from you!
Now that you've seen the site, we hope you'll be back often. We'll be adding more content every day, and because Marci and I are two former television reporters, you can be sure there will be lots of videos and photos for every story. While this site is a beautiful thing, our goal is not to replace the print version of the magazine. We want the two to complement each other. You'll find exclusive content on the website, things you won't find in the magazine.
But I must warn you, this is only the very tip of the the iceberg that is the idea that has taken over our lives. So stay tuned… there is so much more still to come!
xo
Jody