By Marci Narum 
Submitted photos 
When someone says the words "North Dakota" and "Arizona" in the same sentence, it's often in reference to travel and the trip is typically from north to south, especially between late October and early March. North Dakota snowbirds flock to the Grand Canyon state to escape the bitter winter months; some stay and retire there.
And then there is Shauna Laber — born and raised in Arizona, setting deep roots in North Dakota.
"My husband always warned me that one day we would move back to North Dakota. I figured that was a retirement plan. Turns out 'one day' was 2007," Shauna says, laughing.
Shauna frequently bursts into buoyant laughter during an afternoon conversation in the otherwise quiet cafeteria of her workplace, Basin Electric Power Cooperative in Bismarck. Shauna's effervescence creates positive energy as she talks about the journey that brought her to North Dakota from her life in Arizona 12 years ago.
"I decided that one person in the relationship has to be normal. You can only have one crazy person in the relationship and that's me," Shauna laughs. "I met my husband when I was 29 — a farm boy from North Dakota. How do you get any more normal than a farm boy from North Dakota?"
Shauna married Jeff in 2002 and they welcomed a daughter, Zara, in 2003. Add two children from Jeff's first marriage, and the Labers have what Shauna calls "a heck of a good family." It's a far cry from the life and family she was born into, which is why she uses the word "crazy" so loosely, and why her laughter might seem surprising at times.
REJECTED & ANGRY
Angry, horrible, mean, and vicious — these are the words Shauna uses to describe herself as a young girl.
Placed into foster care at the age of 10 after confessing to nurse that her stepfather was beating her, Shauna says she "had a serious number of issues." Her childhood can be described in a single word: rejected.
"My biological mom (Phyllis) was given the opportunity for me to go back (home) but my stepdad couldn't be there. She said the state could go ahead and keep me."
Shauna hasn't seen her mother or three half siblings since then. She moved from one foster home to another — her issues and feelings of rejection consuming her.
"I was a very angry person. I got hit a lot when I was a kid, so my first reaction when I was irritated with someone was to beat the crap out of them — because that's what happens — that was my norm." 
By age 12, Shauna was destined for placement in a group home, but her caseworker found one more foster family to take her. It would be the last family to ever take a chance on Shauna — because she became part of that family.
HELPING HER BE HUMAN
"I was adopted at 14, which is very unusual to get adopted that old. It's definitely a blessing and I was lucky to get to where I got."
Shauna was in unfamiliar territory with Alta and Herman Cordasco and her 12 siblings who were also adopted. She began to experience healthy, loving relationships, and she bonded with her mom and dad.
"My mom couldn't have children; I told her she overcompensated," Shauna says with a laugh, adding, "she could have stopped with me; I was the sixth; but no, she had to keep going. She would say, 'You just can't control who you fall in love with!'"
Alta corrected Shauna's behavior with tough love, but she also nurtured her, and the hardened teenager began to soften. Shauna calls Alta a "psychological mastermind," as she describes the skillful ways she helped her learn how to be honest and authentic with people — something she had never experienced.
"She showed me what appropriate touch is and how to hug. It's stuff you don't get from a counselor. Fostering just helped me be human. If she hadn't taken the time to really work with me and decide this is a human being worth saving and this is how we're going to do it, I don't know," Shauna says.
AUTHENTIC VOICES
A foster home and adoption turned Shauna's life around, so she's turning her painful experience into something positive for others. She serves on the board of directors for Prevent Child Abuse North Dakota and shares her story to help raise awareness and understanding about child abuse, foster homes, and children who are placed in foster care. Through her work, Shauna encounters a common mindset: people often assume kids can come out of foster care and fix their own lives. She says a person not willing to help a child should not judge that child for making the decisions he or she is making.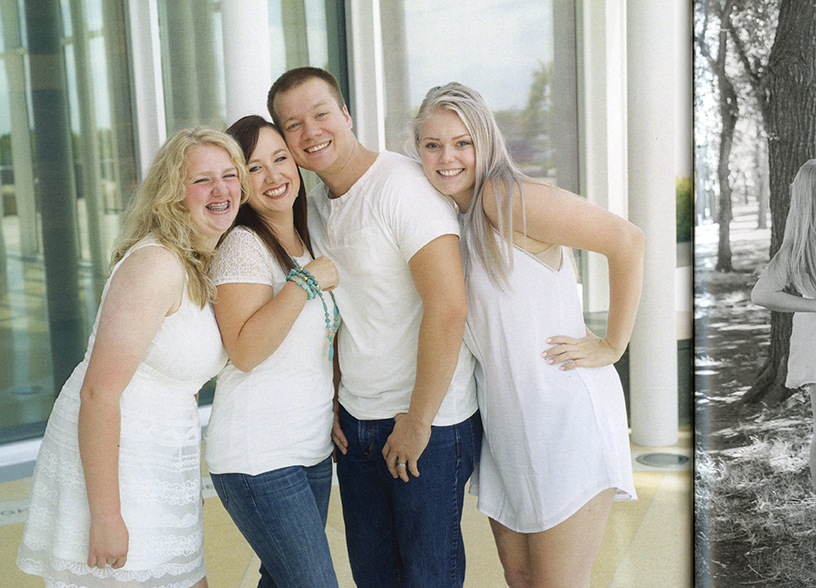 "If you (an abused or neglected child) don't know what (a healthy family) looks like and feels like and have an understanding of that path, it's so difficult. Most people are operating under the set of guidelines they have — and (abused kids) are struggling."
Shauna is also part of Authentic Voices, a coalition of advocates who speak on behalf of children who are abused. Breaking the cycle of abuse is a key to ending it. That's a "one day" Shauna longs for. Until then, she offers her fortitude to give others hope.
"What's the value of a life and how do I know if I've given back enough? What does enough look like? Since I was given the resources and the people in my life strategically to be able to get to where I am, I'm going to continue to feel blessed and lucky and try to pass that on."