By Marci Narum
After Eunice Morgenstern's daughter Mindy (pictured) was murdered in her Valley City apartment 13 years ago, she got a notebook and started writing. The New Salem, North Dakota woman poured out her feelings, her grief, and her questions about the crime and Mindy's killer until the pages of her notebook were full.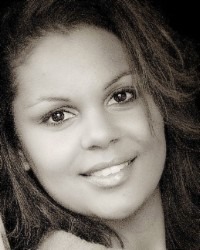 "I'd never had journals before and I just started writing and my notebook got thicker and thicker," Eunice explains.
Mindy was 22 and about to graduate from Valley City State University when Moe Gibbs killed her. More than a decade later, Eunice's personal notebook containing her grief process is public. It's a book appropriately titled "Mindy."
"The book isn't a long read, it's 88 pages and it starts with my daughter's babyhood when she was adopted from Bogata, Colombia, growing up, and a little about our family. It ends with the tragedy and the trials, and how our family got through everything, with our faith being the biggest help of all and how Mindy shared her faith," Eunice says.
The reader gets to know Mindy much more personally in the book. It includes letters from Moe Gibbs and a jury member; and there are details about what happened and courtroom trials.
Eunice says she never set out to publish a book. She just continued writing in her journal and then, about five years ago, she had the idea to start a project she could share with her family. She wanted people to remember Mindy and to experience the peace she has. "If I wouldn't have kept the journals, I would have held onto more negative feelings and bitter feelings about things. The book talks about forgiveness … the grieving process is so hard at times and so heavy. And if you write it down — it really helped me anyway. Maybe some other people will benefit from that."
"Mindy" is available at Tellman's Market and Rud's Tesoro in New Salem and the Rainbow Shop in Bismarck.
Note: Eunice Morgenstern is one of several featured speakers for the Second Annual Inspired Woman Retreat, "Ready & Resilient"  in November.