By Paula Redmann
Submitted photos
The story starts, simply enough, with this: A group of friends and family went for a walk. 
Oh, not just any walk. A 500-mile walk, adventure, and pilgrimage, starting for this group, in France, and ending in Santiago de Compostela in northwest Spain. 
Wait. What? 
Here's some background: The Camino de Santiago, translated as the Way of St. James, is a network of routes threading across Europe. The final destination for all routes is a cathedral and the tomb of St. James, which is "Santiago" in Spanish. 
In the middle ages, thousands of Europeans walked out their front door and traveled to Santiago, creating the various routes. Like streams to a river or branches to a trunk, the travelers — the pilgrims — on the Camino all have the same final destination. Many walk or ride and follow the path for spiritual reasons, as an escape, as a vacation, or simply as an experience or challenge.
GATHERING THE PILGRIMS
Beth Stenehjem of Bismarck was inspired to make this journey after a dear friend, Genie Lang, sent her the movie "The Way" with Martin Sheen. The movie is based on the Camino. 
"After that, which was seven years ago, I became obsessed with wanting to go. I read books. I looked at maps. I looked at websites. I listened to podcasts," Beth says. 
During this time, Genie passed away, which made Beth even more determined to go. But what's an adventure without company along the way? 
"You know how you have that friend that you'd follow to the end of the earth? Well, Beth is that friend to me," Tamra Maddock of Bismarck says. "So, I said I would go."
Beth reached out to another friend, Katrina Richter of Bismarck. 
"I said I would go, but I needed to go to my daughter's wedding first," Katrina says with a laugh. 
Katrina made the journey a family affair by asking her son, Aaron Nelson, and another daughter, Emily Nelson, to join them. 
"Then I mentioned it to my sister, and she wanted to come along."  
Katrina's sister, Lori Tickerhoof of Minot, rounded out the Camino sixsome. 
THE 500-MILE JOURNEY
The planning and plotting started in April of 2018. Schedules were coordinated. Backpacks were purchased. Some trained for their journey; some did not. Supplies were discussed. Shoe and sock selections were imperative. The group trusted Beth's diligent research and chose The French Way as their route. They met in Paris and began their pilgrim walk across the Pyrenees Mountains and into Spain on June 24, 2019. Their goal was to reach the cathedral in 29 days, timing their arrival to coincide with a holy day, St. James Feast Day.
A map of their route guided them, but they always looked for Camino directional signs; a yellow arrow or a shell. A cockle shell is one of the symbols for St. James. 
"Sometimes you'd see an arrow on a sign, but sometimes it was on a rock or a fence," Tamra says. "You really had to pay attention." 
Pilgrims on the Camino are accommodated each night at an "albergue," lodging similar to youth hostels. Albergues provided a shared room, sometimes for six, sometimes for dozens, a shared bathroom and a place to get much needed sleep. Sometimes sleep was provided on a bunk bed or a mattress, sometimes a floor. The travelers could get a simple meal at the albergue or wander into the village and find a café. Cafés offered internet connections, a way to touch base with family and friends back home. They needed to get up and out of the albergue each morning. No dawdling. Preparations needed to be made for the next pilgrims. 
The day's routine became simple and repetitive. Get up very early.  Start walking.  Headlamps lit the way in the dark until sunrise. Stop for breakfast. Walk some more. Visit with other pilgrims along the way; pilgrims from Australia, Korea, New Zealand, Chicago. Sometimes they'd see the same pilgrims that evening or days later at an albergue. Some pilgrims were young, some were 75. Stop for a Snickers® candy bar. Keep walking. Find an albergue. Shower, talk, eat, read, maybe play a game, sleep. Clothes got washed every two days. And then do it all over again. And again. 
The group walked eight hours each day, averaging 10 miles from when they set out to when they laid the backpacks down. Their longest day was 24 miles. Shin splints, blisters, tired Achilles and lost toenails were common ailments, but the group walked on. 
WALKING WITH A PURPOSE
Aaron traveled with the group for 11 days, as planned, and then returned to his work in Bismarck as a student and coach at the University of Mary. 
"The experience, for me, was just like sports. It's much more meaningful when shared with a team," Aaron says. 
Tamra walked with no particular purpose.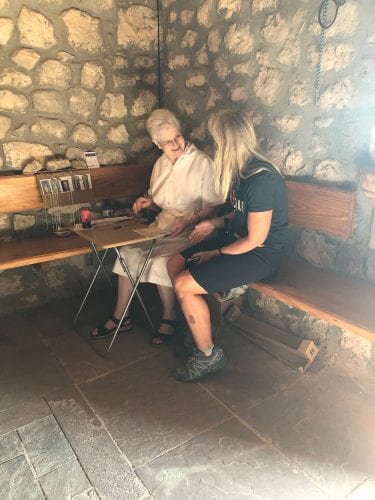 "It was an opportunity to have a great time with great friends and meet new friends," she says. 
Katrina walked for the challenge. 
"To get on the trail every day, to experience the people, the stories and the churches along the way. That's pretty special," she shares. 
Lori walked to have a forever experience with her sister, niece, and nephew, and also in memory of her deceased son, Nathan. 
Beth walked for the experience. 
"How many chances do you get in life to do something like this? It's kind of a combination of a good place to reflect or let go. You are present in the moment. I found myself walking for hours and then realized I hadn't had a single thought in my head. Not one," Beth recalls.
REFLECTIONS OF HOPE
Five women arrived at their destination as scheduled, on St. James Feast Day. They gathered with other pilgrims and were greeted with fireworks. Their 500-mile walk was finished.
Beth, Tamra, Katrina, Lori, Emil, and Aaron were never fearful on the Camino. They were always hopeful. All agreed that the challenge of Camino was very much like the challenge of life. You get up.  You might not have that day or your journey mapped out, but with the help of your support network, you move forward, no matter what. And then you do it again.