Long Time Teacher and Coach Says Goodbye to Bismarck High School
By Lexi Kerzman
She has been a fixture in the halls of Bismarck High and on the sidelines of Demon sporting events for more than three decades. And now, after a total of 44 years of teaching, Billie Ann Caya is retiring.
In her 31 years at BHS, Caya has seen a lot of changes, beginning with the classes she teaches. When she start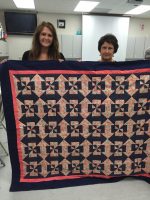 ed, students took general home economics classes, where the now separate sections of FACS were all covered in one class. Those general home economics classes  are now called Family and Consumer Science (FACS) classes and are separate, and Caya has taught almost every one, except for child development. She has also taught world history and middle school FACS. She says she has enjoyed every class she has had, but fashion classes are her favorite.
"I actually have a double major, my other major being fashion so it is what I know the best," Caya said. "My overall favorite class would most likely be advanced fashion."
Caya is more than just a teacher; she is also a coach. Caya has been coaching cheerleading for 36 years, 29 of them at BHS. In those 29 years, Caya's cheer teams have brought home 20 of the 42 state championships they have competed for. The Demon cheerleaders have won the last three championships and this year Caya was named Coach of the Year. This is only the second year this award has been given in the sport of cheerleading.
"I was very surprised and it really meant a lot to me," Caya said. "The thing that meant the most to me was the speech that Tammy, the coach at Century who was one of my former cheerleaders, said after I won, just hearing all the nice things she had to say about me meant a lot."
But for Caya, the Coach of the Year award pales in comparison to what her cheerleaders have done. She credits their success to the cheerleaders creating their own routines and working hard as a team.
"We go through a whole process of deciding what we're doing, what we're cutting, what to put in and to me it makes them closer as a team and obviously having a three peat shows that it works," Caya said. "It's nice to know that sometimes paying someone doesn't necessarily work. We take pride in having different routines every year."
While Caya gives the cheerleaders credit for their success, the cheerleaders are quick to point out her influence as a coach.
"Caya knows how to push us to our full ability and have fun at the same time," junior cheerleader Jordyn Varland said. "And besides that she always has faith in us even when she calls us 'little creeps.'"
It is still unknown who will take over as head coach next year, but Caya is hopeful it will be her current assistant Ranee Parker. Ranee was one of Caya's cheerleaders prior to being her assistant and Caya is confident in her ability to take over the team.
"It makes me feel good, because I know that the Demon tradition means a lot to her and I know she will carry it on," Caya said.
It is that Demon pride that has kept Caya excited about her job as a teacher and a coach for so many years. She hopes her Demon pride has rubbed off on students.
"I hope kids realize how good of a school we have here," Caya said. "I would not want to be any place else."
And while she is retiring, she is not saying a final goodbye to BHS. She knows it can be difficult to find a substitute for FACS classes, so she plans to help out when she can.
"I plan on coming back to sub, and I think that I will stick to just BHS, because it will be nice to come back and see all the people I used to work with," Caya said. "Besides subbing I also plan on coming back for games and what not just to see everyone."
---
Lexi Kerzman is preparing for her senior year at Bismarck High School. Lexi is editor of the HiHerald, the school's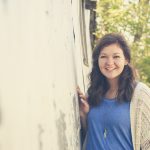 news magazine. She is also involved in basketball and track, and thanks to Billie Ann Caya, has discovered she also loves to sew.