by Carole Hemingway  | Submitted Photo
A few days ago, I was doing some intense meditation and praying about my situation here in Kentucky horse country. I fell in love with Smarty Jones and Midway in 2008. For years, it drew me out here from the coast of Maine like a magnet. Then early June this year, I was drawn here again and felt privileged and honored to be here again.
It has been a gift, but not only are the seasons changing, my life is changing, that's what TIME is for, you know, to look back on the past, the present, where I am now, and then look to the future, to move forward in life. I'm at that crossroad and the time for change is upon me, once again.
Torn about living in Midway, Kentucky or moving to Gettysburg, Pennsylvania has been the question burning in my mind since early June. So I had a little talk with God and my inner soul, asking for a sign of where I should be at this time in my life. The next day I Googled and asked, "Where is Smarty Jones?" Turns out he's in Uruguay. However, he is scheduled to return to a little town in Pennsylvania in 2019, not far from Hershey, the land of chocolate. Thank you for my answer.
Smarty and I were both born in Pennsylvania—he on February 28, 2001, and I on June 21, 1941. So we're both returning to our roots, though I will get there first to lay the foundation for my new life and will welcome Smarty with an armful of carrots, mints, apples, and love.
It's been a stunning summer and fall, full of adventure and surprises. Some gentlemen by the names of Dermot and Adrian from Ashford Stud introduced me to our newest Triple Crown Winner, Justify, and I am grateful to them both; then a couple of weeks ago, I went to the yearly Secretariat Festival and met and spent time with Kate Chenery Tweedy, Penny's daughter.  Penny owned Secretariat, and what a delight it was for me to share quality time with an incredible woman and get to laugh, exchange stories, and visit Claiborne Farm where Secretariat lived and died. What a day that was and will always keep my heart open, and I'm richer for the experience.
I was also caught in a deadly tornado on July 20 with what's known as a shelf cloud, which produced an adrenaline rush I won't soon forget. I've been to church suppers in Midway, while staying with a friend in Versailles and spent a lot of time in the Midway Library almost daily, which became my rehabilitation center, my sanctuary, and my safe place to go every day. Thanks to Suzanne, Stacy, Wanda, Ann, Anna, David, Jennifer, and Laura I attended so many wonderful meetings, like their book club, and the most recent, a historical talk through the history of Midway.
Midway, Kentucky was founded on January 31, 1835; then incorporated on February 7, 1846. Both astrological charts have Neptune (ruling religion and spirituality) in Aquarius, meaning the 12 churches now standing here are of different denominations, but they all pull together in times of need. Everyone is drawn here and wants to live here because if the rest of the world were organized like Midway, what a wonderful world this would be.
Historic Midway was the first town in Kentucky founded by a railroad, but before that, the area was inhabited by Indian Mound Builders. Many of the streets here are named in honor of the surveyors/directors who laid out the land, and no one has changed them.
Electricity was introduced in 1911, passenger trains dwindled, and the old depot was closed in 1963. Horse farms were introduced in 1790, with famous stallions like Lexington and Asteroid, and the Alexander family established Woodburn and became "the most prestigious stock farm in America." Nantura, owned by the Harper family, between 1795 and 1905 became one of the leading thoroughbred racing stables, and according to the tombstones of Ten Broeck and Longfellow, was said to be the first horses in the state. George Armstrong Custer visited the horse farms here in November, 1871 looking for horses for both his own breeding operation and for the army. This racing tradition has carried forward to today's horse farms surrounding Midway, including Parrish Hill Farms (birthplace of Derby winning Charismatic), Airdrie Stud, Waterford Farm and Three Chimneys, where I first met Smarty Jones!   
---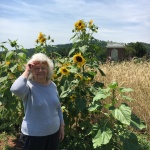 Carole Hemingway is an internationally regarded author, speaker, and historical writer. She is writing three books about Gettysburg.