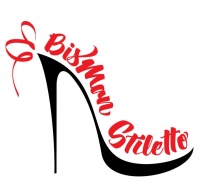 By Marci Narum
Melissa Hill Hammond is the founder and president of BisMan Stiletto. She shares about the group:
What is BisMan Stiletto?
We are professional women committed to completing service projects that are impactful to Bismarck Mandan.
Give us a little history about your group.
In 2012 I was starting an insurance agency and was involved in every networking group that would allow me to participate. I had the realization that all of that was only benefiting me. It didn't feel good.  Earlier in the year my agency had hosted a Stiletto Race to raise funds for March of Dimes. I reached out to those women that participated and asked if they would be interested in forming an official group focused on giving back. Together with seven other business women we began to develop BisMan Stiletto. We functioned with a small group for a few years. In 2015 we received our 501(c)3 status. Today we have over 50 members, have completed over 1,500 service hours, and donated over $15,000 to other local organizations.
What services or benefits do you offer? 
I am proud to announce we just added our first sister Stiletto Group, Minot Stiletto. Each Stiletto Group has the flexibility to work with any other organization in their community to complete a service project.  Our mission is to do a lot of good with a little effort from everyone involved.
How are you different from other organizations like yours?
We only fundraise one time per year with the Stiletto Race.  The monies raised from that event allow us to do the work we want to do. The community has been very generous with their sponsorships. The race is their unique way to give back. The other special feature of Stiletto is that we have  a service requirement of 12 service hours per year to maintain active membership.
Who do you help?
We work with other nonprofits to help make the community better. One of the responsibilities of our members is to find projects. If a nonprofit has a need that we can come in and resolve, those are the types of projects we enjoy doing.  We recently helped Tracy's Sanctuary House by hosting the White Party for Purpose. Other groups we have helped are Designer Genes, Hope Manor, Welcome House, Ruth Meiers, and several others.
How can people participate or join?
There are a few ways people can participate. We are always looking to expand membership.  We ask prospective members to visit our website online at bismanstiletto.com to fill out the "Become a Member" section. Our Membership Chair, Stacy Sturm, will reach out and go over our group in further detail to make sure they are aligned with what we are doing.  Race sponsorship is key to furthering our group. We would be thrilled to add new sponsorships to our upcoming race held on July 4, 2017.
[supsystic-gallery id=26]