By Marci Narum
Submitted Photos
It can be pretty difficult to say no to the young lady selling Girl Scout cookies, but it would seem impossible to say no to Jennie Schley. She's the only Girl Scout at Bismarck's Shiloh Christian School, and she has her own mobile marketing and distribution tool — a cookie cart she wheels around from class to class. 
Jennie has been a Girl Scout for nine years, so she's sold a lot of Thin Mints and Peanut Butter Patties, too many to recall, but her most lasting memory as a Girl Scout will be something else: her Girl Scout Gold Award. 
"I really wanted to help people in the area who have dementia because my grandfather has dementia," Jennie explains. "He lives out of state, so I knew I couldn't help him physically there, but I wanted to find a way to help people here. I decided to make activity aprons because it's one of the struggles I hear with my grandmother — how do you keep someone busy and from wandering off?" 
JENNIE'S INSPIRATION
Jennie called her project "Alz U Need." Her activity aprons keep a person busy with items such as zippers, buttons, Velcro, and shoe ties. Her grandfather, Johnny Johnson, lives in Arkansas and is in the late stages of dementia. 
"For Grandpa, I did snaps, clothes pins, a little flap with an emoji under it, and a little pocket," Jennie says.
She was inspired to learn more about the diseases that causes a decline in a person's memory, language, and other thinking skills, and then made each apron with its own unique qualities.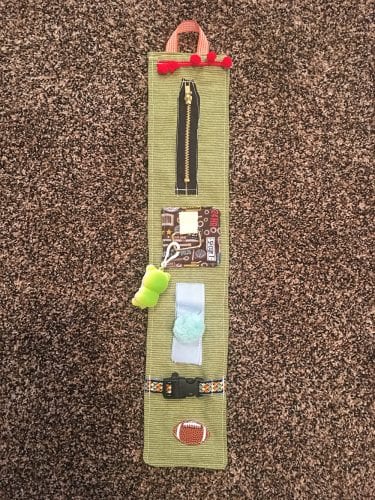 "I looked at the various stages (of dementia) where you may be able to do more things like buttons and zippers, and then I looked at the later stages where you don't have as many motor skills, so I tried to make the (activities) easier but still challenging, and with different textures of fabrics. I used crinkle fabric, minky fabric, bumpy, and some had a shimmer to it."
"She had taken over our basement for almost an entire year," Debbie Schley, Jennie's mom, laughs. "It was aprons hanging here and pieces hanging there. She had it all sorted, the different manipulatives were sorted into bins all over the place, and there was thread. She had to make all of them pretty so we had rick rack and all types of ribbon. Even emoji patches."
Jennie wore out her sewing machine, which put her project on hold temporarily.
"I was staying up late to get it done and then it broke at 1 a.m.," Jennie laughs. 
Jennie partnered with the Alzheimer's Association, who distributed the aprons to families. Others were sent to long-term care facilities in the area. 
"I heard stories from the Alzheimer's Association," Jennie shares. "One man had Parkinson's, and he was pulling on his tubing, so they gave him an apron and then he was occupied and not pulling on stuff."
EXPANDING THE PROJECT
The Girl Scout Gold Award is equivalent to the Boy Scout Eagle Project. It's a process that takes more than a year from application to completion, and only 5 percent of Girl Scouts nationwide receive the award. Jennie received hers in June.
"Girl Scouts require that you have a way to carry your project forward in the future, or they will not let you earn it," Debbie explains. 
Debbie's Bible study group is sewing the aprons, but any organization can take on the apron project.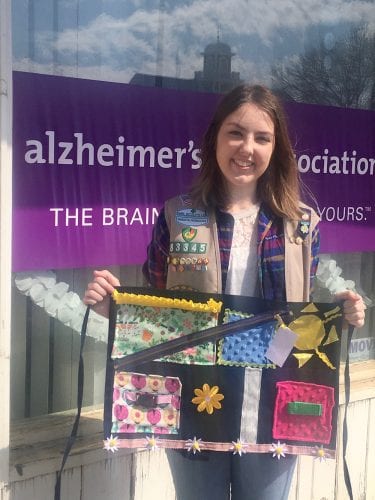 "Toward the end of my project I found you could cut the aprons in half and get two out of one," Jennie says. "One would just be a mat. You could use a dish towel. If you're making it for someone, just keep in mind what they can do and what would be too hard, what's safe." 
"I just think a lot of people may not know how to help someone, a family that is dealing with it," Debbie says. "That's what hit Jennie, the caregivers are 24/7. They can't leave these people alone. It's so expensive, and a lot of them are already strapped financially. This was one way to do just one thing for them. And, someone who receives an apron can pass it on to someone else. It's reusable and washable."
And it lasts much longer than cookies.