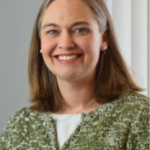 Beth Anderson is a diaconal minister in the ELCA (Evangelical Lutheran Church in America), so naturally, you might expect her to be a praying woman. But prayer is something which, as a result of her mother's caring and gentle encouragement, Beth made a constant part of her life long ago. Beth says whenever she was struggling with something as a teenager and even to this day, her mom would ask, "Have you prayed about it? You can't carry it alone, so you might as well give it to God. It's the only thing you can do sometimes."  Beth says over the years, in every situation, the one thing that has remained constant in joys and in challenges has been God's presence in prayer.
The joys in Beth's life include her husband and her children. Beth is married to Dallas Anderson, and she considers him and their marriage among her greatest blessings. Beth and Dallas have two beautiful girls, ages 7 and 10, and she loves watching and helping as they grow into themselves. Beth also love to cook, getting lost in a good novel, getting her hands in the dirt for some plant therapy, going for bike rides, walks or cross country skiing with family or friends. She enjoys a strong cup of coffee, and looks forward to Bible Study with a good friend at daybreak on Friday mornings. Beth is inspired by stories of personal triumph, human kindness, and people working together to make something happen for the good of others. Beth is from Buffalo, South Dakota.
---
Tracie Bettenhausenis a senior staff writer/editor at Basin Electric. She has generously opened her home to two once-foster, now-adopted kitties, Basil and Sweet Pea.
---
Kylie Blanchard is a local writer and a busy mom and wife who loves being active, but also enjoys sitting down to read a great book.
---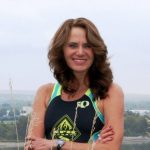 Melanie Carvell loves connecting with people. This inspiring woman gets the most joy and happiness through adding value to others, and she does that in her professional and personal life. Melanie is a physical therapist. She manages the Sanford Women's Health Center Physical Therapy Clinic and Fitness Center, and she takes her message of health and wellness to the masses, as a motivational speaker. Melanie has also helped with fitness articles of Inspired Woman magazine, and she's played a leading role in the Breast Cancer Walk Run. Melanie graced the cover of the October/November issue of 2013, after publishing her book, Running with the Antelope; Lessons of Life, Fitness and Grit on the Northern Plains.
Swimming, biking, running and skiing are among Melanie's favorite ways to spend time, but health and fitness are not her only interests. She is very talented at the piano, and she loves to cook and bake. How lucky for her family! She and her husband Charles have three grown children, and four grandchildren.
Melanie is a native of Mott, where she wish she had paid more attention in Algebra. Melanie admits math is not a strength, but overall, this lady is mentally strong, and she can persevere through anything tough life throws at her.
---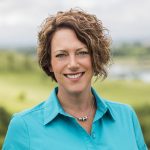 This is one of the strongest and compassionate women you will ever meet. Jamie Christensen is a mom, Communications Consultant, and a REALTOR with Century 21 Morrison Realty. She squeezes out every single minute of the day possible in service to others. Jamie loves to help people, and it shows in everything she does. She says reaching her child with special needs requires extra time, understanding, and acceptance and it is worth it.
Jamie and her husband Kai have three beautiful children, Kaitlynn, Grady, and Cooper.  Jamie looks forward to lazy Saturday mornings when they all sleep in until at least seven am! When she isn't playing with her kids or working, Jamie enjoys reading, watching movies, going for walks and traveling when she can. And while she's out traveling, she's certain to find a favorite dessert. You name the place, she's got a favorite!
And while we're on the subject of food, if Jamie could win a lifetime supply of anything, she would choose Cloverdale Summer Sausage… or toilet paper. She says there never seems to be enough of either at her house!
Jamie's hometown is Cando, North Dakota.
---
Amber (Schatz) Danks spent nearly 12 years as a news reporter, producer, and anchor. She is currently tackling her toughest and most rewarding assignment yet: being a stay-at-home mom to her baby girl.
---
Michelle Farnsworth is a local writer and owner of her own Younique Makeup and Skincare business. Two humans, one fur baby, and her husband, Richard, occupy her free time.
---
Stephanie Fong lives in Dickinson with her husband Carter, daughter Sydney, and son Parker. Originally from Powers Lake, North Dakota, she has lived in southwestern North Dakota for over a decade.
---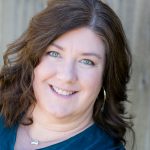 Noreen Keesey is a confirmed introvert, but she hosts a monthly happy hour that is never over in just one hour. The event is a hit. Norrie is magnetic and endearing because of her natural love and encouragement for others. She admires her parents, adores her kids (both in their 20s), and has her own coaching and training business, Thresholds.
Noreen is a proud retiree of the North Dakota Army National Guard, where she served 27 years. She was lucky to have spent the bulk of her full-time career with the military working in a field that she loves, leadership and organizational development. She continues to work full-time for the Guard, in a civilian capacity.
When she isn't working, Noreen loves watching movies, enjoying good food and cocktails with her friends, and reading. One of the last things she read that inspired her is this quote by James Corden: "Everything behind you is gone, and everything in front of you is unknown, so all you can ever do is be the best version of yourself right now."  Norrie also travels and has her sights set on Barcelona, Sydney, and Puerto Rico—her place of birth. She loves a good sunset, and would say the same about sunrise, but this happens far too early in the morning for her to enjoy!
---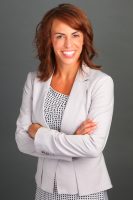 She was once given some great advice, "Life is short, buy the shoes!" But there is so much more to Jeanne Masseth than great shoes. Jeanne is a dynamic professional woman with a zeal for life in many areas. As the CEO of Legacy Talent Development, Jeanne says she has the good fortune of partnering with businesses on building their talent strategy and developing their leaders to retain more effective, engaged employees.
Jeanne makes it a practice to be mindful and healthy. She looks forward to her daily workouts, which are a priority, and so is disconnecting so she can connect with people around her. Her sense of humor also helps her connect. If she had a talking parrot, Jeanne says she was teach it to say, "Help! They've turned me into a parrot!" The water is a favorite place for Jeanne. She loves pontooning, paddle boarding, or just hanging out with family and friends is time well spent. Jeanne also enjoys golfing and running. She ran in the Fargo Marathon, and was inspired to see several people with physical disabilities running in the event. Jeanne says it reminded her how blessed she is. Jeanne and husband Brian have two incredible children, Carson and Emma.
---
Paula Redmann is the Community Relations Manager for Bismarck Parks and Recreation District. She married her high school sweetheart, Tom. They have two grown sons, Alex and Max.
---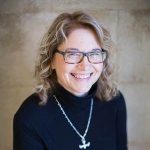 Roxane Romanick is a leader widely-known for her advocacy work for people with disabilities, and her strong belief that our communities can make room for everyone. If she had magic soap, she would use it wash away unkind and judgmental thinking. Roxane is a social worker, and serves as the executive director for Designer Genes of North Dakota. She also works part-time for the Region VII Early Intervention program.
Roxane is also a mother. She and her husband Bruce are proud parents of Nick, 25, and Elizabeth, 17. She says being their mom is her greatest blessing. Elizabeth's life and diagnosis with Down's syndrome has brought her life full circle personally and professionally. Roxane and Bruce enjoy their weekends at Lake Audubon. Roxane also loves to travel, garden, cook, read, and keep up with her friends. She looks forward to the end of each day when she can slip into her pajamas for some alone time, which includes reading or watching her favorite TV shows. Her favorite dessert is Roxane says is pure and simple ice cream, but if she had a parrot, she would teach it to say, "Don't eat that!" Roxane is originally from Edgeley, North Dakota. She was featured in Inspired Woman magazine in July, 2010.
---
Pam Vukelic is recently retired from a long career as a FACS (Family and Consumer Sciences) instructor, most recently for the Missouri River Educational Consortium. Pam and her husband, Jim, are enjoying retirement and their grandchildren. The couple splits their time between Bismarck and The Villages in Florida.