Article and Photos by Pam Vukelic
A recipe is a story. So says Heid E. Erdrich in "Original Local," a book about indigenous foods of the upper midwest. A favorite story is that of the Three Sisters: corn, beans, and squash. When eaten together they provide nearly complete nutrition. In the garden, the beans climb the natural trellis provided by the corn and the creeping squash provides ground cover preventing weeds and holding in moisture. I've made Three Sisters Soup using the three vegetables and adding bison. The three vegetables grilled make a delicious salad when tossed with greens and apple cider vinaigrette.
She also says recipes are the middles with the beginning being the gathering of ingredients and the ending the eating. I know many readers will recall family chokecherry picking times. Heid speaks of the importance of chokecherries to indigenous cooking and culture. Drying them in various forms, including in pemmican, provided sustenance year-round. In 2007 the chokecherry was named the North Dakota state fruit. I was recently given several bags of chokecherries, so I did not get in on the picking, but on a recent trip to Alaska to visit Reed and family, all six of us climbed through bushes to pick wild raspberries. With two little boys eager to eat the sweet berries, it's a bit difficult to fill buckets, but more important, the story is formed. My chokecherries were processed into syrup which I will delight in giving away to friends and neighbors where, hopefully, there will be joy in the eating.
Manoomin, or as we know it, wild rice, is another favorite indigenous ingredient. Look for information on the label that indicates the rice is "hand harvested." It might also mention a particular band who harvested it. This is in contrast to "cultivated" or "paddy rice" which does not need to be gathered using the traditional methods involving the use of "knockers" to gather the manoomin into canoes. Several laws have been passed to protect the labeling and genetic engineering of wild rice, a food considered sacred by many Native Americans.
This recipe comes from "The Mitsitam Cafe Cookbook." At the recommendation of niece Anna, who lived in Washington D.C. for a while, we ate at the Mitsitam Cafe in the Smithsonian National Museum of the American Indian. We were not disappointed.
---
Wild Rice Salad
6 cups low sodium chicken broth
1 ½ cups wild rice
1 carrot, cut into matchsticks
3 tablespoons cranberries
1 Roma tomato, finely diced
4 scallions, finely chopped
½ cup pine nuts, toasted
¼ cup raw pumpkin seeds, toasted
3 bunches watercress, stemmed*
In a large saucepan, combine the stock and wild rice. Bring to a boil, then reduce the heat to a simmer. Cover and cook until tender, 45-55 minutes. Spread on a baking sheet to cool, then scrape into a large bowl to which you add the next six ingredients. Toss to mix. Add ½ cup vinaigrette and toss to coat. Cover and refrigerate for at least one hour. To serve, divide the watercress among  four to six salad plates and top with wild rice salad. Add additional vinaigrette as desired.
*Substitute any greens you desire.
Apple Cider Vinaigrette
6 tablespoons apple cider vinegar
¼ cup honey
¾ cup canola oil
salt and freshly ground pepper to taste
In a small bowl, combine all ingredients and whisk to blend. Cover and refrigerate for at least one hour.
---
Fry Bread, eaten with sugar or honey or used as the basis for Indian Tacos, is another favorite. When Native American people lost access to many of their traditional foods during the formation of reservations, commodity foods were made available. Fry bread was one way to use the flour and lard provided and has become a food of festivals as well as daily life. This recipe for fry bread comes from the Mitsitam Cookbook too.
Fry Bread
2 cups flour
1 teaspoon baking powder
1 teaspoon salt
2 tablespoons sugar
¾ cup milk
Combine the dry ingredients, and then stir in the milk. Divide the dough into six pieces. Form into balls then roll into  disks about one-fourth inch thick. Cut an X in the center of each piece. Deep fry in 375 F oil, turning once, until golden brown.
This is Powwow season in Bismarck. It's a wonderful opportunity to be immersed in Native American culture. Take note of the dress adorned with beads, jingle cones, and feathers. Watch the very young and the elderly in traditional dances. Delight in the rhythm of the drumbeats. Oh, yes, and add to your family's food history by partaking in some fresh fry bread.
[supsystic-gallery id=158]
---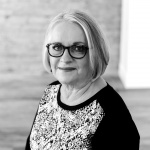 Pam loves the concept of a recipe being a story. As she looks through old family recipes she is reminded of adventures in collecting ingredients, experiments in the kitchen, and gatherings around the table. She hopes you conjure up similar memories.