by Nicole Thom-Arens  | Submitted Photos
Each fall, Scandinavian traditions come alive at the North Dakota State Fair Center in Minot thanks to the Norsk Hostfest. The festival, founded in 1978 by Chester Reiten, is now the largest in North America to celebrate Denmark, Finland, Iceland, Norway, and Sweden. Year after year, tens of thousands of people from around the world travel to Minot for the event, which runs September 26-29 this year.
"Chester's thought was that we have to develop something so powerful, so interesting, so compelling, that people will get in their cars 1,000 miles away and drive to Minot—of all the places in the world to go, why would they go to Minot? Well, Hostfest," Pam Alme Davy, Executive Director, says. "That was his thought, and we've always worked with that goal in mind—that Hostfest would be authentic, that it would be interesting, that it would be culture and heritage and a place to meet friends and family."
In the spring, organizers make the big concert announcements. This year's headliners include Michael Bolton, Daniel O'Donnell, and The Beach Boys, among many others, but long-time volunteer Lora Bendickson says the festival is more than concerts, and that's why people return. Lora, who manages ticket sales for the concerts, and the event in general, says people repeatedly call and say how much fun Hostfest is.
"Word of mouth is important," Lora says because the festival offers so much more than an evening concert.
Pam says they utilize every possible space at the fairgrounds to bring in as many authentic cultural experiences they can find, which includes clothing, jewelry, craft, furniture, and food vendors, entertainers, Norwegian chefs, and Viking performers. Every square inch of the property has something to experience from lefse, klube, or Norwegian fine dining to handmade Christmas ornaments and Swedish clogs. Vikings and trolls line the hallways in all forms—wooden and in costume—and the sounds of free entertainment (musicians, comedians, and dancers) fill the air.
"We are continually reinventing this festival. We are always looking for the next revolution," Pam says.
New additions this year include a pastry chef from Norway specializing in open-face sandwiches and Norwegian cakes and North Dakota vendors that offer non-Scandinavian cultural experiences.
"For example, there is a young woman in Valley City who is from Mongolia and she has developed a business of products from Mongolia that are very beautiful—sweaters made from yaks, for example, high quality. Above her booth it is going to say, 'Visiting from Mongolia,'" Pam says.
The economic aspect of the festival is substantial for the Minot community. Pam says bringing in people from other states and other countries leaves a lasting impact.
"The memories made in Minot, I think, are also very important. It's put Minot on the map as a fun place to be," Pam says. "We hear from communities all year long that want their own Hostfest. There are a number of communities that send people here to see what we do and how we do it. It's just such an asset to have something in the community that will bring people in from so many miles away, from so many states. It's just a magnificent thing."
All of this, of course, wouldn't be possible without the 4,000 individual volunteers working in a variety of roles throughout the year. Lora and Pam agree that quality volunteers are critical to the success of the festival and make it possible for the event to continue.
"People actually tell me I'm crazy because I work and don't get paid. I'm one of those that think you don't have to get paid for everything you do," Lora says about volunteering for the festival year-round for almost 20 years since her retirement when she was 62. "It was a social thing for me, too, and I've met so many nice people."   
[supsystic-gallery id=154]
---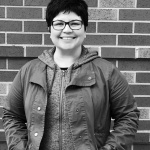 Nicole Thom-Arens is a writer and an assistant professor of communication arts at Minot State University where she teaches journalism and communication theory courses and advises the student newspaper the Red & Green.