by Kylie Blanchard
Lutheran Social Services of North Dakota (LSSND) is the only federally recognized and approved refugee resettlement organization in North Dakota. Since 1948, LSSND's New American Services have helped refugees in building a new life in North Dakota.
"When people are fleeing their home country and fear for their safety and have nowhere else to go, we can help them rebuild their lives. Our country can help that happen," says Shirley Dykshoorn, vice president of senior and humanitarian services at LSSND. "Over 20 million refugees are needing such help in the world today."
A Worldwide Impact
A refugee is defined as a person who has fled his or her country because of fear of persecution based on race, religion, nationality, or membership of a particular social group or political opinion.
"There are 65 million displaced people in the world and only 22.5 million have refugee status," says Turdukan Tostokova, LSSND resettlement coordinator. "Less than one percent have a chance to start a new life."  
She says the United Nations (UN) currently has three solutions for displaced individuals:
Flee to a country of asylum, wait until things improve in their home country and then return.
If returning to the home country is not an option, remain in their country of asylum.
Permanent resettlement in a third country as a refugee.
Turdukan says approximately 35-37 countries worldwide accept refugees for resettlement.
"Refugees must be placed by approved agencies who do resettlement. We work with Lutheran Immigration and Refugee Service," adds Shirley, noting refugees are thoroughly vetted by the UNHCR, the UN Refugee Agency.    
New Americans
The LSSND's New American Services encompass a number of programs, including the Refugee Resettlement program, Immigration Services, Interpreter Services, and Unaccompanied Minors program. The services assist individuals in finding jobs and learning English as well as provide case management services.
LSSND partners with many national, state, and local agencies to make the refugee resettlement programs and employment services possible including schools, churches, adult learning centers, civic groups, employers, individual volunteers and mentors, health-care organizations, social service agencies, the North Dakota Department of Human Services, national resettlement agencies, and the U.S. Department of States Office of Refugee Resettlement.
Since 1997, the New American Services have aided more than 8,000 refugees in resettlement in three primary sites in North Dakota: Bismarck/Mandan, Fargo/West Fargo, and Grand Forks.
Turdukan says the Bismarck/Mandan community resettled many refugees following Desert Storm in the 1990s. At this time, many refugees were also arriving from the former Yugoslavian states. "Yearly arrivals reached over 100 refugees," she notes.
The refugee resettlement office was then closed in 2001, but reopened in 2009 as the need for refugee resettlement services again grew. The average number of refugees resettled in the community each year is approximately 20 individuals, says Turdukan, but reached its highest in 2016 with the resettlement of 50 refugees.   
Resettling in North Dakota
When Reem Toshi left Iraq with her parents and sister, she spent almost three years in Turkey, her country of asylum, before coming to North Dakota as a refugee.
"It was a very hard part," she says. "We lived in Turkey without going to school or work."  
She says they had family members who had resettled in Bismarck, which brought them to the community more than four years ago.
"After we got here, everything was amazing. We had the opportunity to work and go to school."  
Without the resettlement services provided by LSSND, Reem says she and her family would have been lost.
"We were in a strange place and we just didn't know what to do. The people who come here as refugees, they lived a miserable life. It was not in a safe place and not a good education."
With the help of LSSND and many volunteers, Reem and her family are now settled in the community.  Today, she is working as well as raising her daughter.
The organization's First Friends program also provides community members with volunteer opportunities to help refugees.
"Refugees want to forget what happened before and the volunteers introduce you to a new life and show you a new start," says Reem. "I want them to keep helping refugees. Refugees have lost everything and they need help to start again."  
Refugee resettlement is a community effort, notes Turdukan.
"It is important we all embrace and welcome new comers. Refugees enrich our culture with unique skills and talents. They give back to their community in many ways, such as, by working and paying taxes, by opening businesses and creating jobs, and many more."   
---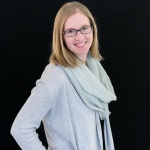 Kylie Blanchard is a local writer and editor and busy mom of three. She enjoys a bit of down time with a good book.