Article and Photos by Amber (Schatz) Danks
Imagine moving from a country like Mexico, Japan, or Kenya to a community where the people are mostly of northern European descent. It might be difficult to feel at home there, or to even find your comfort foods. But in Bismarck, North Dakota, things are changing. New ethnic markets are opening across the city, bringing a taste of home to many people, and giving the city a little more culture. Here's a look at some of the growing markets in Bismarck:
La Tejana Mexican Market
New address: 1235 S. 12th Street, Bismarck ND (Inside VFW building)
Monday – Friday: 9 a.m. to 7 p.m.
Saturday and Sunday: 9 a.m. to 8 p.m.
La Tejana has been open since October 2014 but moved to a new location this August. Two sisters from Texas—Elma and Libby—opened the authentic Mexican market and restaurant to offer North Dakotans a taste from south of the border.  
"I think our following is getting a little bit bigger, so we needed more room," says Elma.
Elma Donez says the new location off of South 12th Street offers more space for the restaurant and market, and their faithful customers have found them.
"They're giving us a lot of good compliments, that it's a bigger space, nicer, more spacious, more room for sitting."
Along with the new space, restaurant, and market, Elma says many of her long-time customers show up to La Tejana because of the money transfer phones, similar to Western Union.
"To any country, they send money to their loved ones."
One thing she has noticed the past few years, is the Capital City getting more diverse and multicultural.
"People from Peru, Brazil, Guatemala, Honduras, Cuba, Colombia, Salvador, Puerto Rico; I have people that come from every country, just about, it's nice to see diversity for sure."
No matter where you're from, Elma wants all people to try out the authentic Mexican food at La Tejana.
"I think they should try huarache, sope, gorditas. They are homemade, like back home in Mexico or Honduras or El Salvador, they call them pupusas, but basically the same."
If there's an item you're craving, and Elma doesn't have it, she says bring her a description and she can try and order it in.
"A lot of people think it's just the market, so they come here for the grocery part, but once they see we have a menu and they see it, they're like, 'You have food as well, when did you do that?' I'm like, 'Since day one.' We've been both. We first started advertising the market part, but now trying to advertise the restaurant."
Elma says she plans to stay in Bismarck and would like to expand to Mandan, but it's hard to find someone bilingual to work the register for her. Either way, she's happy in her new space.
"We see a lot of the same people every day, but we're getting a lot of new faces as well. A lot of people are finding out we're here, and they're coming and trying it out, and they say, 'We'll be back, we'll tell friends and family you're here.'"
K & K Market
Address: 931 South 9th Street,
Bismarck, ND
Monday – Saturday: 9 a.m. to 8 p.m.
Sunday: Closed
K & K promotes serving the best African cuisine. The grocery store sells palm oil, corn beef, fresh meat, and traditional clothes.
Adom African Market
Address: 135 Airport Rd, Bismarck, ND
Monday – Friday: 11 a.m. to 7 p.m.
Saturday: 9 a.m. to 7 p.m.
Sunday: 12 to 7 p.m.
Adom African Market opened in March 2016. The store promotes groceries, hair supplies, shoes, and clothing.
N & K Safari Market
Address: 913 Burlington Drive #3,
Bismarck, ND
Monday – Friday: 10 a.m. to 9 p.m.
Saturday and Sunday: 8 a.m. to 9 p.m.
N & K opened April 2017 in the Dairy Queen strip mall off Bismarck Expressway and is Bismarck's first Halal store. Halal relates to how the meat is prepared and prescribed by Muslim law.  The business promotes halal foods including goat, lamb, beef, fish, and chicken.
The international market offers ethnic food and spices from several different countries around the world. They have teas from Kenya, India, and the Caribbean, as well as East African breads and sweets. At N & K Safari Market you can shop for pitted dates, ghee, pickled turnips, chickpeas, and mackerel.  
Asian Gourmet Market
New address: 800 East Bowen Ave, Bismarck, ND
Qiuhong Toman, who goes by Ruby, is the owner of Asian Gourmet Market. She's been at the Front Avenue location for almost four years but is in the process of moving to a much larger venue.
"Because I run out of space…We never stop stocking.  At the other location we can put a lot in, so we don't need to stock as much, majority is in the freezer."
She doesn't know when they will open at their new location but is hoping before September. She says the customer base has grown over the years, and the most popular items in the store depend on what you're looking for.
While the majority of food is Asian, vegetables and fish are top sellers. She also carries Puerto Rican, African, Arabic, European, and Jamaican food.
"I can try everything. Before I opened this, I wouldn't try this much."   
[supsystic-gallery id=159]
---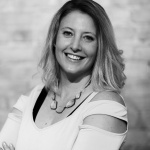 Amber (Schatz) Danks spent nearly 12 years as a news reporter, producer, and anchor. She is currently tackling her toughest and most rewarding assignment yet: being a stay-at-home mom to her baby girl.