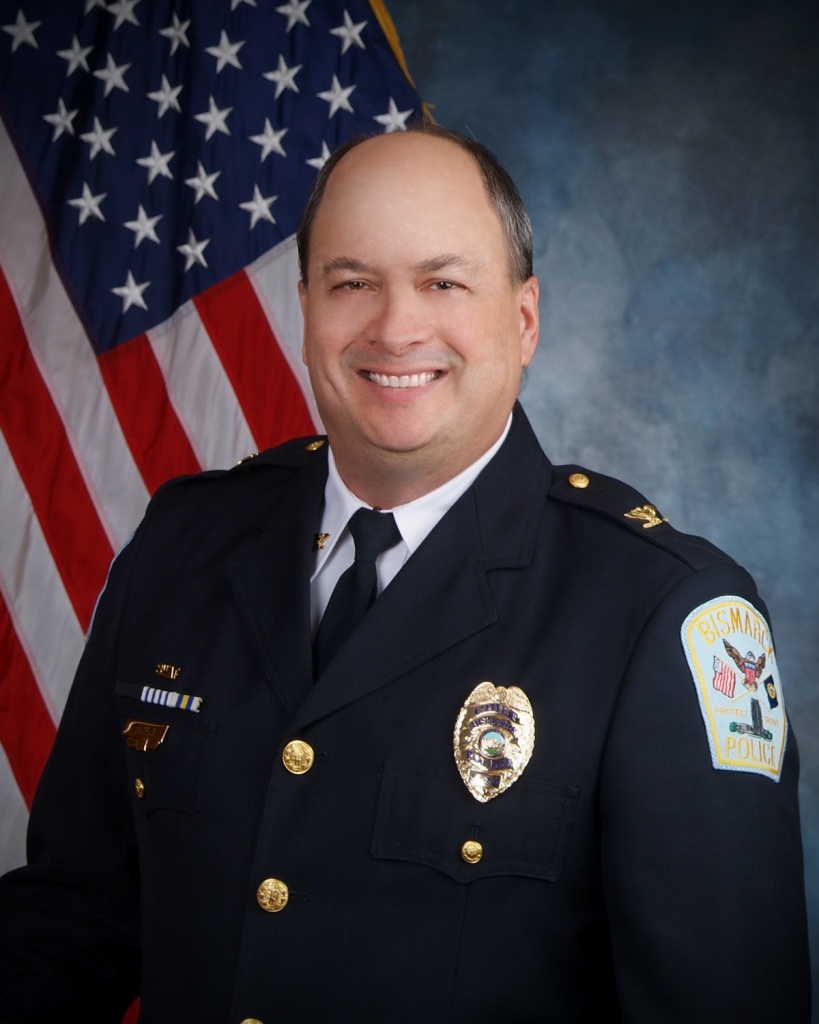 by Jody Kerzman  | Submitted Photos
Dan Donlin grew up playing cops and robbers. But the Bismarck, North Dakota native never expected that childhood game would have such an impact on his future career.
"I thought I'd be a CPA. I liked math, but when I flunked tax class, I figured I better find a different career," he recalls with a laugh.
He switched his major to business and after a short sales career, Dan applied with the Highway Patrol and the Bismarck Police Department.
"I applied with the Highway Patrol, but I didn't even get an interview," says Dan. "God works in mysterious ways, I guess."
Dan did get an interview with the Bismarck Police Department, as well as a job offer. His sister Colleen, who worked for the department for more than 30 years, told Dan he was number one on the list when he applied.
"But when they did a background check and saw all my speeding tickets, they moved me to the bottom of the list!" Dan laughs. "I was hired on August 16, 1988. I literally started at the bottom."
He started as a patrol officer. After two years on the job, he joined the SWAT team, and in 1992, moved to detectives. He began as a property crimes investigator and after a few years was investigating personal crimes—including stalking and rapes. Dan slowly worked his way up to sergeant, then lieutenant, deputy chief, and on January 20, 2013, Dan was named Chief of Police.
A DAY'S WORK
Chief Donlin says he feels blessed to have spent his entire career—his entire life, in fact—in Bismarck.
"This is my roots, this is where my family is," he explains. "Bismarck just has a very nice environment to grow up in and to work in. I considered applying in a bigger city when I first became a police officer, but I decided to stay here because my thought was, 'I don't want to work for a big agency and get shot at everyday.'"
Ironically, that's exactly what happened to Dan in August 2003, while working in Bismarck. After a 14-hour standoff with police, Dan shot and killed 27-year-old Michael Sherman. Sherman and 19-year-old Brandon Keller held police at bay in an armed standoff in a south Bismarck mobile home. The North Dakota Attorney General ruled Dan was justified in shooting Sherman, but the event forever changed him.
"That standoff was the biggest event that occurred in my career, as far as the psychological and emotional impact."
SHARING THE SPOTLIGHT
July 8, 2011 was another emotional day for Dan. That's the day Bismarck Police Sergeant Steve Kenner was shot and killed while responding to a domestic violence call.
"Steve was a friend, and I miss him everyday."
This July, Dan will get a chance to honor Sgt. Kenner's memory, as he is honored at a Bismarck Larks baseball game.
"They came to me with the idea of doing a 'Chief Donlin Appreciation Night.' I told them that was absolutely ridiculous and unnecessary, but then I realized it would be a good way to honor law enforcement as a whole, not just me. We chose the game on July 8, the anniversary of the day we lost Sgt. Kenner. I hope we can focus on his memory and honor him.
"I'm very honored but I am also very humbled and slightly embarrassed that all this attention is focused on me. I don't need that. There are a lot of people out there working hard and risking their lives everyday. That's where I want the focus to be."
PROTECTING HIS CITY
For the past 30 years, Dan has been focused on making Bismarck a safe place to live. He's seen his beloved city change; he admits it isn't the same as even a decade ago.
"It is a lot busier. My advice is that you need to have that big city attitude toward safety. By that I mean being aware of your surroundings. Not being paranoid, but paying closer attention to people, and keeping a closer eye on your children and your property," he explains. "We've always had crimes in Bismarck but with the media and social media we are much more aware of them now."
Dan has many career highlights—some funny, some sad. But the ones he holds closest to his heart are the ones where he's had a positive impact on someone.
"Sometimes you see that positive right away, and sometimes it takes 20 years. I've had people come back to me and say, 'I hated you back then, but now I'm clean, I'm sober—thank you!' Anytime I could be there for parents or kids when they were injured or scared, I felt good about the work I was doing."
Now it's time to let someone else do that work. Dan has announced his retirement; his last day at the police department will be August 17.
"I could keep working. I do enjoy the work, and I love the people I work with. But the time is right for me to retire and find another job. It's exciting, but I've also got a little apprehension. It's going to be a big change. For 30 years I've been waking up everyday and doing this. But I'm excited for what's next. I want to keep giving to the community, it will just be in a different capacity."   
[supsystic-gallery id=128]