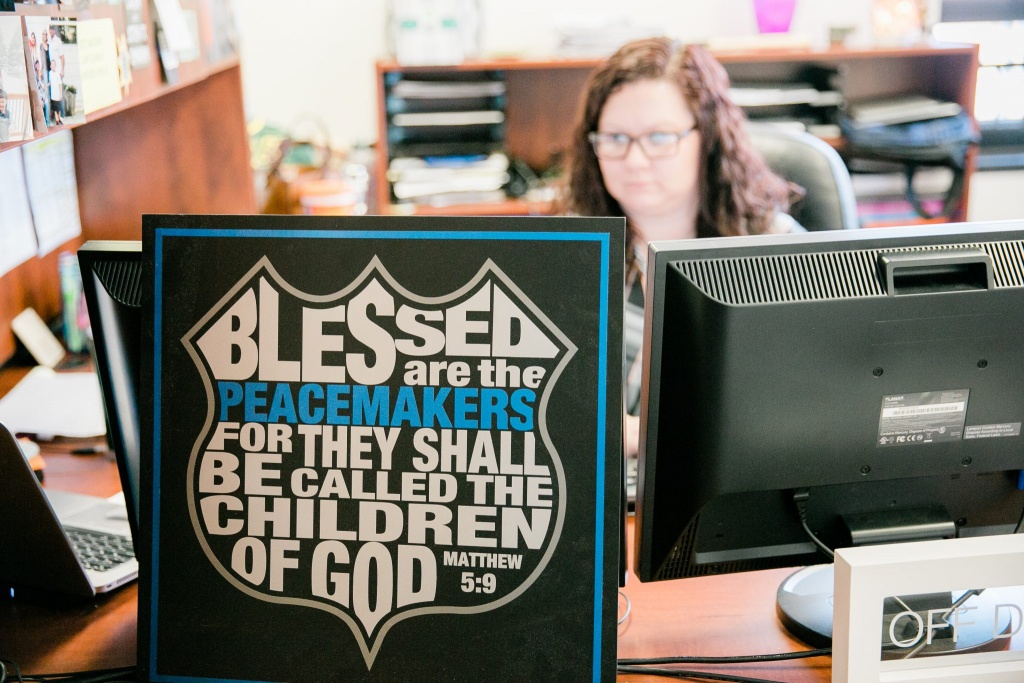 by Jody Kerzman  | Photography: Photos by Jacy
Not all social media pages are created equally. There are some that serve a purpose—perhaps it is to inform people of an upcoming meeting or a volunteer opportunity. And then there are those pages that we find ourselves anxiously awaiting a post. The Bismarck Police Department's Facebook page is one of those pages.
Officer Lynn Wanner is the brains behind the department's Facebook page.
"Deputy Chief Draovitch approached me in February 2014 and said, 'I think we need to get on this Facebook thing.' He was right. Most people don't pick up a newspaper when they wake up in the morning. They check their phone and their Facebook. It's an easy way to interact and we knew we had to embrace it as a department."
Lynn is a crime analyst for the department, but in mid-April 2014, she also became the social media manager. Her work began long before the department launched its Facebook page.
"We had to do a lot of research as far as policy and procedures to make sure we were in compliance with our accreditation standards. We were extremely cautious about everything," recalls Lynn. "It took awhile for the page to catch on. I remember I was super excited when we had 1,000 likes on our page. I told my co-workers they had to give me a donut party for every thousand likes we got. We are now at more than 22,000 likes, and I think I've only had one donut party."
Speaking of donuts, it's not unusual for donuts to be mentioned on the department's Facebook page. Lynn especially likes including Chief Dan Donlin on the donut jokes she shares.
"I can go into the Chief's office and have him pretend to eat a donut for a Facebook post, and he will do it, no questions asked," says Lynn. "He's very community oriented, and I think that's important."
"Social media allows us as a department and me as the chief, to really connect with the public. It is a great platform for positive PR," says Chief Dan Donlin. "We are police officers, but we are also human beings. We show that on social media."
"My goal from day one has been to show the human side of law enforcement. Some people don't like it when I try to be funny, but I think I am hilarious," Lynn says with a laugh. "But seriously, I think the funny stuff—the donut jokes—get people looking at our page and interacting. Then, when we have important information to get out, they're already following us. Plus, I don't think people want to read bad stuff all the time. You need some happy, light-hearted stuff too."
SOCIAL MEDIA SUCCESS
In the four years since launching the Bismarck Police Department's Facebook page, Lynn has witnessed the power of social media. Runaways have been located, shoplifters arrested, and cases that may have otherwise gone unsolved have been closed.
"We have a 40 percent success rate identifying suspects when we share surveillance photos on our page. That's 40 percent of cases that might not have been solved if we didn't have social media," explains Lynn. "People like to help, and there are cases where we have posted a photo to our page and the suspect has been identified within minutes."
Chief Donlin says Facebook allows the department to share up-to-date, accurate information, especially during an ongoing situation.
"It's where people get their information in this day and age, but unfortunately, much of the information on Facebook is not correct," he explains. "We've been able to establish our page as a trusted source, and we can correct that misinformation before it gets out of control."
EXPANDING BPD'S SOCIAL MEDIA PRESENCE
Lynn has attended numerous social media trainings across the country and has expanded the department's social media presence beyond Facebook. The department is now on Twitter, Instagram, and even Pinterest. Lynn says each platform serves a specific purpose and each reaches a different group of followers.
"Twitter is a good way for us to reach the media and college age people," explains Lynn. "Pinterest is a great way to organize our information that people want. We have boards for Police Youth Bureau information, parent tool kits, drug information, and more. We use Instagram to reach the high school and middle school kids. The content is different on all our pages, but it works for the audience we have on each page."
In 2016 the Bismarck Police Department was nominated for a social media award for excellence in a small agency by ConnectedCOPS, an organization that helps law enforcement use social media effectively. The award is given to a law enforcement agency of 150 sworn officers or fewer that has demonstrated overall excellence in the use of social media and has shown leadership, creativity, and innovation in its use of social media. The Bismarck Police Department finished in the top three in the world. While Lynn is proud of that accomplishment, it's also been motivation to make the department's social media presence even stronger.   
[supsystic-gallery id=108]
---
Be sure to follow the Bismarck Police Department on Facebook, Twitter, Instagram, and Pinterest. To see more photos of Lynn by Photos by Jacy, click here.