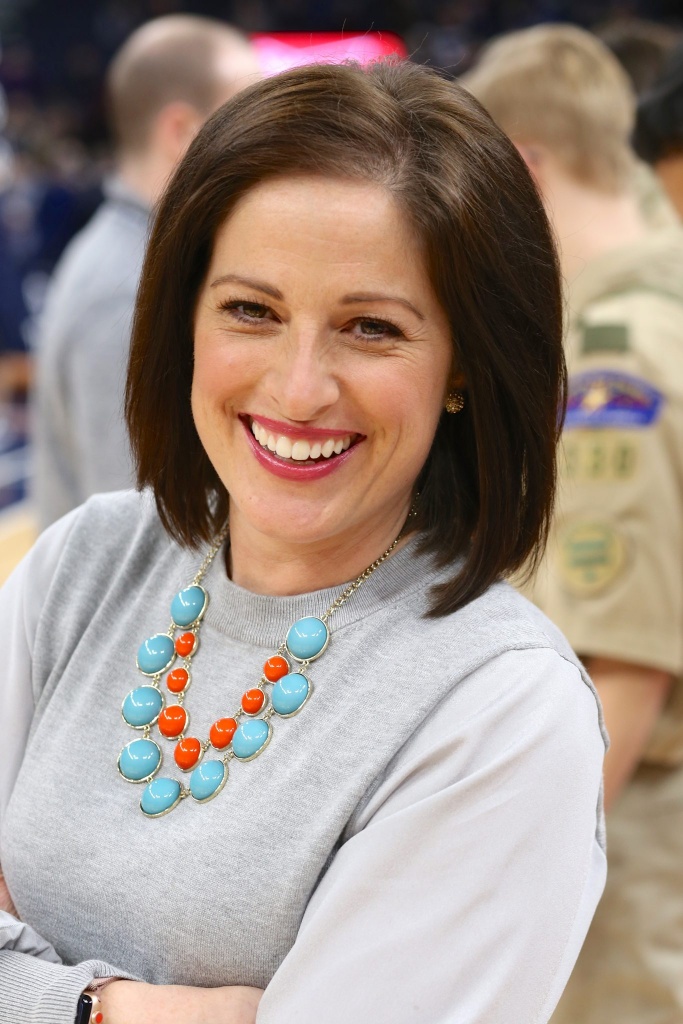 by Marci Narum | Photography: Margo LaPanta
When CBS affiliate, KXMB-TV in Bismarck hired the first female sports anchor in western North Dakota nearly 22 years ago, the station's management had no doubts. Marney Gellner was right at home with the sports team.
"She was just really good, so the decision was easy to make," recalls Mike Chaussee, the news director who hired Marney to fill the weekend sports anchor position in May 1996.
Marney had just graduated from Bismarck's University of Mary with a communications degree and completed an internship at the TV station when the job opened. She swept the competition.
"She was the best person we found for the job, which says a lot. When you're looking for talent, you need somebody who's passionate and dedicated and smart and has communication skills. What she always had, that you can't really teach, was presence. And she had it the second the camera came on."
Mike says Marney also knew what she was talking about. This was her wheelhouse.
"I was a total jock," Marney shares. "I played basketball and volleyball, I was in track, and I played softball in the summer. Basketball was by far my favorite sport."
Today, Marney covers NBA, WNBA, and MLB games on Fox Sports North (FSN) in Minneapolis. She moved up to the major sports cable network in six short years, becoming a sideline reporter and play-by-play announcer in October 2002.
"My main three are Twins, Timberwolves, and Lynx," Marney shares. "I probably travel more with the Timberwolves and that can be hard. FSN does 75 games for the Wolves. I like the roof and the clock of basketball. Baseball games can sometimes take a long time. But I like the vibe and the chill of baseball. And the Lynx are awesome. I do play-by-play for the Lynx. They did win the championship last year and four of the last seven.
"Play-by-play is a challenge because I never feel like I can stop preparing. I read both teams' game notes, go through stats, and read articles. But I always feel like there's one more piece of information I could have read or one more tidbit I could have found. I'm always prepared. But I never feel like I'm finished."
FAST BREAK
Marney's leap to the big leagues didn't surprise Mike Chaussee—nor Pat Sweeney, the sports director at WDAZ-TV in Grand Forks who put her in an anchor chair 18 months after Mike did.
"She came in 1997 and stayed for two years. She did everything we threw at her; there wasn't much she couldn't do," Pat shares. "In addition to anchoring the weekends and reporting, she hosted the UND basketball coach's show.
"I'm very proud of her. I can't take claim for her getting that far. She has the talent to be where she is."
"She was going to go places," Mike adds.
After her move to Grand Forks, Mike says he got a phone call from the news director from WISC-TV in Madison, Wisconsin, who was going to hire Marney.
"Pretty much the entire conversation was about how it's going to be nice to have her work in Madison for about three days because she's on to bigger and better things.
"The thing we did [at KXMB] was encourage her to find other women in the business who could mentor her. I didn't feel like I could do that. I knew she had the talent but I didn't have the background and experience of what she was going to go through."
MARNEY'S MENTOR
Mike encourage Marney to reach out to Minneapolis sports reporter, Michele Tafoya, who worked at Midwest Sports Channel (MSC, now FSN) as a sideline reporter for the Timberwolves, a position Marney now holds.
"I said, 'I can't contact Michele Tafoyyya!'" Marney says emphatically, dragging out Michele's last name.
Then she smiles and confesses: "I probably called twice a week."
Marney was determined to actually talk to Michele one day.
"I just admired her. Her work is so polished. She doesn't make mistakes, she is so good at what she does. She is the bar. That was when she was at MSC. Now she's doing Sunday night football [on NBC], the Olympics, Super Bowl. It doesn't even matter that she's female. She's not the best female sports reporter. She's the best sports reporter.
"And I love her!" Marney says, raising her hands, elation in her voice.
Marney's admiration for Michele is no longer from a distance nor one-sided.
"She carries herself well," Michele shares about Marney, who she considers a friend. "I really love the fact that she just owns everything about her work. She's very skilled at preparation, that's clear. She's always well-prepared. She's just strong in her presence."
The two TV sports professionals get together occasionally and share a lot in common.
"She's a mom, we both have two kids, and we exchange Christmas cards," Marney says. "We talk about what it's like to travel and be the mom traveling, leaving your husband and kids at home, and doing homework over Facetime."
Michele calls Marney bright, internally-motivated, comfortable, emotionally intelligent, and even-keeled—qualities that have given her a strong foundation from which to do her job.
"This is a job that can be difficult for men and women," Michele says. "You can get criticized for anything. I think people see someone on TV as a product and not a human, so you hear compliments and you hear a lot of criticism. So my only advice to her was be true to who you are. You know what you're doing."
Marney was a female sports broadcast pioneer in North Dakota in the mid 90s. She didn't think much of it; it was a job she wanted and knew she could do. Michele says Marney went into the field with the same mindset she did in 1993.
"I didn't go into this thinking I'm a woman in a man's world. I went into it thinking I'm a journalist in the sports world. Has it been predominantly, historically a man's field? Yeah, okay. That's a fact. Now what? Does that mean you have to go in feeling angry or feeling minimized or trivialized? That's your choice. Make the right choice. Put your head down, work hard, prepare really hard, and do the right things. It seems to me that Marney's been able to accomplish that."
NO FINE LINE
Because of her success, young, aspiring sports reporters now seek Marney for her advice.
"I tell the females, you've got to be so conscious of relating to the athletes and coaches. There is a huge benefit to having a friendship and a rapport. But there is a line—not a thin, little line—a big, thick, black line that you cannot cross because your reputation, your professionalism, everything is gone with one little step across that line. I established long ago the big, bold line that I won't go anywhere near. I'm friends with a lot of the athletes. I'm also friends with their wives. There's a big difference between being friendly and being flirty. And you cannot be flirty in this job or you will not last."
Marney never imagined her career as a sports reporter would last this long. She loves her job, but the bold lines Marney had in mind for her television life—were comedy lines.
"I was trying to figure out how to get to SNL (Saturday Night Live). I wanted to be a writer. I kept a sketch notebook in high school with teachers' quotes and sayings, thinking those would be such good SNL characters!
"When I was in Madison I took a class at The Second City [Improvisational Theatre] in Chicago. One class—Intro to Beginner's Improv. I drove to Chicago for eight weeks in a row and that was really hard to do on one of my two days off. But I did it because obviously, this is how I'm getting into SNL.
"I'm still not sure if SNL is looking at 44-year-old writers," she says.
WITTY & HARD-WORKING
Marney's high school basketball coach could see that happening.
"Everyone on the team gravitated to her," Greg Limke remembers. "She displayed amazing leadership qualities and had a bubbly personality. You'd look to the back of the bus and there'd be a huddle, everybody laughing. And who'd be in the middle of it? Marney Gellner. She'd be doing something and everybody would be laughing."
Marney, a 5-foot-4-inch guard for Minot's Bishop Ryan Lions tore her ACL her junior year. But she came back from the knee injury stronger; as a senior, she was the team's best three-point shooter and was named All-District.
"She had that grit and that toughness, even with a damaged knee, loving the process of trying to get better every day."
Greg was coaching boys basketball in Mandan when Marney started her job at KXMB-TV in Bismarck. She showed up at practice one day to interview Greg—and he made a prediction.
"I just smiled and told her I'd be watching her on ESPN. She's pretty much done that. To watch where she is today, it's a real thrill to see her on air. I always stop and watch if I see her doing an interview when I'm sitting in a restaurant, watching a game, and I'll say, 'Hey, I coached that girl.'"
HER HOME TEAM
The thrill Marney get from sports is mostly from the sidelines now. She points to her right knee. A new injury to it—a torn meniscus—limits her. But Marney and her husband, Matt, have two smaller—but more important—reasons to be on the sidelines: their kids. Grady is nine. Finley, named after the small North Dakota town, is seven.
"My kids play basketball. Finley plays softball and Grady plays baseball. So we're just getting into the routines of practices and games. I love that, that's awesome. That's going to have to be my sports for the next several years."
Marney was born in Langdon but grew up in Minot. She's the second of three children. Her older brother, Rob, lives in Grafton, and her parents, Lola and Dewey, live in West Fargo. Her younger brother, Ryan, covers NDSU football for KVLY TV in Fargo.
Marney still has that smooth, comfortable, on-air presence Mike Chaussee saw when he hired her in 1996. Now a seasoned, professional sports reporter, Marney is more at home than ever in front of a camera, interviewing the likes of Brian Dozier and Karl-Anthony Towns. Fans adore her. Her winning smile and personality, combined with her talent and skills, have put her at the top of her game.
There is only one place, though, that really feels like home field for Marney Gellner: her home state.
"We try to get back to North Dakota. It's a big deal for me to get there to see the family. That's one thing that's a huge part of me and who I am, having that foundation, having been raised there, feeling that connection to home. That comfort level. There is nowhere I feel more 'me' than when we're home."   
[supsystic-gallery id=107]
Margo LaPanta has a gallery of photos she took of Marney at a recent Timberwolves game on her website. Click here to see those photos, and more of Margo's work.