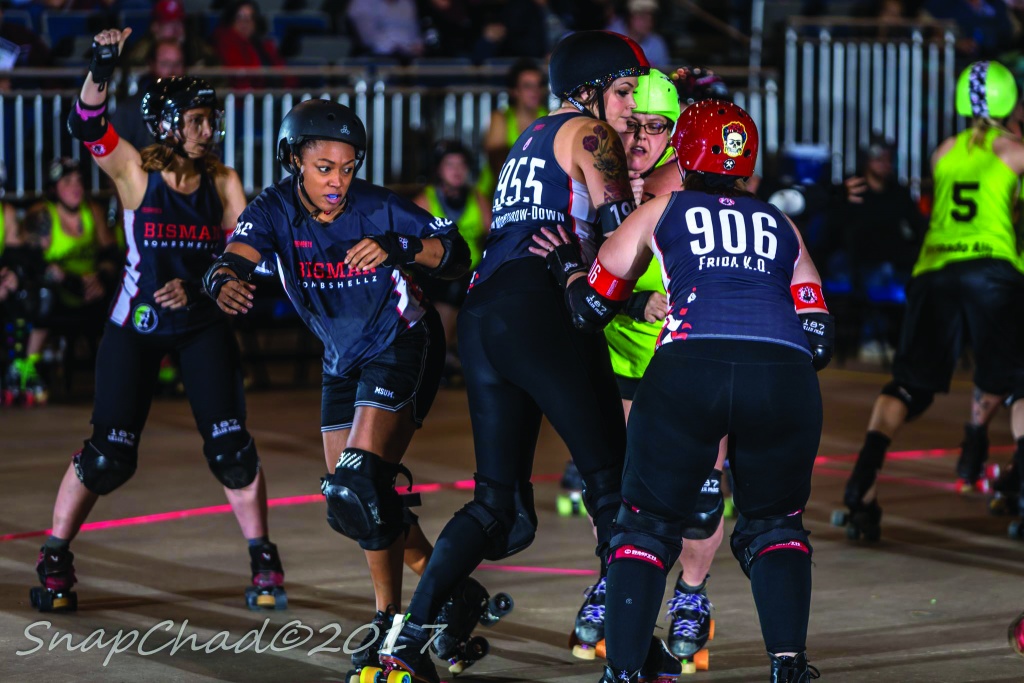 by Amber (Schatz) Danks  |  Photography: SnapChad
The BisMan Bombshellz burst onto the North Dakota roller derby scene eight years ago.  
"When we very first started in 2010, I think a lot of people thought tutus, fishnets, and sexy girls in skates. We had 60 women in this picture. When we got the skates and actually started practicing, I think that 60 turned into like 20, then 10. It kept dwindling once they realized we actually have to learn to skate, train, and be in shape," says Rena Mehlhoff, Bombshellz president and player.

Since the Bombshellz started, the team has experienced its share of ups and downs, but the core group of players will celebrate a huge win this summer: gaining apprenticeship with Women's Flat Track Derby Association (WFTDA). That means the roller derby team can play in more competitive tournaments and sanctioned games, get ranked, and have resources from around the world.

"They have members in England, Australia, New Zealand, Argentia, and Japan. It's worldwide. So now by being part of that membership, we get to have that mentor relationship. There's a big communication forum online that now we get to interact in. So, if we have questions about leagues or rules, we have that wide range of people to ask our questions," says Rena.

The team hopes to find out if it becomes a full-fledged member of WFTDA in May. To do that, the Bombshellz have to host a mock-sanctioned game against Fargo, a WFTDA team, and uphold standards for everything from skills tests and quizzes to providing accurate scorekeeping, officials, and track conditions.

NEW SCHEDULE, NEW SKATERS
The team isn't getting any time off because of the WFTDA status. To align with the WFTDA bout schedule, it was necessary for the Bombshellz to adjust their season. Instead of starting practice and bouts in the fall and finishing in the spring, the Bisman Bombshellz will begin a new season this spring, with final bouts in the fall. That means many of the players will be training this year with no off-season.  

To help prepare for upcoming bouts and their new status, the Bombshellz are looking for more players. They have recently lost five players—three moved away and two retired. Rena, known as Anne Thrax on the track, didn't play last year due to an injury, but says the WFTDA status brought her back.
"Couldn't stay away I guess. They kept on bugging me, and I said, if you guys get a WFTDA apprenticeship, I'll come back, and then they got it, and I said, 'Okay I suppose.' We train twice a week, skate twice a week. It is full contact and injuries can happen. But the thrill of the game is just amazing."

DIAMOND (PRINCESS CUT)
Players do have to be competitive. Diamond Stokes thrives on that, and is incredibly dedicated to her team. She travels to practice in Bismarck from Medora, around 133 miles one way, twice a week.

"My boss is really great about letting me leave work early, if practice is at 6 p.m."

Diamond is an accountant by day, but her passion for roller derby sparkles though when she talks about the sport.

"I'm super competitive, but I don't get the opportunity to do that too much. I'm an accountant. I sit in an office all day and do numbers and reports, so this is a good opportunity just to get out and exercise and do something competitive and fun. Push people around, get a little aggressive, which is not how I am normally like all the time."

She has advice for anyone thinking about giving the sport a try:

"It's fun and something you wouldn't normally do, so it's nice to get out of your comfort zone. If you're scared, bring a buddy. It is exciting just to be able to say to your friends, 'Hey I did this crazy bootcamp.'"

JADE (LL COOL JADE)
Jade Schirado coached hockey and played for a year at the University of North Dakota.  After moving back to Bismarck three years ago, she missed being part of a team, and was approached by a co-worker to join the roller derby team.

"I told her, 'I think I'm ready, let's do this.' She let me borrow her skates and I did two fresh meat practices; they tested me out and I was part of the Bombshellz right away."

And while she had ice skating experience, Jade says it took some time for her to get used to using a toe-stop. She had learned how to take a fall in hockey, but taking a hit in roller derby is completely different.

"It's more like football on skates."

Although she didn't like roller derby to begin with, she says she now loves it and wants to grow the sport as big as she can.

"It's fun to be a part of something like this.  It's been around for eight years and there's still some people that have no idea it exists in town. That's a fun challenge. It's fun to figure out ways to get the word out."

She acknowledges being part of WFTDA is a step in the right direction.

"It probably won't happen until we're all long gone, but the fact we're laying the foundation, I like being part of that. I was a part of the first high school team for sanctioned girls hockey, so it's nice to be part of teams laying the foundation for female athletes in the city."  
Bootcamps:
March 26 from 7:30-9 p.m.
March 28 from 7:30-9 p.m.
Capital Ice Complex:
221 E Reno Ave, Bismarck, ND
Bring ID and mouthguard
The Bombshellz next home bout will be April 28 against South Dakota.
[supsystic-gallery id=104]
---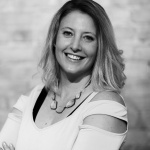 Amber (Schatz) Danks spent nearly 12 years as a news reporter, producer, and anchor. She is currently tackling her toughest and most rewarding assignment yet: being a stay-home mom to her baby girl.