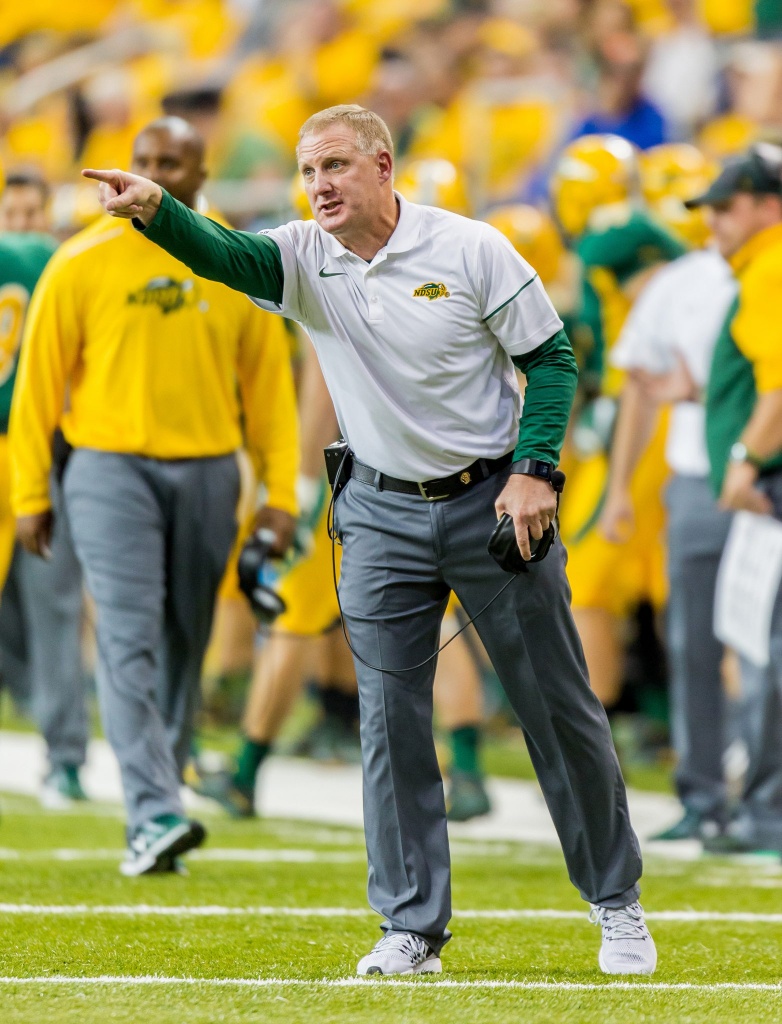 by Marci Narum  |  Submitted Photo
It's late January 2018, two short weeks since the NDSU Bison football team brought home another NCAA Division I Football championship title—its sixth in seven years. Bison pride is still at fever pitch.
Ushered in by the rousing energy of the NDSU pep band, Bison head coach Chris Klieman greets an enthusiastic crowd at a Fargo conference center.
On stage, he tells the audience, "It's all about culture."
The group concentrates on every word, (no nodding off during this keynote message), listening to the coach like players gathered in a locker room before a game.
"How do you sustain culture and how do you avoid complacency?" he continues.
If it sounds like a message borrowed from a business leadership seminar—that's the idea. But in this case, Thrivent Financial asked Chris Klieman to share from his leadership playbook. As the company kicked off another year of business, Thrivent wanted its financial advisors to sample the ingredients of the Bison football program "secret sauce."
SHOW THEM YOU CARE
"Everything that we're doing within our football program is what a business is trying to do for their employees; a parent is trying to do for their child," Chris says, during an interview with Inspired Woman magazine.
"There are so many correlations," he explains.
Discipline, servant leadership, and fostering great character are fundamental to the Bison football program.
"What people see on the field is a great product. What I see off the field is a better product," Chris says. "For us, it's the whole person and the ability for that young man to get a great degree, to be able to play great football, but more importantly, to become a man."
Coach Klieman measures success not by touchdowns and tackles—or even championships—alone. It starts with relationships. Trust and team building. Chris leads the program and players with this cornerstone: show them you care.
"They play for each other, for sure. They're brothers; they are really close. But they play for coaches that care, too. You need to show these guys it's more than just a game. You have to care for them on and off the field. I think our guys really know that all of us coaches genuinely care about their wellbeing.
ATTACK ADVERSITY
The Bison have an enviable record: 97 wins and a mere eight losses over the last seven seasons. Chris says the championship games are most memorable for him as head coach, but he admits he can quickly recall being in the locker room after every loss. He says those are the times to attack adversity—not the players.
"Nobody ever raises a voice in there. Nobody is critical of the guys' effort or how they played. Those guys are hurting so much anyway."
Chris will ask the team, "So what? Now what? What's next?" Because he says the losses and hard times will always happen; how you respond in those moments is more valuable.
"Adversity brings out the best in a lot of people. Mediocre programs are destroyed by it, good programs survive it, and great programs and great individuals get better because of the adversity."
After a loss, the coach reminds his players, "You're never defined by a moment—you are defined by an entire body of work."
It's what Chris wanted his team to know after its loss to James Madison University in the 2016 semifinal game. The coach knew it was especially disappointing for the Bison's fourth and fifth years seniors, who anticipated playing for the sixth consecutive championship title. Chris says despite the tough loss, those players had made college football history.
"We had won five national championships in a row. Think about the amount of lives those guys impacted in a positive way for the five years they were here."
A FEW MORE INGREDIENTS
Chris is the first to admit he doesn't have all the answers. So in the same way Thrivent Financial reached out to him, Coach Klieman relies on his mentors and other successful organizations for ingredients to add to the Bison's "secret sauce."
"I'm always looking for motivation, new ways to drive kids, new ways to get the most out of these great young men we have here."
The 2017 season kicked off with a message from Will Compton, inside linebacker for the Washington Redskins.
"It wasn't about football, it was about life and how you have to live to a standard. And that standard isn't just on the field; more importantly, it's off the field. It's how you represent yourself, your family, your institution. Wherever you're at."
After hearing Will's message, the Bison football team made "Standard over Feelings" one of its 2017 season themes.
PASS THE SAUCE
Hearing Coach Klieman share a little of the Bison's secret sauce gave the Thrivent financial advisors a taste of inspiration.
"The moment won't be too big—if you have prepared for it," Coach Klieman tells them.
His playbook seems to have something for everyone hoping to be a champion.
[supsystic-gallery id=101]