By Jody Kerzman Submitted Photos
The goal of any athlete is to win. It often takes years of training, hours in the gym, in the pool, or on the field. And even then, only a select few will ever win championships, set records, or move on to the next level.
Still, many athletes who have done all those things say sports are actually about much more than winning and losing. Four women who were standout athletes in high school and college share how sports helped shape them into successful career women, wives, and mothers.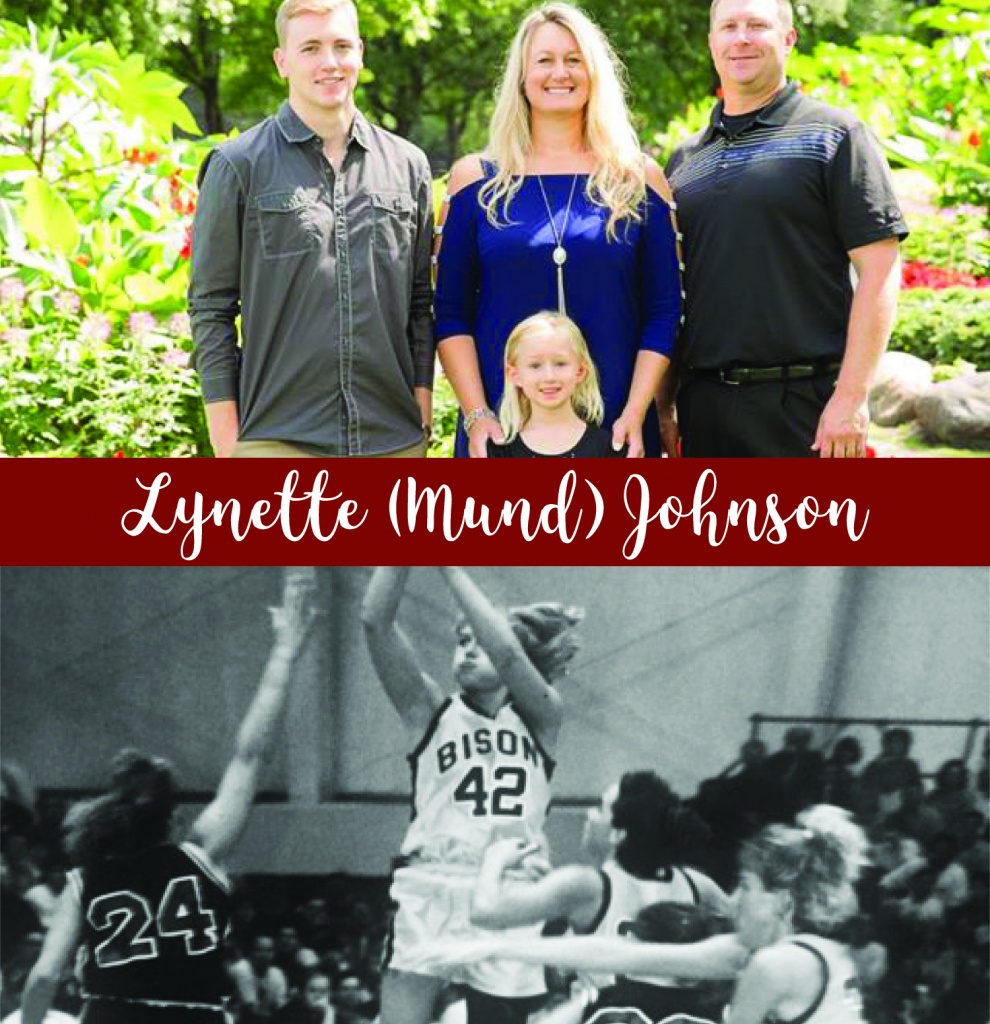 Lynette (Mund) Johnson
In 1984, Pat Smykowski of Lidgerwood was named North Dakota's first Miss Basketball. It was then that 12-year-old Lynette (Mund) Johnson declared that she too would be Miss Basketball one day.
"I wanted to be her," Lynette recalls. "I knew I had to put effort in."
Lynette went on to accumulate 2,645 total points in her high school basketball career; she is the sixth all-time top scorer in North Dakota Class B girls basketball. In 1990, her dream came true when she was named North Dakota's Miss Basketball and earned a scholarship to play basketball at North Dakota State University, just like Pat Smykowski had. Lynette played for Coach Amy Ruley for four years.
"My freshman year we lost the national championship by two points," she remembers. "We won the national championship the next three years and my senior year we went undefeated. It was a pretty cool way to go out.
"I learned so much from Coach Ruley," Lynette continues. "She taught discipline, leadership, and the importance of doing the right thing. As a college basketball player, I had to make sacrifices too. I never went on a spring break trip because we always had practice. And maybe the best lesson I learned from playing college basketball was how to manage my time."
And when she thinks back to her "glory days," Lynette remembers moments, not scores.
"I don't remember how many points I scored in college; it wasn't important. It was all about the team and the team's success. We all bought into that and I think that's why we were so successful.
"Still to this day though, when I hear the songs 'Thunderstruck' and 'Sweet Child of Mine,' I get goosebumps. Those songs take me back to college," she adds.
After college, Lynette taught English and coached girls basketball in West Fargo and Missouri. When she moved to Bismarck in 2008 she decided not to coach. She taught English at Bismarck High School for seven years and has been an assistant principal at BHS since 2015. Lynette says all her years of basketball played a very big part in making her the woman she is today.
"It's that self discipline, self respect, time management, confidence. All those things come with being on a team. Setting goals and knowing what it takes to reach those goals and knowing it is possible to reach those goals if you put the work in," she explains. "Sports teach discipline; if you have practice, you should be there and you should practice hard the whole time. You don't like the coach? That's life. You're not going to like everyone you deal with. You need to get along and figure out how to work together.
"I miss the camaraderie but I feel fortunate to work at a school where as a teacher and administrator we still have teams. When I was teaching, I had my 'English team' and now as an administrator we are a team. Our goal is different than winning a game; our goal is to help our kids be successful. We are always reviewing data and brainstorming how we can better prepare our kids. I feel this is the perfect job for fulfilling my desire to be on a team."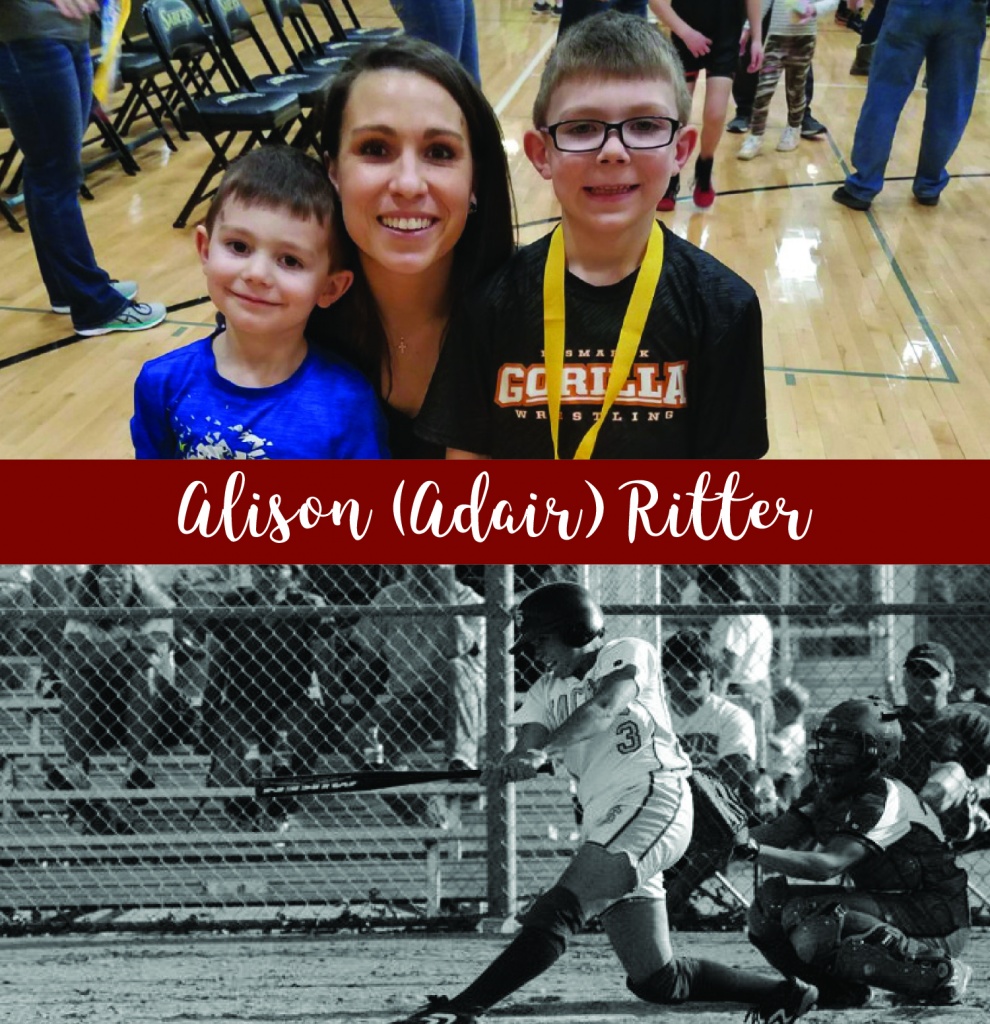 Alison (Adair) Ritter
Alison (Adair) Ritter grew up playing every sport she could—basketball, volleyball, softball, soccer; she even tried track and field for one season. But it was softball that had her heart.
"I started playing fast pitch softball when I was six," remembers Alison. "My dad and brother played college baseball and my dad was even recruited professionally. Softball was always the sport I knew I'd play in college."
Softball led her to South Dakota State University in Brookings, South Dakota. Alison was a three year starter for the Jackrabbits.
"I played multiple positions at SDSU and played every position on the infield," says Alison. "College taught me that sometimes you're going to be in situations that you don't want to be in, or you might be in a situation that isn't the best. You have to work through that. You can't quit."
But by her senior year, Alison knew it was time to move on from softball and focus on her career and her life off the field.
"I had school to focus on and I had an internship to do. I was ready to focus on my career. I knew softball wasn't right for me anymore. It wasn't a hard decision to quit my senior year, but it was difficult because it meant my softball career was over."
Alison says if not for those three years of college softball, she would not have graduated college on schedule. The importance of school was enforced in the locker room.
"My coaches told us we were students first and we just happened to get to play softball. They made sure we went to class and that we got good grades."
Being a student athlete taught Alison how to multitask, a skill she uses daily as public information officer for the North Dakota Mineral and Resources Department,  a wife, and a mom to two young boys. She also credits softball for teaching her the importance of doing things she'd rather not.
"I didn't want to play first base my sophomore year but I did. There are things in my job today that I don't necessarily want to do, but I do them because if they don't get done our team at work suffers."
Alison's boys, ages five and four, have picked up on her love of sports. Boedy, age five, has just started wrestling.
"I see him wrestle with a gigantic smile on his face and I smile. I just want them to enjoy sports. I want them to be happy," says Alison.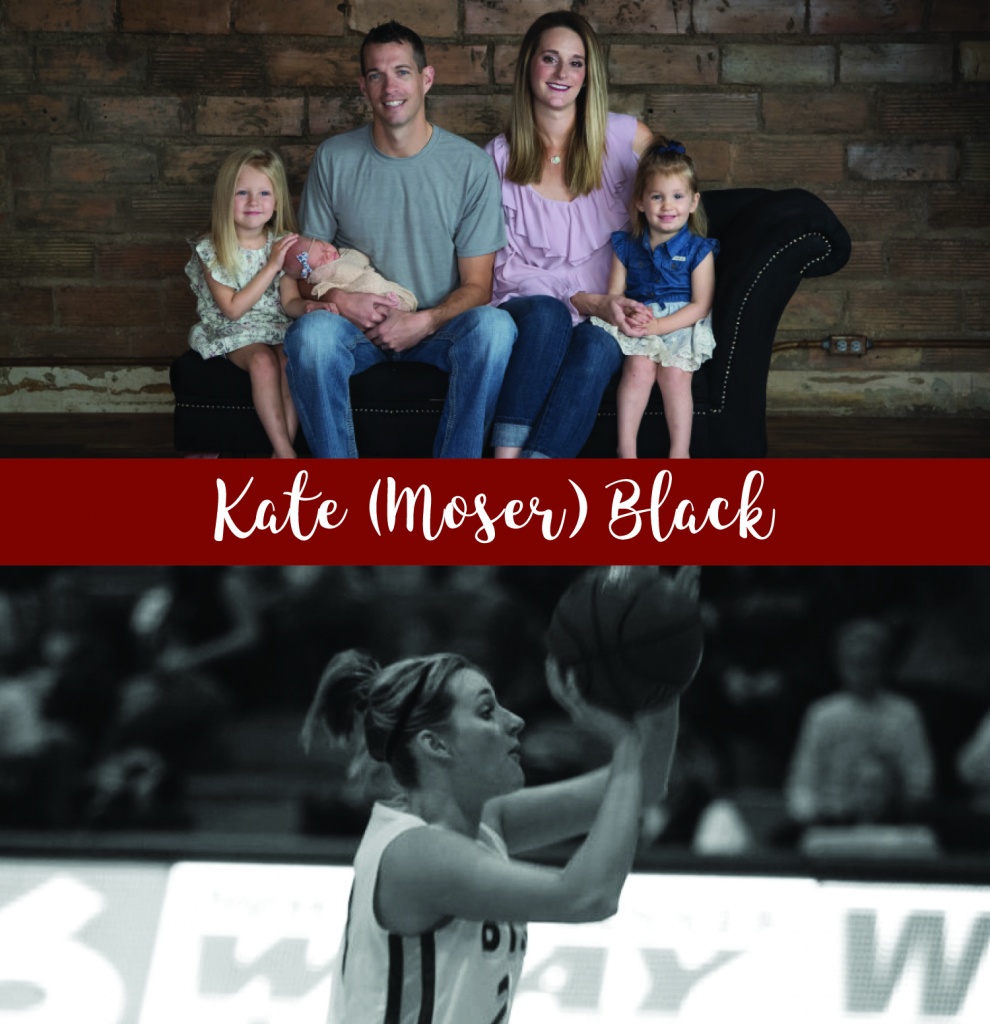 Kate (Moser) Black
Kate (Moser) Black's high school memories revolve around sports. She excelled at volleyball, basketball, and track at Bismarck High School. Kate was recruited by several colleges for both volleyball and basketball, but decided her future career was most important, so she enrolled at North Dakota State University to study mechanical engineering. But as it turned out, her basketball career wasn't over yet.
"The NDSU women's basketball team had been plagued with injuries and they were down in numbers. The coaches came to watch intramurals and asked me to come try out," she recalls. "It had always been a dream of mine to play basketball for the Bison, so it was pretty cool when I made the team."
Kate was the eighth player off the bench in the Bison's 2005-2006 squad.
"I knew I wasn't going to be a star, but I got more playing time than I expected. It was awesome. I got to play for Amy Ruley; playing for her was a special experience."
After that season, Kate went back to playing intramural basketball. She tore her ACL and figured she wouldn't play again. She got involved in other activities on campus, including student government, volunteer organizations, and was even voted homecoming queen as a senior. But then, Kate was once again called on for her basketball skills.
"I had come home for Christmas break and I got a phone call from a member of the team," Kate recalls. "They were once again plagued with injuries and asked me to come back and help them finish out the season. Three days later I was in Kansas City playing basketball as a Bison! I am so glad that I took advantage of the opportunity both times. When I contemplated playing both as a freshman and as a senior I just thought 'how many people get this opportunity?' I got to travel and see great things. I am glad I had the experience."
It was an experience Kate says helped shape her into the woman she is today.
"What I learned in a nutshell is how I wanted to be treated and how I wanted to treat others. Sports put you in difficult situations. You're not always winning. I learned how to interact with other people in stressful situations. I'm still drawing parallels between my life now and sports."
Her life now is that of a wife, a mom to three girls ages four, two, and four months, and a mechanical engineer for an oil and gas company.
"I learned there is more to life than basketball. When I was done after my freshman year I found other things to define me. And I realized while I loved sports, I didn't need sports to be myself."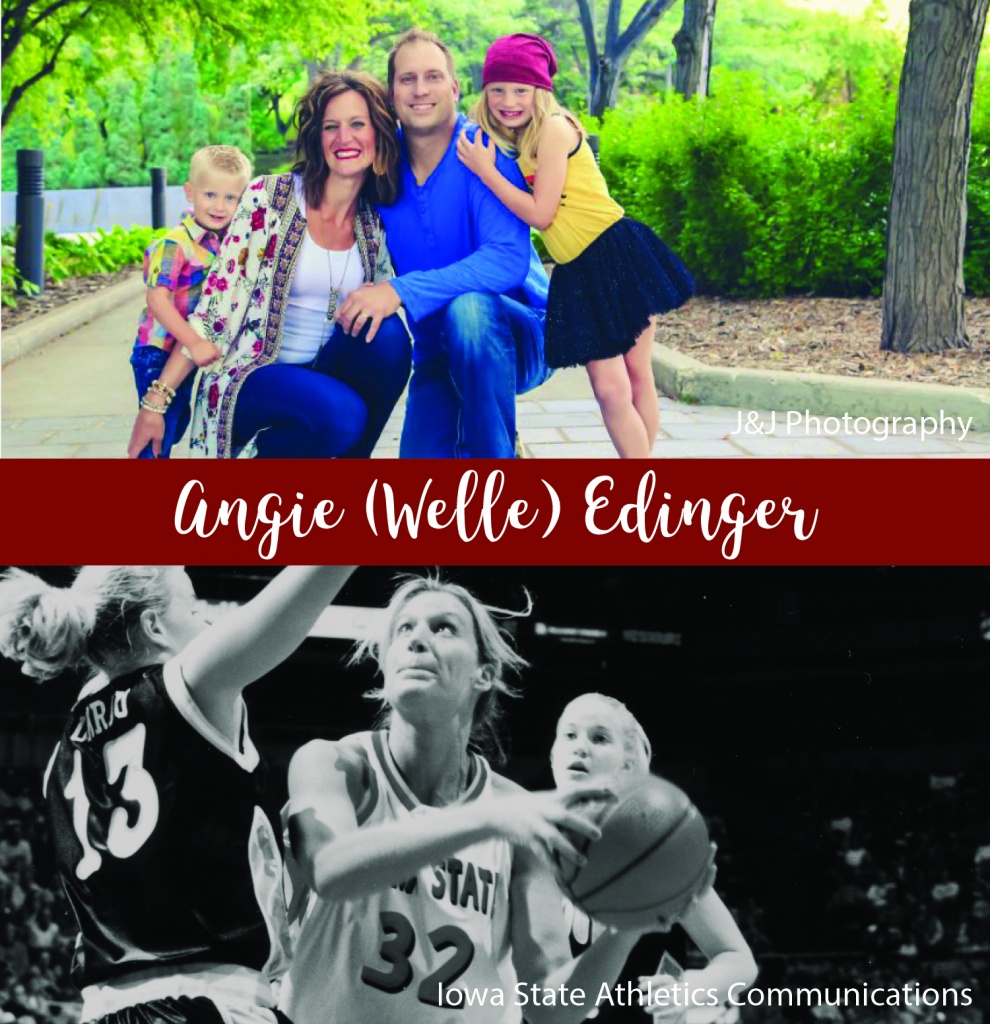 Angie (Welle) Edinger
"My claim to fame is that my team went undefeated against UConn," Angie (Welle) Edinger laughs.
Angie's Iowa State team matched up against UConn in the NCAA tournament her freshman year.
"We were not supposed to win," says Angie. "I remember calling my parents after the game. They came to our next game and saw us get smoked by the University of Georgia. If we would have won that game we would have gone to the Final Four."
Angie played for the Iowa State Cyclones all four years of college and last fall was inducted into the school's Hall of Fame. Prior to that, she was a standout player at Fargo Shanley High School, leading the Deacons to two state titles. Angie is the fourth all-time top scorer in North Dakota Class A girls basketball and was Miss Basketball in 1997.
"I played volleyball, basketball, and tennis in high school and I loved every sport I played, but basketball was definitely my first love. The opportunities I have been given through basketball still amaze me. My Iowa State team took a European tour after my freshman year and before my senior year I was a part of a Big 12 All-Star team that went overseas.  I got to play in Norway, Sweden, Germany, Denmark, and Austria. I never would have seen those countries if it wasn't for basketball."
These days, Angie stays busy as wife to Ryan and mom to six-year-old Lily and three-year-old Fletcher. As Dean of Students at Bismarck's Legacy High School, she still relies on her lessons learned on the basketball court.
"I really try to encourage kids to get involved in something. I believe you have so much more pride in your school and in yourself when you're involved in something. It teaches you how to be resilient, how to handle adversity, how to work together on a team, and time management.
"There's so much more to life than a basketball game, but the things you can learn from playing that game are just priceless."