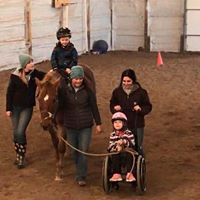 When Katie Oakland began volunteering her time with an organization which offers therapeutic riding, it sparked a dream. She witnessed the impact horses make in the lives of  participants, and she knew then that someday she wanted to offer the same opportunity in her own community. That was 15 years ago in Grand Forks, North Dakota. Today she is the executive director of her dream, TR 4 Heart & Soul in Bismarck.
Give us a little history of your organization.
In 2016, with the help of a supportive family and a newly established board of directors, we launched a pilot program after getting our 501(c)(3) nonprofit. This program started with four riders and two horses. After the first night of tears of joy from parents, and smiles and giggles from the riders, we decided this dream had to become a reality. We currently serve 25-40 riders each week. We have nine full time horses and two backup program horses. Our volunteer power ranges from 40-100 hours every week!
What services or benefits do you offer? 
We offer therapeutic riding to individuals with disabilities, at-risk youth, and people who are terminally ill. It is a great program that teaches riding skills, builds confidence, and offers riders who are unable to walk the opportunity to feel and be engaged in a three-dimensional movement. For people working to regain their core strength, balance, and coordination lost after chemotherapy treatment or other drug therapies, riding is a great exercise. It is not only physically beneficial, it is so good for the soul.
Who do you help? 
Our insurance allows us to start riders at four years old and our oldest rider is 75.
How are you different from other organizations like yours? 
Our program is the only program in North Dakota operating year-round that is certified with PATH International. PATH is the Professional Association of Therapeutic Horsemanship International, a federally-registered 501(c)(3) nonprofit to promote equine-assisted activities and therapies. We aren't looking to take the place of any therapy, rather, we use the horses to teach riding skills and build on other physical, occupational, social-emotional, and cognitive goals of our riders.
How can people support you? 
Please find us on Facebook: TR 4 Heart and Soul
We have a "donate" tab at www.therapeuticriding4has.org
Come out for a tour: 8023 93rd ST SE, Bismarck, ND 58504
Join us at our second annual "Blue Jean and Black Tie Affair" October 19, 2018. Contact Katie for tickets: (701) 367-6136
Spring 2018 we will host our second annual Valentine's party with the horses and our Easter egg hunt with the horses.
We are always looking for people who can sponsor horses, riders, or both.
[supsystic-gallery id=83]