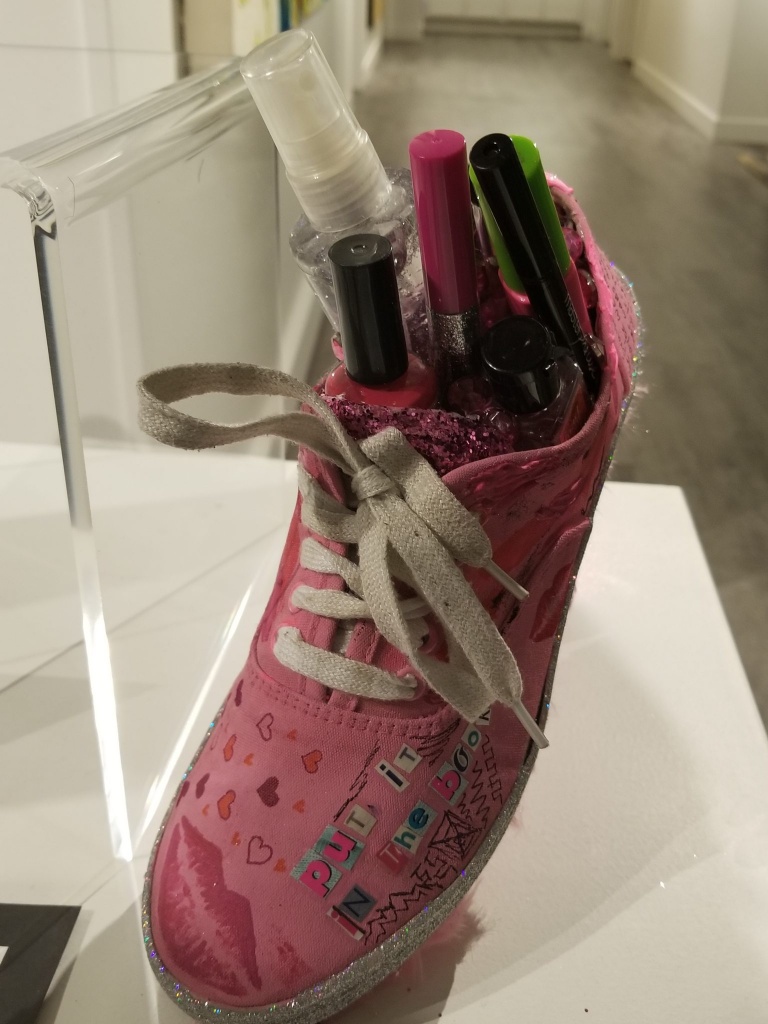 By Marci Narum
That mean girl at your daughter's school has a story. And it's probably not what anyone would believe. A person would have to walk in her shoes to really know her story—and to understand her; have compassion for her.
An art exhibit at The Capital Gallery is showcasing shoes which tell the stories of students who have special needs or have been misunderstood. S.H.O.E.S stands for "Stories of Hope, Optimism, and Expression of Strength." It's a cooperative project between featured artist Jessica Wachter and Bismarck Century High School leadership and peer to peer students. The shoes were on exhibit Thursday evening at the gallery. The students were tasked with interviewing their peers who live with challenges such as a physical or emotional disability, or are new Americans. They shared each student's story through artistic expression on canvas—canvas shoes, precisely.
"What these students came up with is truly amazing," Jessica says.
Jessica got the project started with Sara Bohrer, who teaches students who are intellectually disabled at CHS. Later, she helped the students with ideas for their artwork.
The "mean" girl's shoes tell a tale of two different perspectives: how her peers see her and how she sees herself. The left shoe is pink, sparkly, and full of makeup—"Many people think she's ditzy, and all she cares about are boys," the story card reads. The right shoe is black. There is a hole burned through it and it is filled with shards of glass. The card reads: "…she tries to act the part people portray her as, but feels completely different on the inside."
"It brings tears to my eyes to see how the students have a different understanding of their peers after doing this project," says Sara. "This has really allowed them to grow."
Leadership and art teacher, Gina Phillips, and art instructor Laurie Foerderer were also involved. They praised The Capital Gallery for sharing the space to showcase the students' artwork.
"I never dreamed we'd get to have their art displayed in a beautiful gallery with refreshments," Laurie laughs.
Jessica said the project was near and dear to her heart because she is dyslexic.
"When someone is willing to hear your story, understand it, and have compassion, that's when healing can begin."
[supsystic-gallery id=81]