By Beth Anderson
This time of year, encouraging generosity usually goes with the territory. Mailers invite year-end gifts to charity. Donation boxes collect toys, food, and winter gear for families in need. And news outlets (hopefully) begin to share stories of people inspired by the Christmas spirit: stories of golden coins showing up in Salvation Army kettles, of anonymous gifts appearing from unnamed givers, and of hot lattes paid for by a stranger. These seemingly random acts of kindness and generosity inspire hope and encourage us all to be a little better at being human.   
Lately, however, rather than inspiring generosity, it seems the stories we share most urge us to edge our lives with yellow CAUTION tape—cordoning us off from the uncertainties of life:
Be aware of stranger danger. Fear those you don't know or don't understand. Be suspicious until you are certain you can trust, and even then be careful.
Admonishments like these have become the moral of the story.
CAUTION tape around our lives may create the illusion of safety, but it really only fosters a circle of isolation. It doesn't resonate with the beauty and richness rooted deep within community. Remember, our world  is a place where gold coins do show up in kettles, where beautifully wrapped gifts do appear, and where paying it forward is a joy I want my children to experience. Our small acts and the stories we share with one another matter.
British playwright and humanitarian Tom Stoppard once said, "Obviously, you would give your life for your children, or give them the last biscuit on the plate. But to me the trick in life is to take that sense of generosity between kin, make it apply to the extended family and to your neighbor, your village and beyond."1 Perhaps the most significant thing we can share this season is a spirit of courageous generosity and kindness that extends beyond our family.
Generosity begins with sharing whatever we have. You may not possess a windfall of cash to change the course of someone's life, but we are each gifted with something to share—a kind word, some time to listen, an able body to help out, a small token conveying deep love. Science shows that something as simple as reading the word "love" is enough to cause people to be more compassionate (Google the Greater Good Science Center). It doesn't take a scientific study to prove that sharing time, resources, and self with others is good for the heart, soul, and community. The warmth experienced when someone shares a bit of their life with us is witness enough to the power of generosity.
This season, I'm keeping my eyes open for stories that speak of good in the world, of human connection, and of people surprising one another with generosity.  Hopefully, my actions will come to reflect a bit of the generosity I learn from others.  What stories will you share this season?   
1"Writer and Fighter" by Tim Adams, The Observer, September 20, 2008
---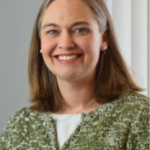 Beth Anderson is a deacon in the ELCA (Evangelical Lutheran Church in America). The joys in her life include her husband, Dallas, and their two beautiful girls. Beth loves cooking and getting lost in a good novel.