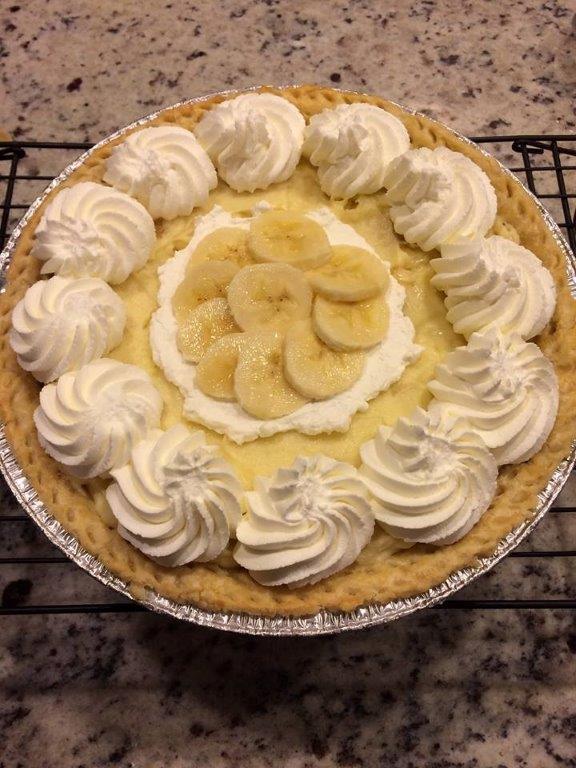 by Pam Vukelic  |  Submitted Photos
My mom, Mary Lois, was famous for her pies. Neighbors relished an invite to evening pie and coffee. And the invites were remarkably frequent. My folks valued time with their wonderful friends. Due to a prolific apple tree in our yard, the pies were usually apple. She also made great rhubarb, peach, and strawberry pies.
Now it's my daughter-in-law, Mollie, who is famous for her pies. She is adventurous with her fillings, creative with her artistic touches, and offers them through her Blue House Bakery. Since we have been to Alaska twice recently to visit Reed, Mollie, Connor, and Eivin, I had the chance to pick Mollie's brain about all things pie and she was generous in sharing her knowledge.
Mollie's Pie Crust
2 c all purpose flour
1 t salt
¾ c butter flavor Crisco, frozen
8 T ice water
Whisk together the flour and salt in a large bowl. With a pastry blender, cut the shortening into small pieces and add to flour and salt mixture. Cut the shortening into the flour until the mixture resembles coarse crumbs. Add  four  tablespoons of water. Toss with fork. Add remaining water,  two tablespoons at a time, and toss mixture together with hands. Dough should be moist and hold together. Divide into two equal halves. Flatten into disc shapes, wrap in plastic wrap, and chill at least 30 minutes. (Dough may be frozen at this point for later use. Thaw in the refrigerator overnight before using.)
Carrot Pie
For a twist on the familiar pumpkin pie, try a carrot pie. Mollie says to use 15 ounces of cooked and pureed carrots (the equivalent weight of a can of pumpkin) and substitute chai spice for pumpkin pie spice. Proceed as you would for a pumpkin pie. Use a small Easter cookie cutter to cut a few small carrot shapes to decorate the top of the pie.
A few tried and true tips Mollie shared with me:
Although some recipes call for use of a food processor, using hands and a hand-held pastry blender yields the best results.

After lots of experimenting, Mollie decided butter flavor Crisco is best. My mom's recipe was primarily lard with some butter. She maintained the lard produced the flakiness and the butter added flavor. We are not too accustomed to using lard anymore.

Some recipes call for adding water one tablespoon at a time, but this increases the amount of handling and thus produces a tougher, less flaky crust.

A cloth-covered lefse rolling board is preferred for rolling the dough. Various-sized circles are marked on the board.

A cloth-covered lefse rolling pin works best. It is the right weight and the cloth cover—floured—eliminates sticking without the addition of too much flour.

Save your scraps to make small decorative shapes. Cut them with small cookie cutters or cut free-hand. Place them directly on top of a filling or on top of the top crust. Brush the top crust with a bit of milk or beaten egg to help the pieces stick.

Brush top crust with egg or milk and sprinkle with sanding sugar before baking for a pretty finish.

Be creative with your fluting. Pinch the edges, press them with a fork, or use another kitchen tool (e.g., a corkscrew) to create an interesting edge.
Mollie is from Kentucky and had no familiarity with lefse until she married into our family. An Alaska friend, who knew she had North Dakota connections, asked if Mollie could make lefse for her. We shipped Grandma Irene's lefse grill to her and Mollie's been working on perfecting her own lefse recipe. In the meantime, she discovered that the suction-cup-footed rolling board and lefse rolling pin were just the ticket for the best pastry.
Connor, a kindergartener and appreciator of good food, recently led his family in a round of applause to thank Mollie for supper. He and I agree—the pastry is the best part of the pie. He has good taste.   
---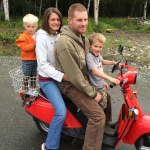 We delivered Grandpa Ed's moped to Reed and family near Palmer, Alaska in August. Having "Pacca Ed" pull up to our front door in Mott and beep the horn for Reed to come for a ride is one of Reed's few memories of his grandpa.