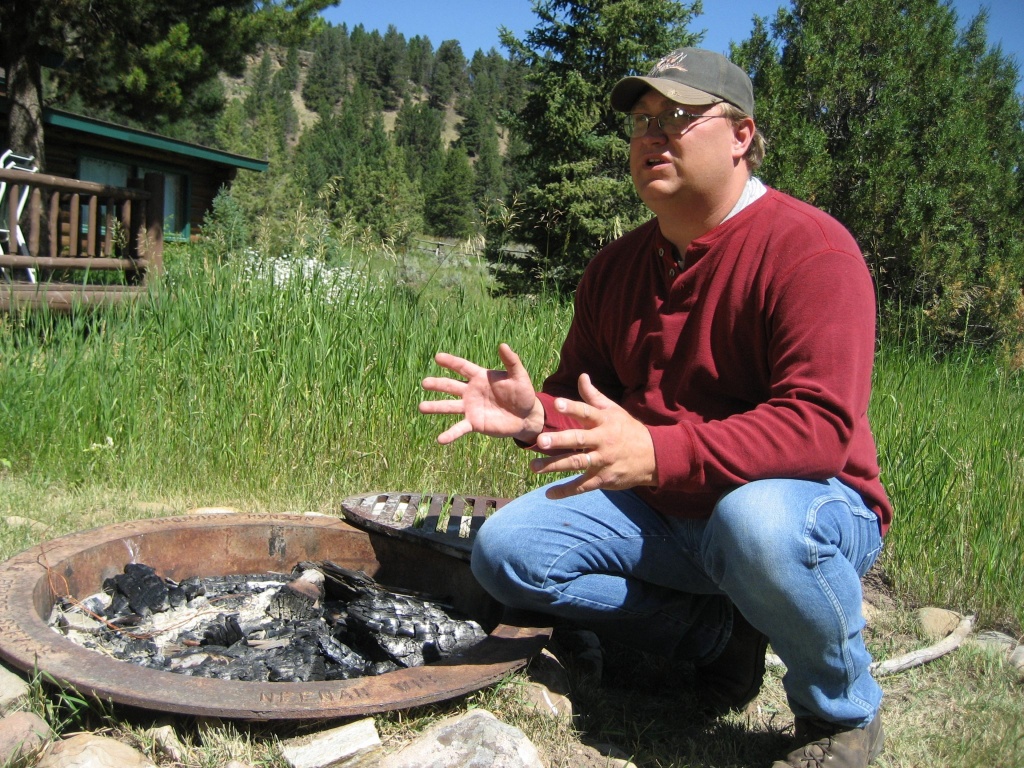 by Jody Kerzman  |  Submitted Photos
As a teenager, Geremy Olson had two dreams: to play football for North Dakota State University and to get a degree in fisheries biology. Neither came true.
"I blew out both of my knees playing football as a high school sophomore," recalls Geremy. "My football career was over so I came up with a new dream. I decided my dream was to attend a Bible college that had a lake and a wrestling program."
Much to everyone's surprise, Geremy found a college that met his criteria. But two weeks after being accepted at Northwestern College in St. Paul, Minnesota, the college dropped its wrestling program. Geremy found himself once again searching for a new dream.
"That's when I picked up a video camera and I've never looked back."
Geremy spent four years in St. Paul and graduated with a double major in Bible and broadcasting. From there he and his wife, Kirsten, moved to Atlanta, Georgia. After a year and a half there, Geremy was once again called to Minnesota, this time to attend seminary.
"Everyone told me that's where I should be," he says. "They were wrong. Could I be a great pastor? Sure. But that's not who God made me to be."
After two years in the seminary, Geremy decided to use his gifts and talents in a different way. He and some friends from high school and college decided to start the business they'd been dreaming about for years: 241 Ink.
"It's a philosophy, not just a business name," explains Geremy. "We are a video production and lighting company but we also bring groups together and help them tell their stories."
In 2003, Geremy and his family moved back to North Dakota. They settled in Wilton and Geremy quickly joined the volunteer fire department.
"I ran into the fire chief at the gas station and when he found out who my uncle was, he told me I was exactly the kind of guy they wanted on their volunteer fire department. The next day I met him at the fire station and he handed me my gear," remembers Geremy. "Getting into fire was natural for me because of my servant heart and the skill set that God gave me."
But he had no idea how being a part of the Wilton Fire Department would change his life. In April 2005, Geremy and another volunteer firefighter, Mark Keller, were the first to respond to a fire west of Wilton. A third firefighter, James Meyer, joined them later.
"We knew it was going to be a bad fire," he recalls. "Five hours into fighting the fire, it blew up on us."
James sustained some burns to his face but had a limited recovery time. Geremy and Mark were both seriously injured. Geremy's injuries included third degree burns on both wrists, his left foot, and second degree burns on the right side of his body. He also broke his right leg in 13 places.
"My equipment kept me alive but basic wildland training would have kept me from getting hurt."
Geremy spent the next three years recovering from his injuries. He had multiple surgeries in that time to fix his broken leg, then developed infections and blood clots. He had to learn to walk again three different times. Twelve years later, Geremy says he's still in pain every single day. He suffers from post-traumatic stress disorder. But he doesn't let the fire define who he is. Instead, he uses the fire as an opportunity to teach others, and to share his knowledge as well as his faith.
"Two weeks before the accident a good friend of mine had asked me what I thought God was calling me to do. I told him I thought God wanted me to not be the one setting up the microphones for others, but to be the one speaking into the microphone. When he asked me what was stopping me, I told him unless you're famous or have something tragic and stupid happen to you nobody will listen. A few days after the accident, he walked into my hospital room and said, 'Well, you have tragic and stupid taken care of. Go share your story.'"
Geremy spent five years as the spokesperson for fire in North Dakota. He's now a consultant for wildfire prevention and is a member of a type two incident management team through the state of Montana. He spent 69 days last summer there, helping with public information about the fires. He and his family still run 241 Ink and Geremy dreams of one day being a full time public speaker. That's a dream that fits perfectly with the mission of 241 Ink: "To provide people with the tools, vision, and motivation to be servant leaders anchored in Christ."
It's not the life he dreamed of, but Geremy says it's exactly what God has put him here to do.   
To hear Geremy talk about the 2005 fire and lessons learned, visit 241ink.org.
[supsystic-gallery id=74]