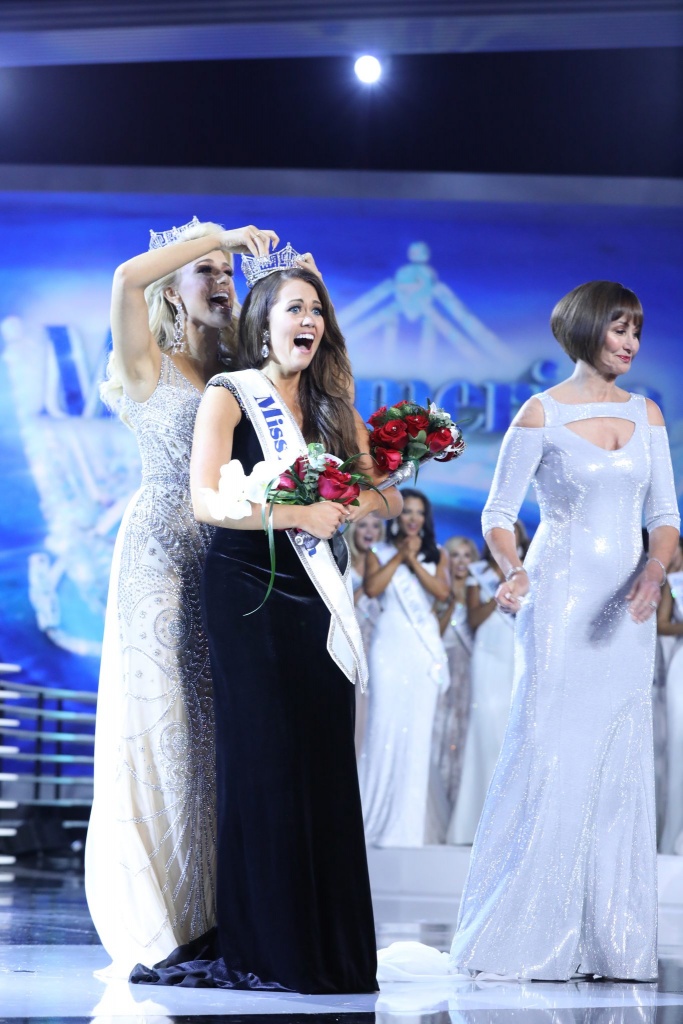 By Jody Kerzman |  Submitted Photos
Cara Mund is living her dream.
"I still can't believe it. It's a dream come true," says 23-year-old Cara Mund of Bismarck, who was crowned Miss America 2018 in September. She is the first Miss North Dakota to ever win the crown. Those who know her best say they're not surprised; they say this is something Cara has been training for her whole life.
READY FOR THE RUNWAY
It all started nearly 20 years ago, when Cara was first introduced to pageants. At age four, she was a pageant page for the Miss Snow Princess Pageant at Mandan's Winter Days. Her cousin, Erika, was a contestant, but Cara stole the show when she carried the crown onto the stage.
"Watching her on stage I remember noticing she was doing the t-stand like the rest of the girls and waving like a princess," recalls her mom, DeLora Kautzmann Mund. "She was bitten by the pageant bug."
She won her first title at age five.
"My mom signed me up about two weeks before the pageant," Cara remembers. "I choreographed my own talent, a dance to the song 'It's Raining Men.' I wore a costume from my costume box and ended up winning!"
It was the first of many titles Cara would win. She continued competing in pageants throughout elementary, middle, and high school. Her final pageant goal was to win the Miss North Dakota title and make the top ten at the Miss America Competition.
"I had dreamed of becoming Miss North Dakota since I was six years old but I never thought Miss North Dakota would become Miss America," admits Cara. "It had never happened before. But I went into the competition thinking I could make history by making the top 10. I didn't think I'd win by any means. That whole night I was just in shock. I made it into the top 10 and then I made it into the top five. It goes so quickly that you don't have time to be nervous. And I still don't think it's fully hit yet. But I can tell you that nothing will ever compare to the feeling I got when I heard my name called that night, even though the moments after hearing my name are a blur. They bring your parents to the end of the runway when you get crowned, so they're there for your walk. I don't remember anything between hearing my name called and getting to the end of the runway where I saw my parents."
"Cara told us she doesn't remember getting the crown or the sash, and I thought when she started her walk it was sort of robotic," says DeLora. "I don't think it really hit her until she got to the end of the runway and saw us. She bent down then, touched her crown and said, 'is this real?' Then I teared up. It is the most amazing thing to be there and to see your daughter's dream come true right before your eyes. It's such a blessing. Her life changed in a matter of seconds, live on national television."
Once the cameras were turned off, Cara got right to work. Security guards escorted her backstage, where a team was waiting to touch up her hair and makeup before her press conference, her first official event as Miss America.
"The celebrity judges were all there and they commented about why they thought I was the best pick. They really boosted my confidence," says Cara. "We did the press conference, then went to the after party where I gave a little speech. I didn't stay long because I had to get packed. I had to get all my things into two suitcases. Then my parents and some of my family and friends were able to come up to my room and spend some time with me."
Among those on the list to see Cara after her win were former Miss North Dakotas Stacey Thomas and Ariana (Walker) Kinnischtzke.
"It was great to be able to give Cara a big hug," says Stacey. "I told her I was so proud of her. She was still the same Cara—humble and kind. She cared about everyone in that room and was so excited to see us."
"There was a point during the finals when I just knew she had won," says Ariana. "She had something extra and we were seeing her shine. She just looked like Miss America every time she came onto the stage. When she got into the top seven and answered her first question I knew. When she did win, I cried. I cried a lot, lots of happy tears. Everyone around us was crying."
"I think I got to bed at 6:30 a.m. and I was up by 8:00 a.m. getting ready for the day," remembers Cara. "I was running on adrenaline. I don't think I even had coffee that first morning. I was so excited I couldn't believe it!"
DISAPPOINTMENT & DETERMINATION
The road to Miss America wasn't easy. It took Cara four tries to win the Miss North Dakota title.
"Last year was a little heartbreaking when she won first runner up," recalls DeLora. "I told her everything happens for a reason, and we didn't know then the reason. Now Cara is happy she didn't win last year. She knows she wouldn't have been half the contestant then that she was this year."
This was her year. Cara won every category in the Miss North Dakota pageant—swimsuit, evening wear, talent, and interview.  
"My mom was my biggest supporter. It took me four tries to win Miss North Dakota but she knew all along I could do it. I don't think she expected me to win Miss America, though. But she always told me, 'I know you can do it. This is a dream of yours and if you give up you'll never know if you could have achieved it,'" says Cara. "I also had quite a few former Miss North Dakotas reach out and encourage me to do it one more time. Stacey Thomas was the first Miss North Dakota I ever met. She was my dance instructor. I looked up to her and wanted to be just like Stacey."
"I think that on the road to achieving a dream there is always a lot of disappointment and heartache along the way," says Stacey. "Cara had those moments. I remember sharing a Bible verse with her. Romans 8:18 says, 'The pain that you're feeling can't compare to the joy that's coming.' I think that's so perfect for this moment and for Cara. All those years of disappointments she had don't compare to the joy she's feeling today."
The joy is something Cara says she can't put into words.
"I can't even describe it. I worked so hard and made history!"
DREAM JOB
Cara's history-making win has taken her all over the country—in her first two weeks as Miss America Cara made stops in Atlantic City, New York City, Los Angeles, Fargo, Washington, D.C., Georgia, and more.
"I like traveling from east to west, because you get additional hours," laughs Cara when asked about her hectic travel schedule. "One of my goals is to make it to all 50 states this year. I have 39 scheduled so far."
Cara will  be back in North Dakota in November; she'll have homecoming ceremonies in Williston on November 3 and in her hometown of Bismarck on November 4. The 2012 Century High School graduate is excited to be in Bismarck, even though the visit will be brief.
"The organizers are keeping much of it a surprise, so I don't really know what to expect, but that's okay because I don't feel overwhelmed. I have such great supporters in North Dakota and I'm excited to be able to see everyone."
Meantime, her fans in North Dakota, and across the world, can follow along with Cara's reign on social media. She happily shares her experiences on the official Miss America Twitter, Facebook, and Instagram pages.
"Those pages are partly announcements from the Miss America Organization and partly from me," explains Cara. "Social media is great for me. I try to post two or three photos a day on Instagram. Social media is a great way to look back and track my year as Miss America. I am keeping a journal too, to keep track of each day and each funny story that has happened. I want to write it all down because I know it will be hard to remember by the end of the year."
So far, her top memories include a trip to an Atlantic City clothing store where the salesclerk told Cara she looked like she could be in the Miss America Competition. She went onto tell Cara she looked like Miss Nebraska. Cara thanked her, but never told her who she really was. Another favorite story happened when Cara's travel manager took her to see a famous monument in Atlantic City.
"We drove up and my manager told the lady working at the gate that I was from out of town and she wanted to show me the statue. The lady working asked where I was from, we told her North Dakota, to which she responded, 'Did you know the new Miss America is from North Dakota?' We laughed and told her yes, we knew that and that it was me. We had to get out of the car and take a photo with her," laughs Cara. "We've had other people know right away who I am and ask to take a picture with me. It's so fun!"
Cara says being Miss America is a job—one that started the second she was crowned.
"It's a dream job and it's so much more than what you see on television. Before that telecast we have three nights of preliminary competition, including the interview. That interview really was a job interview. They asked what I could bring to the crown, why North Dakota should finally win, did I think I was ready for it," says Cara.
"Miss America is a job, and although you don't turn in a resume, Cara's resume is exactly what they were looking for," says Ariana. "Ivy league education, community service that far surpasses expectations, being president of all the clubs she was in, being a mentor and a leader—this girl has been walking in the shoes of Miss America her whole life. Now she finally got to put the crown on."
While Cara is excited to wear that crown, she's also excited to share her platform, "Make-A-Wish Passion with Fashion," with so many people for an entire year. Cara has been organizing an annual fashion show to raise money for the Make-A-Wish Foundation since she was 14 years old. She's raised $78,500 for the organization over the past 10 years.
"Her dedication to Make-A-Wish is remarkable," says Stacey. "I always tell people, Cara went to college at Brown University, on the east coast, but she would plan that fashion show for her spring break. You show me another college kid who would come home and spend their spring break doing a charity fashion show. That's just the kind of person Cara is."
She graduated with honors from Brown University in 2016 with a degree in business, entrepreneurship, and organizations. She spent five months in Washington, D.C. interning for North Dakota Senator John Hoeven. She briefly thought about competing for titles in those states, but knew her heart was in North Dakota.
"I am the person I am today because of my North Dakota roots," says Cara. "I'd say prior to winning Miss America, the best day of my life was the day I was accepted into Brown University. So many people said I wouldn't be able to do it. So when I did that it was a good day for me personally. But winning Miss America is a good day for the entire state of North Dakota."
THE NEXT DREAM
Always a planner, Cara can't help but think about her future. She had planned to attend law school at Notre Dame, but deferred that when she won Miss North Dakota.
"Now I have some other schools calling me and offering scholarships so I still plan to do law school. If I can go for free, that would be ideal."
Cara has already earned more than $95,000 in scholarships through pageants. Some of that was for her undergrad at Brown University and some will go toward law school. She says the scholarship money is the best thing about competing.
"Cara is such a great ambassador for North Dakota and for the Miss America Organization," says Ariana. "I love that every time she talks about the organization she always talks about it as a scholarship organization. The fact that she could pay for her schooling is amazing and helps people realize it's more than just a beauty pageant. It is about the scholarship and service aspect. Cara is a great spokesperson and role model for the Miss America Organization, and for us former Miss North Dakotas, I can't think of anyone else I'd want representing us."
And someday, Cara dreams of representing all of North Dakota, as the state's first female governor.
"We need more women in leadership roles. Women are just as capable as men," says Cara.
But for now, her focus is on her job as Miss America. She is determined to enjoy every second of this year.
"I never want to look back and wish I could have done more. And I don't want to waste time resting—I can rest next year! I only get this for a year and I am so grateful for each day," Cara says. "I'm excited to see how much I've changed when I give up the crown next September. They talk about how much Miss America changes in a year, how the girl that is crowned is so different from the girl that gives up her crown," says Cara. "I have pretty set goals, which include going to law school and running for office. But I know everything happens in good time. The journey will unravel as I go."
"She's always going to have a next dream. This is just one of many major events in her life," says DeLora.   
Click here for more of our interview with DeLora. She shares her memories of Cara's crowning moment and also what happened after the cameras were turned off.
[supsystic-gallery id=71]