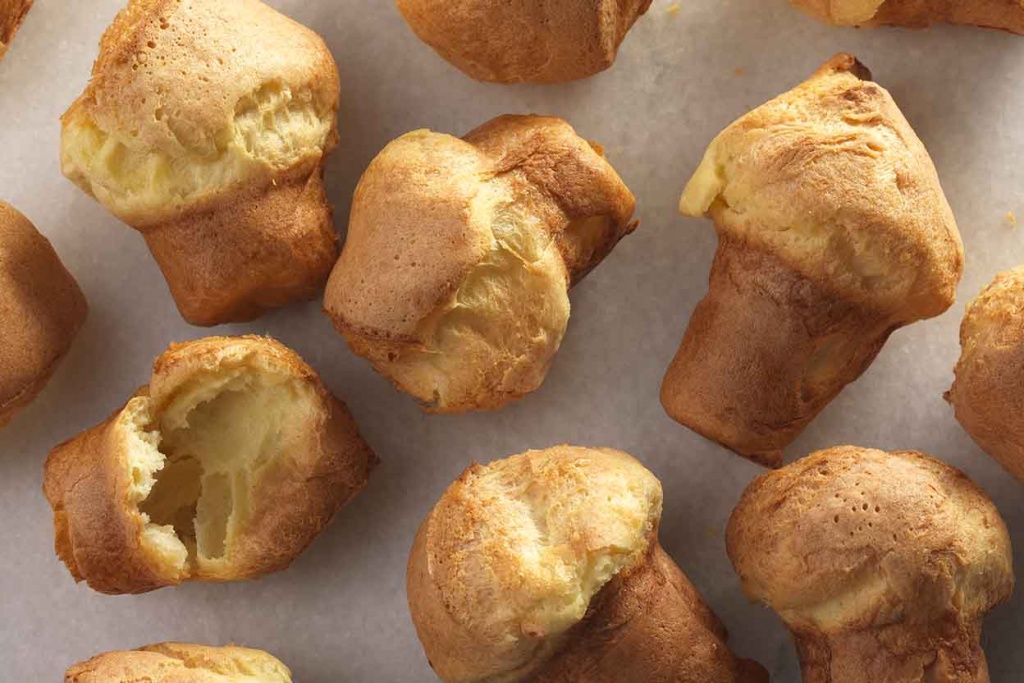 By Pam Vukelic
There's something about a popover—the light, hollow bread with a crusty brown exterior—that says "special." I think we all know they're special. We might not all know they are also incredibly easy to prepare. They require only common ingredients that you likely have on hand.
The term popover probably comes from the fact that the batter rises and pops over the edge of the pan during the baking process. Steam—created by the high proportion of liquid combined with a very hot oven—serves as the leavening agent. The basic recipe varies little between popular aficionados such as Martha Stewart, Irma Rombauer, and Ina Garten.
---
Basic Popovers
1 c flour
¼ t salt
2 large eggs, slightly beaten
1 T unsalted butter, melted
1 c whole milk
Preheat oven to 450 degrees. Generously grease the pan. Add the liquid ingredients to the dry. Mix until only a few small lumps remain; do not overbeat. Fill cups ½ to ¾ full. Bake for 30 minutes. Reduce the heat to 350 degrees and bake for an additional 20 minutes. Remove from pan. Pierce at the waist with the tip of a knife to prevent sogginess. Serve warm.
---
There's nothing better than a warm popover slathered with butter. Depending on the rest of the meal, you might add honey, maple syrup, jam, or Nutella. You could fill the indentation that forms at the top of the popover with a mushroom sauce or gravy.
In the unlikely event there are leftover popovers, stuff them with scrambled eggs to eat for breakfast. Line them up in a baking pan, cover with cream and grated cheese, and bake at 400 degrees until bubbly as a brunch side dish.
A plain popover is plenty delicious on its own, however, there are interesting variations. Check the internet for orange, cinnamon sugar, chocolate, bacon and black pepper, ham and cheese, herbed, and provolone/parmesan popovers. Some are just toppings, some involve stirring ingredients into the batter, and some involve adding filling between layers of batter.
Advice from experts:
Hand mixing is best, but it's possible to use your mixer, blender, or even your food processor to combine the ingredients. Avoid over-mixing.

Unsalted butter is typically preferred in formula-type recipes to better control the amount of salt.

Whole milk, with more fat, promotes browning, tenderness, and moistness and is often preferred in baked goods; generally substituting low- or no-fat milk is fine.

Preheat the popover pan before adding batter.

To grease the pan, butter is preferred.

Make the batter as much as a day ahead of time but bring it to room temperature before using.

For extra drying on the inside, pierce the popovers and then return them to a warm oven for several minutes.

"Do not peek—keep the oven door closed the entire baking time,"  says Irma Rombauer in "The Joy of Cooking."
Alton Brown, popular food TV personality, chides those who purchase "one-trick ponies" or tools that are not multi-purpose items. Space in kitchen cupboards and drawers is usually at too much of a premium to waste it on something that does not get a lot of use. Many experts would agree, though, that a popover pan may be the exception to that rule. Twelve-cup and six-cup versions are available. I contend that once you have a pan on hand it will become a frequently used item in your household. In a pinch, you can use a muffin pan but you aren't likely to get as much pop. The much lighter metal does not hold and conduct the heat the same way a popover pan does. Karmin's Kitchen Table, Capital City Restaurant Supply, and Ace Hardware carry the pans in Bismarck. Glass custard cups set on a baking sheet can be used, too.
It's speculated that popovers were invented inadvertently when too much liquid was added to a recipe. If you ever watched Bob Ross on "The Joy of Painting," you probably heard him say, "We don't make mistakes, just happy little accidents." That's surely what popovers are!   
---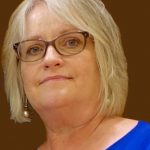 Pam Vukelic is an online FACS (Family and Consumer Science) teacher for the Missouri River Educational Cooperative. Pam enjoys entertaining friends, family, neighbors, and strangers. She has a repertoire of easy yet tasty menu items to share.
---