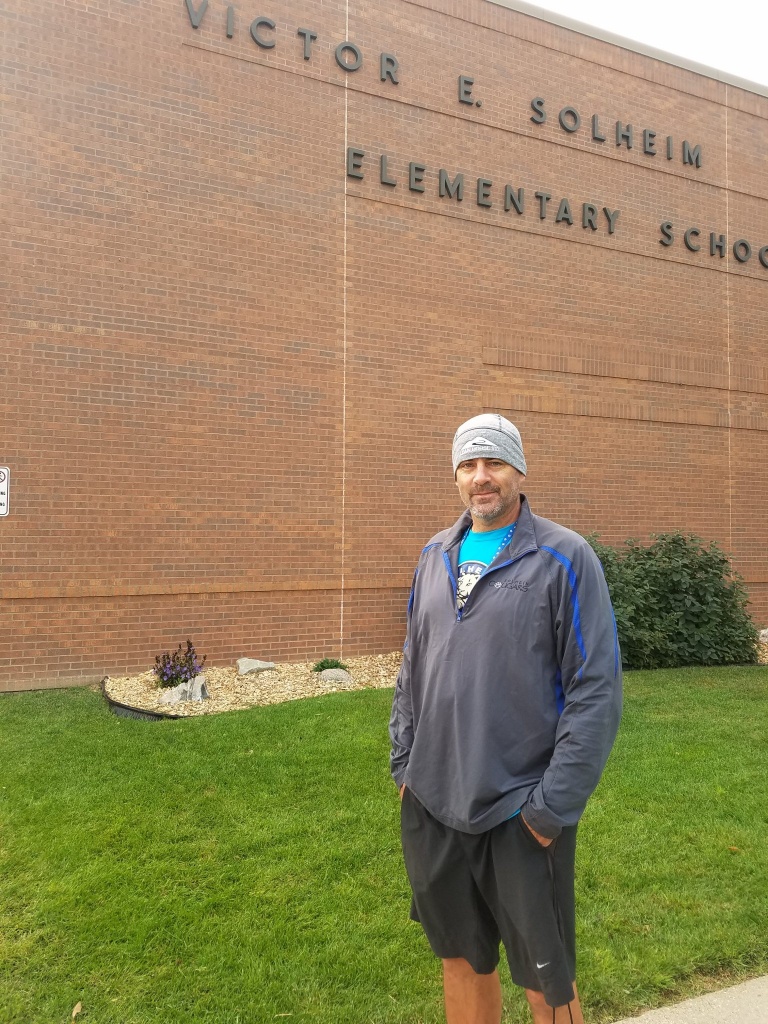 By Marci Narum ⼁ Submitted Photos
The sun has barely breached the horizon when about 30 students from Bismarck's Solheim Elementary School have already laced up their shoes for a run around the building. Physical Education teacher, Mike Porter, meets the kids outside the school each weekday morning before the bell rings.
He instructs some of them to run three loops around the building; the rest run two.
"The loop is about a thousand meters," says Mike. "So, my fifth graders will do about 2.5 miles, the other kids about 1.8 miles. The goal is to do it without walking. Most of them do. It just depends if they try to keep up with the faster runners."
The early morning run is not part of P.E. class; it's training. Mike is coaching the kids who participate in cross country meets through the Bismarck Parks and Recreation Department's track and field program.
"Most of the kids that come out are multi-sport," says Mike. "Many are involved in football and soccer. Not all of them race because some don't have the access to get to the meets but they are more than welcome to come to practice with me."
Mike has been coaching cross country at Solheim for 12 years. He says in his first year, six students participated. Now he averages 40-50 kids. When his third, fourth, and fifth grade students aren't running, Mike teaches them about proper nutrition, hydration, and the importance of building their core strength.
"Because when you get tired, your form goes, and with that, you start developing injuries," Mike explains.
Their loop around the school wraps up with 20 pushups and 20 sit-ups.
"I talk a lot about how your body feels when you're running; listen to what your body tells you.
"I teach them running techniques so they don't carry a bad habit as they get older—incorrect stepping, push off, arm movement. You want everything to be linear and aligned with arm motion."
The young runners are learning from a man with many years of experience. Mike is an ultra-marathon runner.
"I've competed in four 100-milers; I completed one which took 27.5 hours."
Mike has also run 20 marathons and completed ten 50-mile races. It took his fourth attempt to finish the 50-mile run in the Bighorn Mountains.
"I was the last finisher. But I didn't care—I finished it."
That's Mike's attitude when he's coaching, too. He encourages his aspiring track stars to compete with themselves first—to focus on their form, breathing, and running technique. And it might explain why after school, Mike is coaching track again. He's in his eighth year as assistant track coach at Horizon Middle School. When his Solheim runners move onto middle school, they compete against Mike's Horizon runners.
"I just like that it gives them something that's a lifelong fitness activity they can do. And they seem to enjoy it. We're seeing success."
Mike is enjoying his own success this season. Nominated by his peers, Mike was named the North Dakota Elementary Physical Education Teacher of the Year. An award his students say he should be in the running for every year. It's those students who inspire Mike to lace up his coaching shoes day after day and who have made Solheim feel like home.
"I really like the school here. I have great students and great parents."   
---